Small Dog Place Blog
Welcome to my Small Dog Place Blog. This is the place to find all the new additions as well as updates to older pages. If you haven't visited Small Dog Place in awhile, this is the page to find. That way, you know you haven't missed anything.
---
Advertising on this Site
Small Dog Place is a participant in the Amazon Services LLC Associates Program, an affiliate advertising program designed to provide a means for sites to earn advertising fees by advertising and linking to amazon.com  This site receives a small commission from all affiliate links and third-party advertising.

---
Grab Our Free Ezine...

---
Did you find this article  helpful?  Then why not share it.

The best way to say, Thank You?
Is to Share

Can't find what you need?
Try a Search

---
Mar 27, 2017
Brushing a Long Haired Dog: Tricks of the Trade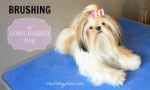 When brushing a long haired dog, remember these tips to help make the job easy and quick.
Continue reading "Brushing a Long Haired Dog: Tricks of the Trade"