Write For Us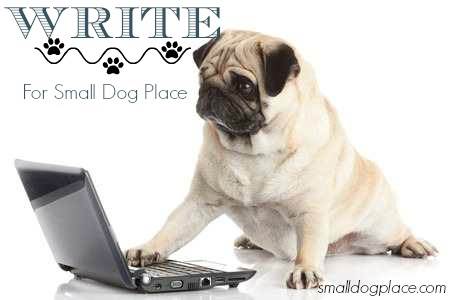 Want to write for us?
Are you a young writer wanting to expand your portfolio? 
Maybe a dog lover who also loves to write? 
A breeder who'd like to get more exposure to their website? 
We want to hear from you.

Do you have some knowledge or skills in a particular area that you would like to share with our readers?  
This site is all about small dogs – breed profiles, grooming, training, health care, day-to-day living, and caring. 
We are still working to complete all the breed profiles so if you know anything about a breed that we have not featured, we'd love to hear from you. 
Drop me a line and tell me more about your topic.  We greatly appreciate all submissions and value your contributions.
Your Article
All submissions must be original and cannot be published anywhere else.  We will edit all submissions for content, clarity, and grammar. Most of the articles submitted are published with little to no change.   
If we need to make substantial changes, we will send you the final version, for your approval.  Usually that doesn't happen.
Unfortunately, guest submissions are unpaid, but we can help you by promoting your writing on our site with a link back to your blog, website or social media outlet. 
We also promote pages on our social media platforms such as Facebook and Pinterest and in our newsletters.
Design Specifics
Articles should be between 700 and 1500 words and should include at least a couple of subsections and links if appropriate to outside sources. 
You can provide us with a photo or we will provide an illustration if you prefer to complete your article.

If you choose to do a profile for a breed that has not been done previously, you can download our breed template and fill in the information based on your own knowledge.  All small dog breeds are listed on Small Dog Breed List

Please remember to provide all your details (website address, your name, anything you'd like to include in your author bio)
You can also provide a small head shot if you like.  This is an excellent way to enjoy the free promotion, so we'd love to hear from you.
Our Visitor Profile
Why not make your voice heard?  Contact me through the form below.
Ready to Write for Us?   Great

Please fill out the form below and we will contact you shortly.

---
Got Dog Products to Sell?
You definitely need to check out Trafeze to get your products out there and seen by the masses.

---
Advertising on this Site
Small Dog Place is a participant in the Amazon Services LLC Associates Program, an affiliate advertising program designed to provide a means for sites to earn advertising fees by advertising and linking to amazon.com  This site receives a small commission from all affiliate links and third-party advertising.

---
Grab Our Free Ezine...

---
Did you enjoy this article or find it helpful?  Then why not share it.

The best way to say, Thank You?
Is to Share

Can't find what you need?
Try a Search

---