Covid-19 FAQ for Service Animal Owners: 9 Common Concerns of Owners
Covid-19 FAQ for Service Animal Owners  by Helen Scott   |Published 05-06-2020

The COVID-19 pandemic is a stressful time, not just for people but for animals as well. In fact, in some ways, it can be even more stressful for them. Animals don't understand why they're under quarantine, for one.
All they know is they can't go outside and play as much anymore. And sure, you may be home more often (or all the time, as the case may be), but that doesn't mean you're always engaged and upbeat while you're there. 

Covid-19 FAQ for Service Animal Owners
Your dog can detect when you're stressed, worried, angry, depressed, or afraid.   That no doubt has an effect on his or her mental and emotional well-being as well.
Read the following FAQ to discover ways you and your service animal can weather this crisis safely, healthily, happily, and, above all, together.

Covid-19 FAQ for Service Animal Owners
1. Can I register a service dog during the coronavirus crisis?
Despite stay-at-home orders in many towns and states and social distancing guidelines in effect, you can still register your service dog, no matter where you are in the country. Read on to find out how.

2. Can I register a service dog online?
You can complete all the steps needed to register your service dog online. Online registration allows you to submit your application and payment entirely remotely, and receive your registration materials digitally and by mail.
You never have to leave your home to register a service dog, regardless of any coronavirus-related restrictions in the town or state in which you live.

3. What are the rules for walking service dogs during coronavirus?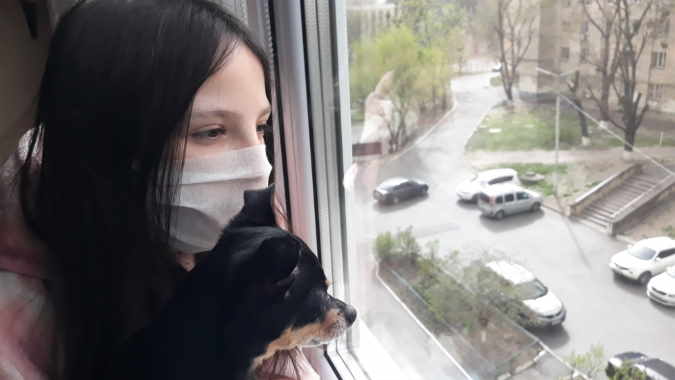 Covid-19 FAQ for Service Animal Owners
Rules for walking service dogs or any kind of dogs vary from place to place. Still, you are allowed to walk your service dog within a reasonable range of your home or place of work for the dog to get the necessary daily exercise and relieve him or herself.
If you need to extend that range to walk your dog safely, you are permitted to do so as well. Many places, however, have closed all dog parks, so find out if that's the case in your area, and plot out a new route if necessary.

Basic Guidelines for Walking Your Dog
While out walking your dog during the coronavirus crisis, follow these basic guidelines:

Your dog must be on a leash or under strict control at all times while walking during the coronavirus crisis.


Maintain a safe social distance of six feet from others at all times.


Do not let your dog interact with any other animals or people.


If someone approaches you to ask about or pet your dog, ask them not to touch your dog and maintain the proper social distance while you talk.


Avoid playing with your dog while out in public, and prevent your dog from playing with other animals.


If your area requires masks while out in public, be sure you wear a mask every time you walk your service dog.


Before you come back inside, wipe the dog's coat and feet thoroughly.


Once inside, wash your hands thoroughly with soap and hot water.
4. What if my service dog isn't registered? Can I still take him or her out for a walk during the pandemic?
You do not need to register your service dog to walk him or her during the pandemic or at any other time. What's more, you do not even need to register your service dog to get a service dog legally.
Registration is a suitable option for those with service dogs, but it is not a legal requirement. Instead, different companies offer service dog registration services of their own.
Therefore, compare different service dog registration options carefully before you register your service dog with one of them. 
When you register your service animal with Certify My Pet, you get a legitimate doctor's letter, identifying vest and harness, ID cards, and on-demand verification of your qualifications for a service or emotional support animal whenever you require it.
While registration of your service dog is not required, it can be extraordinarily beneficial in helping you access your rights with minimal hassles or delays.
Service dog registration can grant you legitimacy in the eyes of those you may encounter in the world who are not fully versed yet in service dog laws.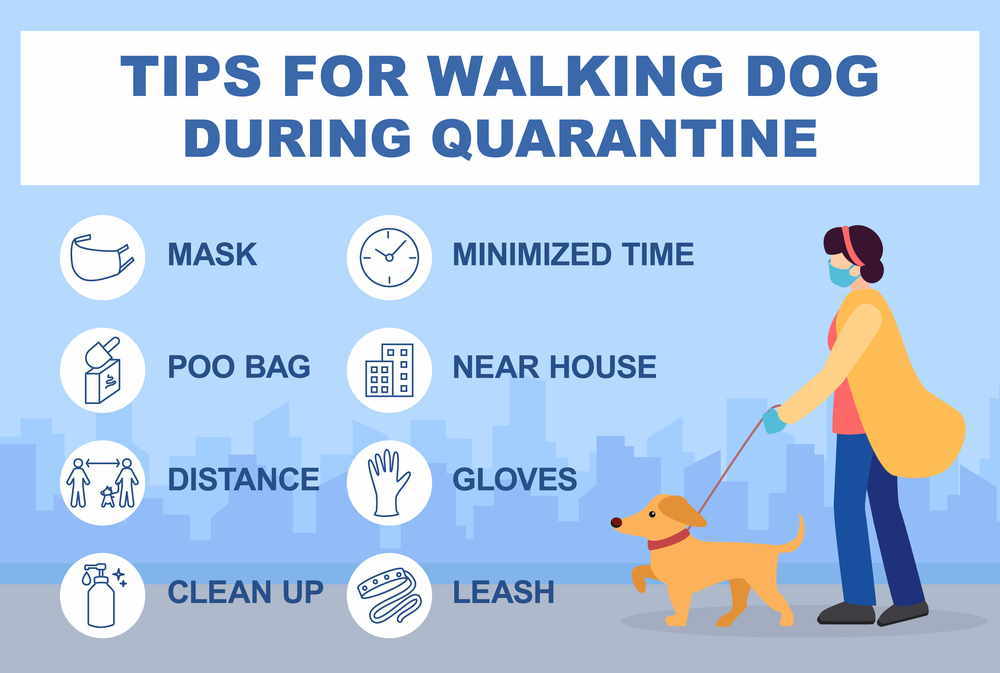 Tips for Walking a Dog During a Pandemic
5. How can I protect my dog from coronavirus? Can a dog get infected?
Only in a rare few cases have dogs been found to contract the coronavirus, making it clearly more the exception than the rule.
Still, it is wise to use every possible precaution to make sure your dog doesn't become one of those exceptions or, worse, pass the coronavirus along to you.
Dogs have generally not been found to contract or carry the coronavirus internally. It has, however,  been detected on their coats and skin, which means they could pass it along to other animals and humans.

Therefore, whenever you've been out and away from your service dog, make sure to wash thoroughly before touching your dog or letting your dog greet you.
The best way you can protect your dog from the coronavirus is to protect yourself and take the same precautions you take to protect others. 

Best Practices
Wear a mask whenever you're in public
Wipe down any object you bring home with a  sanitizer or disinfectant 
In addition, follow the guidelines suggested above for when you take your service dog for a walk during the pandemic. 
6. Can a dog die of the coronavirus?
Currently, health experts are still saying that dogs can't catch the coronavirus and pass it to humans. This is despite a few rare cases of mild COVID-19 infection found in dogs, including a Pomeranian in Hong Kong that died at the end of March 2020.
Experts believe the dog most likely died from the stress of being quarantined and not the infection itself. The dog was also 17 years old, which suggests that age may have played a role as well in the dog's susceptibility, both to the infection and the stress of quarantine, testing and treatment.
The dog only tested "weak-positive" for the coronavirus and did not develop any symptoms of the COVID-19 infection while infected. Furthermore, the dog died only after testing negative and being returned home.

7. How should I take care of a dog after a walk during the quarantine?
As mentioned previously, use a pet-safe disinfectant wipe to thoroughly wipe down your dog's coat and feet before reentering the home or workplace after every walk.
And while you're both stuck at home, make sure to treat your dog with fun toys, delicious treats, and lots of safe indoor playtime with you.

8. What indoor activities can I do with my dog to keep my dog healthy, happy, and fit?
While you and your dog are stuck in quarantine, it can be more difficult to find ways to keep each other entertained, active, and upbeat, but it's not impossible. Here's a list of just some ideas to get you started:

Train Your Dog
Being stuck inside is a perfect time to bone up on your dog's training (pun completely intended) whether that be basic obedience training, like to sit, stay, lie down and come, or tricks, like rolling over, begging or even, completing a makeshift obstacle course.

Instagram Your Dog
Take pics and videos of you and your dog and post them on social media or share them directly with friends. Dress up your dog in cute clothes or create a cute scene and pose your dog in it.

Bake Treats
Learn to bake homemade dog treats and watch your dog be an eager taste-tester.

Cuddle
Dogs are made for cuddling, so take advantage of this opportunity to curl up with a good dog for some relaxing downtime.

Groom Your Dog
With all the extra time on your hands, why not give your dog a good bath and combing or brushing? If you know how to clip your dog's nails and brush his or her teeth, I'm sure you'll both appreciate that as well.

9. What if I've been exposed to the coronavirus or diagnosed with COVID-19. How should I take care of my dog to protect him or her?
If you've been diagnosed with COVID-19 or exposed to the coronavirus yourself, the best thing you can do to protect your dog and others he or she may encounter is to have someone else who hasn't been exposed take care of your dog while you recover. 
In the case of a service animal that you need in order to perform certain vital activities, this may not be possible, of course.
But even then, if you can have another person take care of your dog's needs and minimize your interaction with the dog to only those tasks you require him or her to do for you, you can minimize your dog's exposure to the virus and the possibility that he or she may carry it on his or her coat to other places and people. 
If you can't have another person take care of your dog while you recover from the coronavirus, at least maintain minimal physical contact with your dog, wearing a mask around him or her whenever feasible and wearing gloves anytime you do make physical contact.
Avoid sharing food from your own dish with your dog, and thoroughly wash your hands and wipe down any objects or furniture you've touched before your dog comes into contact with them.
 Covid-19 FAQ for Service Animal Owners Pin for Future Reference
Author Bio: Corid-19 FAQ for Service Animal Owners
Helen Scott is an LMHC specialist with experience in working with a vast array of cases, including eating disorders, traumas, couples, and family therapy.
Now, I'm investigating different emotionally disabled states, animal-assisted therapy, and the therapeutic effect of emotional support animals. I'm also a passionate cat and dog owner.
Does This Article Deserve Your Thumbs Up?
We always appreciate your support and encouragement.  Your thumbs up means so much to us.  Please like this article.
If you find this page or any page on Small Dog Place Helpful, or useful in anyway, I'd love it if you would click the small heart found on the bottom right of each page.
You can also share or bookmark this page -- just click on the: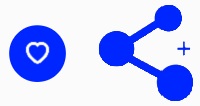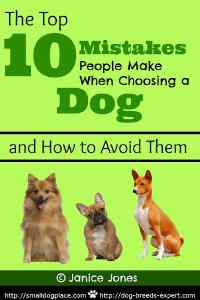 Free Monthly Newsletter
Sign Up for Our Free Newsletter and get our Free Gift to You.

my  E-book, The Top 10 Mistakes People Make When Choosing a Dog (and how to avoid them)