BENJI, My Bichon for a Day
Recently I retired after a long career and briefly mentioned it may be time for a small dog.

My 14 year old granddaughter without my knowing advertised for a dog for her grandmother. She received an immediate reply from a 60 year old lady who was thinking about letting her dog go due to her health issues but reniged and was unable to do so at that time.

Just this week the lady contacted her and with great reservation let her dog go. My granddaughter showed up at my door with a little 6 yr old Bichon Frise.

Beautiful white fluffy coat.

Simply the nicest thing she ever did for me.

The dog was perfect, loving, house trained etc. I had him one and one-half days and one night before the previous owner called and asked for him back.

She was heartbroken and couldn't live without "BENJI".

Although I was starting to become attached and he with me, I felt it the right thing to let go back. What a lovely little dog!! I miss him but am happy for the lady who loved him for many years.

My experience with this breed was so positive I would do it again!!!

-------------------------------------------
Hi, Janice Here from Small Dog Place
-------------------------------------------

First of all, I'd like to thank you for sharing this remarkable story. You have such a good heart, and I do hope the other lady appreciates what you did.

I also hope you will be able to find another small breed dog that can be yours forever. It sounds like you have so much love to give a dog and a very lucky dog indeed that ends up in your home. Good luck finding just the best dog.
Join in and write your own page! It's easy to do. How? Simply click here to return to Your Bichon Frise.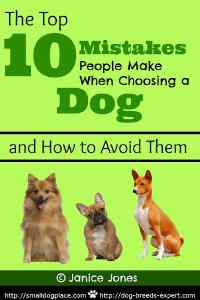 Free Monthly Newsletter
Sign Up for Our Free Newsletter and get our Free Gift to You.

my  E-book, The Top 10 Mistakes People Make When Choosing a Dog (and how to avoid them)