Cairn Terriers Thoughts from a Cairn Terrier Owner
by Kathleen Revoy
(Kitchener, Ontario. Canada)
I had two Cairn Terrier dogs. I never found any balls of shedding hair in the house or even on clothes.

I bathed them myself about once a month and at that time would comb them through and clip nails.

They never matted or gave me very much trouble in any area though they are stubborn and you need to be firm till they learn what you expect Once they know that they are well behaved.

Very energetic and tenacious.

----------------------------------------------
Janice here, from Small Dog Place
-----------------------------------------------
We don't often consider this breed nearly as much as we once did, especially during the heyday of the airing of the Wizard of Oz, when everyone fell in love with the little dog, Toto.

If you are an active person, a terrier may be just the perfect breed for you.

Even better, there are quite a few terrier breeds from which to choose.

In the U.S. alone, the American Kennel Club registers a whopping 30 breeds. Worldwide, the number goes up considerably.

Known for their tenacity and energy, these dogs make great pets -- loyal and easy to groom if you don't plan on showing them.

They are smart, if not independent and require an owner willing to take the time to train and socialize them.

The one nice thing about Cairn Terriers is their ability to be adaptable to a wide range of habitats and people. You can keep one in a highrise in a large metropolitan city or on the farm far from the next small town.

They are also relatively healthy and have an expected lifespan of 15 years and usually stay active until well into old age.
Join in and write your own page! It's easy to do. How? Simply click here to return to It's Your Turn!.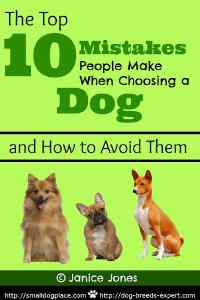 Free Monthly Newsletter
Sign Up for Our Free Newsletter and get our Free Gift to You.

my  E-book, The Top 10 Mistakes People Make When Choosing a Dog (and how to avoid them)
If you enjoyed this page, I'd love it if you'd let me know.  Just click the button below.  Thank you.
Sharing is Caring