Dog Poop Bag Holder:

Clever Ideas for those Long Walks and Hikes With Your Small Dog
Your Dignity Restored While Carrying Dog Waste ~ A Dog Poop Bag Holder
Guest Post By Kay Ringelstetter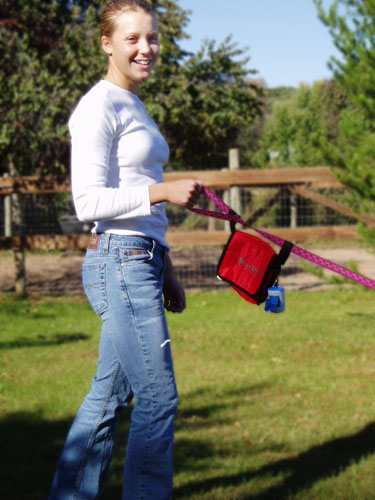 Dog Poop Bag Holder Options
Are you one of those people who love walking your dog, don't mind the necessary task of cleaning up after him, but HATE having to lug that poop bag all the way home?

How can we ever feel dignified while carrying our loaded dog poop bag?  Please consider a new way to accomplish this must needed task that allows a discreet, convenient and sanitary method to carry dog poop.
embed code is:
Why Pick Up Dog Poop?
We all love our pooches, but the job of picking up their feces is never an enjoyable task. 
We do this because we are responsible owners. 
It helps protect our environment, our waterways, our health, and our shoes.  And it is the law.

What Do You Do With that Dog Poop?
But once we have picked up the dog poop, what do we do with it? 
Exactly what we have been doing for years….. We carry it along in our hands, being careful not to swing or bump it against anything. 
Or we may possibly tie the bag to our leash and hope that it holds tight and doesn't bounce and explode. 
And what a disgusting sight for all to see. 
Indeed carrying bags like this is no longer a dignified walk down the street once the poop bag is full.  Sadly, most municipalities do not offer a handy receptacle  for us, responsible dog owners to use when walking our dog.
A Dog Poop Bag Holder
So we must consider a better way. 

Discover a safe and convenient method for carrying dog waste.  We just place the full bag into a dog accessory that is often called a dog poop bag holder. 
This accessory will contain and protect the dog poop from bumps, jostling and the visual impact of its disgusting recognition to all who see us.
There are many different varieties of dog poop bag holders available. 
Many can be connected to the leash in some way, some easier than others. 
Some can also be attached to a belt or belt loops if we are not using a leash. 
A few are even large enough to contain other necessities for our walk such as extra empty poop bags, wallets, cell phone, or keys. 
embed code is:
One all-encompassing dog poop bag holder www.wagnload.com even has a side pocket for a small inverted bottle of hand sanitizer. 
This is truly needed after picking up dog feces unless we are possibly near soap and water on our walks. 
We wash our hands after toileting, so this is equally important after handling dog poop.  Especially if we want to munch on that apple or hold our child's hand.
So we, of course, have to consider this better method of accomplishing our daily duties when walking our bundles of joy. 
We will still have to pick up our dog poop, but there is now a much better way to carry our other necessities and more importantly a more convenient, discreet, sanitary and dignified way to carry our dog waste. 
About the Author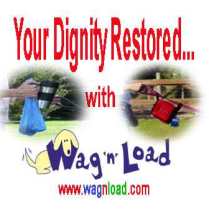 Trained and nationally certified as a Physician Assistant, I am very interested in educating others regarding the healthy ways to pick up and carry dog waste, as well as the environmental impact if we do not.
Wag'n'Load is a convenient, discreet and sanitary dog waste bags carrier that will help people remain healthy and also help in protecting our environment from the damage caused by dog poop.
Like us on Facebook  https://www.facebook.com/Wagnload
Kay Ringelstetter (co-owner)