English Bulldog: My Helda is the Best Family Dog Breed
by Alan
(Arvada, CO, USA)
Helda was a gentle, loving English Bulldog to whom I am paying tribute because I think she was one of the best family favorite dog breeds of all time, in my opinion. Helda got her name because she liked to be Held a lot as a puppy. She still enjoyed being a lap dog even when she reached 60 pounds.

Despite her size and weight, she was so gentle, loving, and devoted to all of the people in my family. She was a complete family dog. She loved everyone in the family and everyone who came to visit, even those dogs she did not know. She did not hold out on her affection for everyone.

She lived with us and other dog breeds and got along with every dog she lived with. She never acted jealous of the other dogs. She was never jealous but was accepting of any other attention any other dogs received.

She was gentle with children, and even though we had visitors to the house that were children, she never scared anyone away. Everyone seemed to accept her as a sweet loving dog that was non-threatening despite her appearance and size.

There will always be a hole in our hearts when we think of her as the perfect family dog breed, the English Bulldog. She will always be remembered as the perfect white English Bulldog loved by everyone who met her. She passed away in 2020 from complications from Cushing's Disease.
Return to Family Favorite Dog Breeds.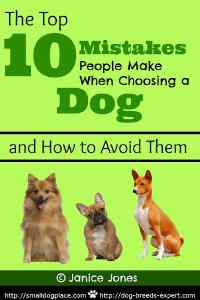 Free Monthly Newsletter
Sign Up for Our Free Newsletter and get our Free Gift to You.

my  E-book, The Top 10 Mistakes People Make When Choosing a Dog (and how to avoid them)