Pet Parenting During COVID:  Realities and Advice Moving Forward
Pet Parenting During COVID   by Janice Jones    |Updated 03-06-2023
If you're new to dog ownership, you're not alone.  COVID 19 brought on an onslaught of panic buyers who emptied stores of necessities such as hand sanitizer, disinfectants, and toilet paper.  Once the first surge of buying died down, people turned to binge-watching, puzzles, and games. 
As boredom set in, those who were laid off or furloughed started dreaming about puppies.  After all, what better way to occupy oneself, isolated from other humans than love a new pet.  

2023 Note:  I debated whether to take this article down, because we are past the worst part of the pandemic,  but decided against it as a way to perserve a short period of history for those who might read this after-the fact.  It will be years before we all see the full affect the pandemic.  But this article represents a short snapshot into a period in history where our dogs represented out viceral need for intimacy that we could not obtain or was constrained with human compansionship.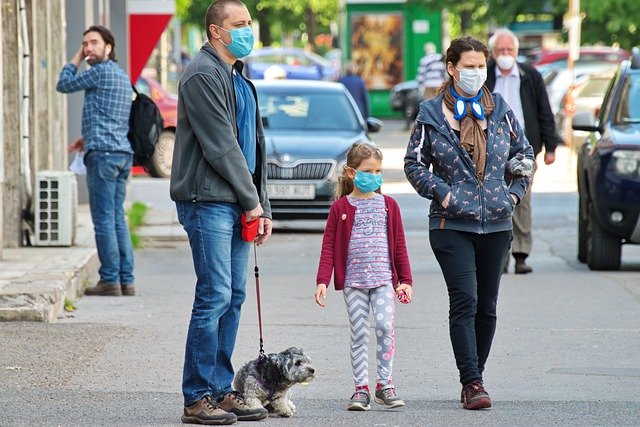 Pet Parenting During COVID: The new realities
Shelters reported an unprecedented number of adoptions and unofficially, dog breeders could not "produce" enough puppies for the new demand.  
According to the American Pet Products Association, in 2019, there were 63.4 million households in the U.S. that owned a dog.  Figures are not in yet for the year 2020, but we will likely see a sharp spike in those numbers. 

Explaining the New Numbers:  Pet Parenting During COVID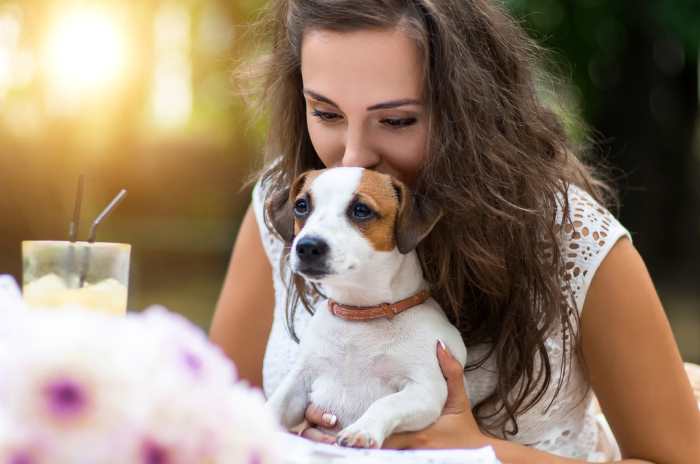 Explaining the Numbers of New Pet Parents During a Pandemic
There appears to be three main reasons why more people want to accept the role of pet parenting during COVID:
More free time available
Need for companionship
Low chance of dogs infecting people with the corona virus.
More Available Time
Today, some people have more time on their hands.  Obtaining a new dog might not have been a high priority until COVID entered our lives.  Now, they are rethinking their desires for a four-legged companion.  Work at home options, coupled with layoffs and children home from school, make the decision to own a dog a little easier.

Pet Parenting During COVID and the Need for Companionship
Dogs seem to be the right choice.  Parents trying to juggle work with homeschooling may decide a dog could give bored children something to do, and teach some responsibility at the same time.  Singles sheltering in place likely conclude some companionship might be nice, and dogs fill the void.  

Low Chance of Transmission Between Canine and Human
Dogs, it would seem, are not a threat to transmitting the disease to humans. It is safe to assume that we are unlikely to pick up this virus from our pets.  Out of the 9 million cases worldwide (as of this writing), there have only been  25 reports from around the world of pets (dogs and cats) being infected with SARS-CoV-2; American Veterinary Medical Association   
Of the few positive pet reports, it is likely that those animals did come in contact with a person who had COVID-19. 
With Covid-19, people are adjusting to the new norms of social distancing and mask-wearing.  Even as communities are opening up, shopping is not the same as before.  Everything has changed, and people are more or less adapting to the new reality.   
As we slowly re-emerge from our isolation, even simple things like the visit to a dentist or our family doctor become more difficult.  We begin to accept the fact that we may not enter a building unless we have donned a mask and have a favorable temperature check.  Some places are also requiring a negative COVID test. 
But, at some point, whether we have a new puppy or dog or an older dog that has health problems, we will need to seek advice and help from our veterinarian.  
Veterinary Visits and Pet Parenting During COVID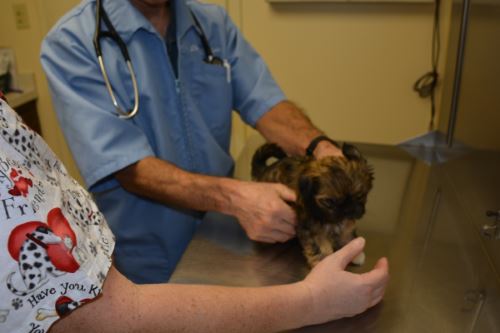 Visits to our favorite veterinarian has changed during COVID
Even visits to our favorite veterinarians have changed.  Once upon a time, we made an appointment, showed up, were greeted by the friendly receptionist, ushered into an exam room, and waited for the veterinarian to appear.  
With the pandemic, all that has changed.  Some veterinary hospitals have reduced hours and cater to the needs of emergencies and sick pets. As the pandemic continues, many vets are now open for well visits, routine vaccinations, and typical yearly heartworm and fecal checks.  Even for those that are accepting all types of appointments, curbside or concierge service type appointments are the types of visits du jour. 
According to one vet, Dr. Glenn Thorson, DVM from Boston Heights Veterinary Hospital, "It is necessary to protect all of us from viral transmission. We are making every effort to speak with owners and provide the same quality service to which they are accustomed. When absolutely necessary (for example euthanasia) we will make adjustments in the routine.  We will have to continue this way until a decided drop in infection is seen or a vaccine becomes available for us."

With this type of arrangement, appointments are still needed.  At the time of the visit, a quick phone call or text message announces your presence, and a member of the veterinary staff greets you in the parking lot. 
The assistant or tech then assesses your pet's information and escorts your pet into the hospital.  When the exam has been completed, you may either meet with the vet tech, assistant, or veterinarian in the parking lot.  Some veterinarians prefer to contact their clients via phone calls or emails—the new normal.  

We asked Dr. Thorson, how these new arrangements were working out for his own practice.   

"Sometimes it's more stressful on the owners not being present with their animal for the exam. On the whole however, most everyone is on board with doing what is right to protect each other from the COVID virus.  A few even like curbside service better as everything is done for them!"

Advice for all Pet Parents During COVID
Staying Safe and Pet Parenting During COVID
Do not neglect hand washing as a way to prevent spread.  The CDC also recommends that you limit your pet's interactions with people outside of the household. 
It does make new puppy socialization more challenging, and routine dog to dog play dates more problematic.  I will get to that in a moment. If anyone in your household is confirmed or suspected of being infected, limit access to your dog if possible. 
Someone else should care for your dog.  If that isn't possible, wear a mask while you interact with them. Always talk to your veterinarian if you have concerns.

Training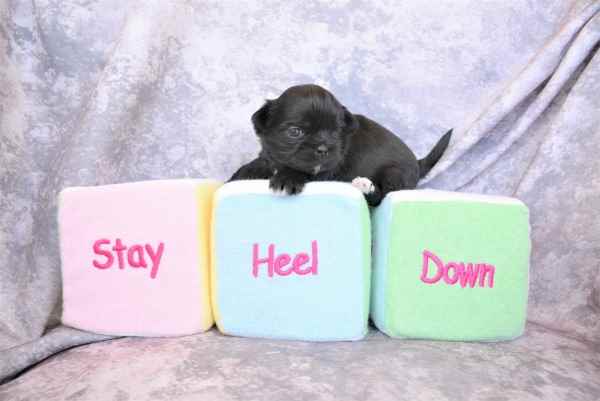 Training is Still Very Important
Training is an ongoing activity and essential for all well-behaved dogs.  A well-trained dog is not only a joy to be around, but the act of practice serves as mental and physical stimulation for your dog. 
Some dog training classes have been canceled, but others are reopening.  Before signing up for an obedience class, ask what methods are in place to ensure everyone stays safe (social distancing, requiring face masks, hand sanitizer, etc.). 
If the risk of an organized class seems too great, consider training your dogs at home.  Teaching and reteaching basic commands can be accomplished in the comforts of your own home. 
Additionally, if you don't want to go it alone, there are many online training classes, one of which might be right for you.
For example, a video that can focus on one skill at a time can be very helpful.  Carlos from Exclusive Dog Training has started a series of videos that not only focuses on one skill, but breaks that skill into progressive phases making it even easier for the new dog owner to follow.

Pet Parenting During COVID and Exercise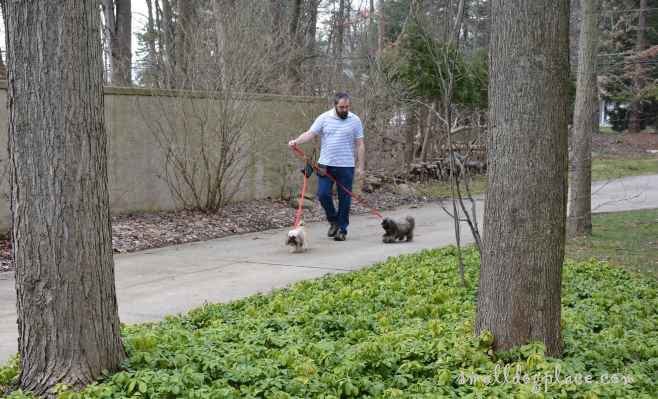 All dogs need exercise, some more so than others. Find time to exercise your dog.
All dogs need exercise, some more so than others.  There's no reason to avoid daily walks, but a bit of precaution is in order.  Keep your dog leashed while out and about. 
A typical six-foot leash (which you probably have already) is ideal as this is precisely the space needed for social distancing.   Avoid petting or allowing other dogs along the path to lick your face and discourage dog owners from interacting with your dog. 

Bonding and Attachment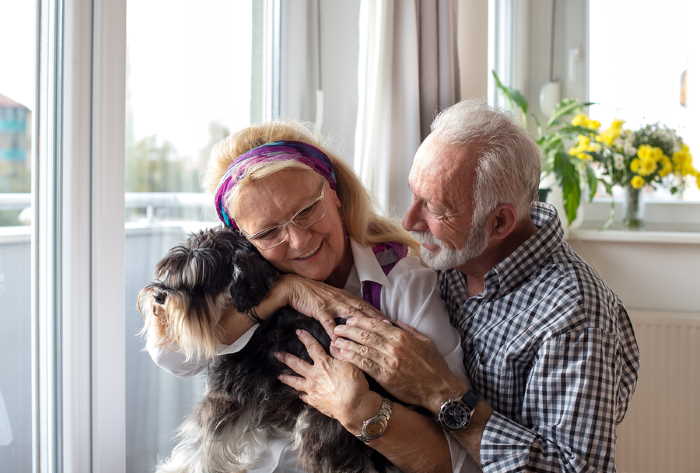 Creating a bond between a human and a dog is crucial for the relationship to stand the test of time.
Creating a bond is not restricted to human newborns. Instead, it is vital to make that connection with your new dog. 
I know, what you are thinking, how could I not develop a bond with a bundle of energy that freely gives puppy kisses. 
A strong bond from day one will help you maintain a relationship with your four-legged friend for the next 15 years through thick and thin.  If you are firmly attached and committed, you'll be less likely to give up when a young puppy turns into an adolescent or when that sweet new dog decides to become destructive. 
Sadly, many dogs are relinquished to shelters and rescues when the owner no longer has the time, energy or finances to deal with the dog.  Dogs are flexible and resilient, but being abandoned can have long-term consequences on a dog's psyche, especially those that were already adopted from a shelter previously.
Pet Parenting During COVID:  Socializing New Puppies and Dogs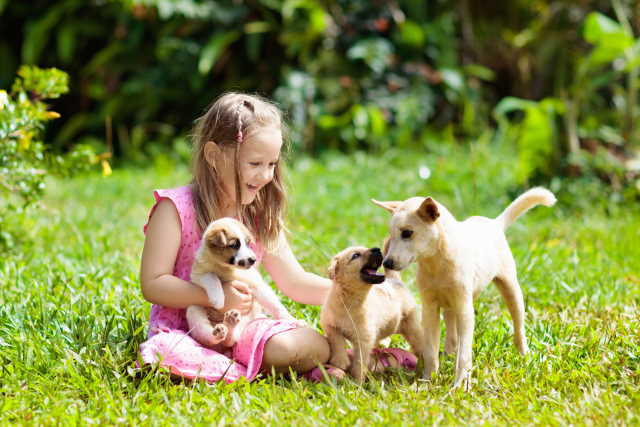 Socializing Small Dogs and Puppies: The Realities of Pet Parenting During COVID
Covid-19 has made socializing new pets a real challenge.  Typical socialization includes introducing a new puppy to many different types of people, places, objects, and other animals. 
This usually means a one-on-one interaction with friendly strangers or other animals.  It also includes introducing the puppy to novel situations in a controlled fashion.  We no longer have the option of visiting sporting events, fairs, outdoor musical events, or farmer's markets, typical venues for puppy socialization.  

Ten Socialization Activities During a Pandemic
It's still essential to socialize our pups.  Here are 10 possible activities that are safe for both you and your dog:
Take neighborhood walks once you have taught your puppy to walk on a leash.  


Car rides:  Encourage your puppy to feel comfortable in a car, either riding in a dog car seat or carrier.


Visit a park if there are ones open in your area.  Choose a time when there will be less foot traffic and other dogs.


Visit a store that allows pets.  Either leash or place your pup in a cart.  If your puppy is riding in a cart, take sanitizer and a clean blanket for them to lay on. Most pet stores and many hardware stores welcome pets.


If dog groomers are open in your area, consider scheduling an appointment for a puppy bath or nail clip even if this is something you can do yourself.  The additional interactions can't hurt.


Introduce new objects that your dog is likely to encounter as he gets older.  Objects such as umbrellas opening and closing, hairdryers, household tools that make loud noises, and lawnmowers are obvious choices, but much depends on your lifestyle.

Some dogs will watch television.  Check out these favorite dog videos on YouTube:  Warning:  These are interesting to dogs but very relaxing to people.  Try not to fall asleep.
Videos made especially for dogs to watch.
Provide a wide variety of dog toys, both homemade and store-bought.  Choose different locations in your home, inside and out, to introduce new toys.  
Introduce new scents.  This is not likely to be a challenging activity for you, as all dogs I've ever met, find their own new smells.
Introduce new sounds.  Need help with this one?  Check out these sounds that dogs find fascinating:   This video is sound only so you can play it in the background without the need to watch.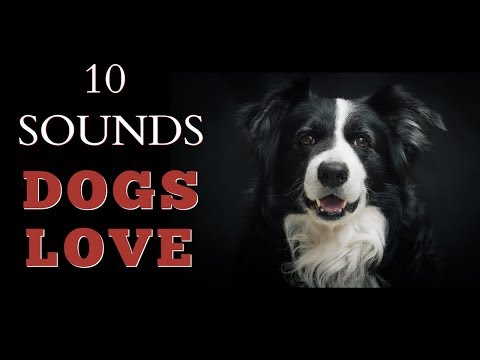 10 Sounds Dogs love to hear and may experience during a typical day or month.
The Future of Dog Ownership and Pet Parenting During COVID
With the rise of new dog homes, there is some concern in the dog community that this interest in becoming pet parents during a pandemic might not end well.  As people slowly return to work and children to school, the dog who has been the center of attention now finds himself at home, alone. Separation anxiety is a real possibility.  
Dogs accustomed to being around people now find themselves with little human interaction.
A typical doggie response to loneliness is to act out in ways new pet parents might not anticipate.  Excessive barking and destructive chewing are just two behaviors common to dogs suffering from separation anxiety.  When this happens, some dogs are relinquished.  This is especially traumatic to dogs who were adopted from shelters at the beginning of this pandemic.
How do you assure that your new dog won't become a statistic?  No one wants to get rid of a dog, especially if they consider them to be a cherished family member.  Here are five things you can do now to ensure this won't happen to you.
Best Practices for Pet Parenting During COVID
Establish a relationship with a veterinarian you trust and will help you care for your new dog.


Take time to train your new puppy or dog.  Housetraining

 is an obvious first task, but don't stop there.  There are some 

basic commands that all dogs should know.


Put in the time it takes to develop that special bond.  It doesn't take much.  Every time you groom, feed, exercise, train, or play with a new dog, you are establishing a relationship-a special bond.


Spend time socializing.  Even older dogs need stimulation.  The better socialized a dog is, the less likely you will have problems in the future.


You've likely heard the old saying, a tired dog is a good dog? Don't neglect an exercise program.  Your dog will love you for those fantastic walks, and it can't hurt your health either.


Make an emergency plan for your dog if something should happen to you or you can no longer care or afford to keep your new friend.


If in-office visits to your local veterinarian are not feasible, consider searching out an online veterinary service to help fill the void.
Last Words about Pet Parenting During Covid
It has been said that detrimental world events can bring lasting changes that no one could have predicted. We're already seeing some of this play out in real-time. It's great that our shelters are beginning to empty out, but no one believes that will last. 
A few adjustments on our parts can make dog ownership a joy even during a pandemic.  Will this all become the new reality? Not, so, according to Dr. Thorson, "I think we will revert back to "normal". It may take a year or two but, as with the Pandemic of 1918, nothing permanent changed in society. "
Pet Parenting During COVID:  Pin for Future Reference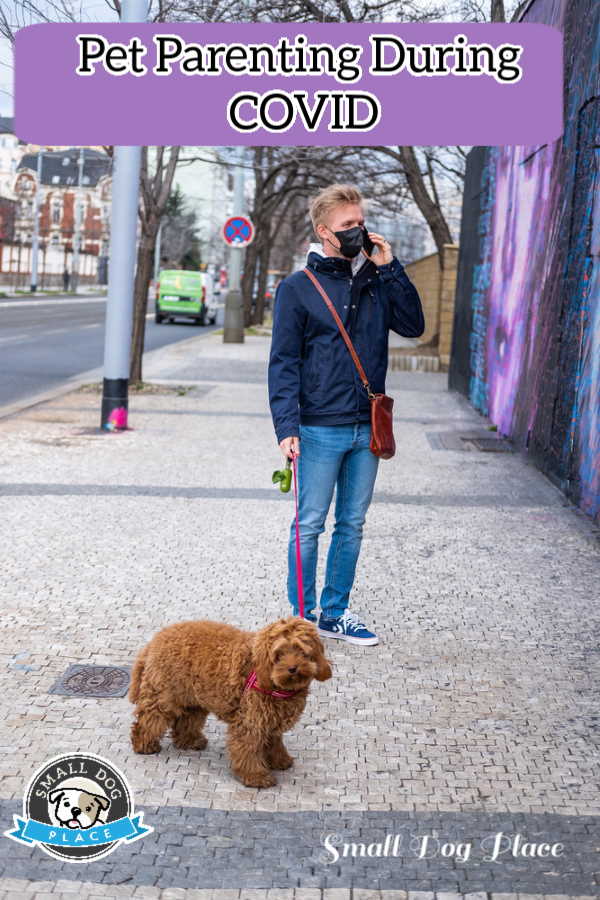 Pet Parenting During COVID Pin for Future Reference
Additional Resources for New Pet Parents
Guide for new pet owners: Is Fido ready for the end of social distancing?
Dog Breed Selector: Find the Perfect Match For Your Lifestyle

How to Choose the Best Gender for Your New Puppy or Dog
Buying a Dog: Where Should You Get Your New Four-legged Friend?

Does This Article Deserve Your Thumbs Up?
We always appreciate your support and encouragement.  Your thumbs up means so much to us.  Please like this article.
If you find this page or any page on Small Dog Place Helpful, or useful in anyway, I'd love it if you would click the small heart found on the bottom right of each page.
You can also share or bookmark this page -- just click on the: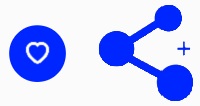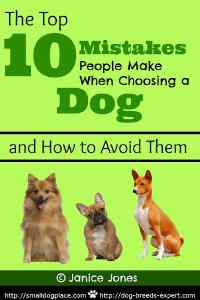 Free Monthly Newsletter
Sign Up for Our Free Newsletter and get our Free Gift to You.

my  E-book, The Top 10 Mistakes People Make When Choosing a Dog (and how to avoid them)