Turn Puppy Problems into Perfect Puppies

When you have puppy problems, all you can image is what the perfect dog might look like. 
Everyone wants the perfect puppy that turns out to be the perfect dog:  well behaved, friendly, socialable, travels well, and can perform an astonishing array of tricks to impress your friends.

Do perfect puppies even exist?

Well, of course not, is there a perfect child?  A Perfect Adult?  

Perfect puppies may not exist but there are some amazing people and there are some pretty great dogs out there too.  Do you know what tricks these owners have that create these wonderful dogs?  Are they born that way?
If you have puppy problems you are probably asking yourself whether they were born with the problems.  Maybe you need to attribute blame to someone:
Was the puppy born that way?
Did the puppy have a difficult beginning?
Did the puppy encounter a traumatic event?
Could it be that the owner (you) might have something to do with it?
Before you enroll your puppy in kindergarten or try to teach him how to do a high-five or roly-poly, ask yourself…

What does my dream puppy look like?  Do I want him to perform so my friends will be awe struck?  Is it important that your friends tell you what a great dog you have and ask for your advice about training their own puppies?

Well, sadly these stunt puppies exist, but as they say, all that glitter is not gold.  You might have one of these actors or know someone that does.  The problem is that in many cases, the next thing that comes out of the mouth of the performing dog's owner is:
…don't go near his food bowl while he's eating,
…oh and please be careful when you pat him, he likes to bite people
…especially near his head --never touch his head
...and don't bring your children here because he hates kids. And …

You get the idea.  Most puppy owners spend a considerable amount of time teaching commands such as sit and stay and come, but don't think about some of the really important life lessons the puppy must learn.  Until it's too late, and they end up with a dog that is difficult to manage, let alone live with peacefully.
Do you know why this is?
It is because most dog trainers are stuck doing what everyone else is doing…  And that's training the sit, the down and the stay commands! That's right. Its like sheep, everyone following each other and nobody asking WHY?
Think about it for a moment… has a dog ever been euthanized because he couldn't do a reasonable sit-stay?  How about the poor dog that takes a few seconds to do a down command?  Yes, we want our dogs to learn commands, but do we really care about these things, in the long run?  Probably not.

Yet, these are the things that puppies learn in kindergarten.  What do you think our own children would be like if all they were taught in kindergarten was how to count to 100?

Puppy problems can easily get out of control—aggressive, barking, growling, biting and a whole range of other undesirable behaviors.  These are the kinds of dogs that get relinquished to shelters.  No one wants his or her precious puppy to grow up being aggressive to children, strangers, or even us, their owners. Sadly, puppy problems only get worse with time without any intervention.
More dogs are euthanized for aggression, barking, and growling than any other cause. Any type of dog aggressive whether it is directed at children, owners, or strangers is bad news.

Out-of-control small dogs can be dangerous especially when they ignore you when you let them off the leash. These kinds of puppy problems can be deadly.

Yet how often are we taught these things when we take our puppy to kindergarten classes.  If you've ever had the chance to accompany your small puppy dog to obedience classes, you will know what I mean.  The trainers there work with basic commands, and that's about all.
Puppy Problems vs. Perfect Puppy

What is your definition of the perfect puppy?  My guess is that you might say at least one or more of the following:

1. Calm around all other animals including dogs and cats
2. Friendly to all people including children
3. Relaxed, quiet,  and obedient around the home
4. Amazing at coming when called when off leash at a park.5.
5. The perfect angel when walking on the leash in public
So how do we achieve it?

Well, if you want to transform your puppy problems into a perfect puppy angel, I have some great news.  I have partnered with Doggie Dan, the online Dog Trainer who can help you every step of the way.  The best part of it all is that it's not complicated. At least it's not
complicated or tricky anymore… all thanks to Doggy Dan's The Online Dog Trainer video website 
I ran across Dan's site a while back when I had an adult dog that was guarding her food.  It might not seem like a big deal, but for an eight pound dog, she was very aggressive when anyone or any dog came near when she was eating.

When I found out that Dan offers a 3 Day $1 trial of the site, I decided to take advantage of it, knowing that I could cancel and only be out my dollar.  Well, as it turned out, I didn't want to cancel, but that's all history now.  

I definitely recommend you take a look at his site. I did, and I was amazed.  (AND just so you know, it takes a lot to amaze me.)
On his website is the most amazing collection of videos showing you precisely how to achieve this kind of 'perfect' dog.

In fact, Doggy Dan shows you through the video diary he made of his eight week old puppy, Moses.  He guides you through each stage of development, so you end up with the kind of the adult dog you dream about.   

I am a very visual person.  I love to read, and I constantly read.  But when it comes time to train my dogs, I need something more than a good book.  I need someone that can both tell and show me how to do what I need to do.
Dan filmed his puppy as he grew and continued to do so for the entire first year.  Each film represented a series of lessons that puppies should learn.
 
You watch and train your own small breed puppy so bad habits, and problem behaviors do not manifest later on later on.
 
And once your dog is fully grown his site provides in-depth information on any kind of poor behavior that you may face with your adult dog. There are sections on health, food,
behavior and training.
Doggy Dan's site is truly incredible with literally hundreds of videos inside showing you  how to achieve those five important behaviors I mentioned earlier... and much, much more!

Now, I'm not discouraging you from taking your puppy to school.  But after watching a few of Dan's videos, I was shocked at how fast I could break some of the habits of my older dogs.  More important, I'm currently training three small breed puppies and Dan has a different way of looking at puppy problems.

So if you really want to have a dog that you can be proud of, just take the 3 day $1 trial inside Doggy Dan's site here
Dan allowed me to show you a little video  of him with his dogs.  Hope you enjoy.

Visit Dan now and take advantage of the three days of unlimited access to his videos for just $1.00.  It's well worth the price.   Doggie Dan's Puppy Training Videos.

Grab Our Free Ezine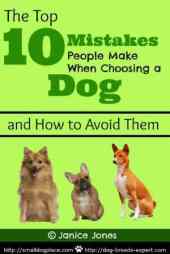 Your Free Bonus for Subscribing.
Get my free email newsletter and take a look at my downloadable ebook, The top Ten Mistakes People Make When Choosing a Dog (and how to avoid them).
Signing up to my newsletter means you'll never miss any news or valuable information from this site.
Newsletters come out about once per month, unless I have something important to bring to your attention.  Happy Reading.