Paying Tribute to Brutus
by Jacquie Wright
(b c)
We taught our shihpoo alll the tricks we could think of ......then one afternoon Brutus and I were playing on the bed I rolled him over unto his back, gently held his front paws together and said prayers. I repeated this several times then just said prayers and he did it on his own. Wish we had know more things to teach him. We lost him last Oct 31 after 14 wonderful years. we miss him terribly.
My lovely and super cutie, Shi-poo
by Alvin R. Victoriano
(Valenzuela City, Manila Phillipines)
I have a female shi-poo named Marshey. She is so cute,lovely,and cuddly; she wants to play with me everyday. Every time i get home from the office, she is so crazy to see me. She wants to be hugged and kissed. I love her so much. Every time I go outside she cries so much that I can't leave her. Sometimes, if she have no nanny at the house I will bring her to the office and my officemate loves her so much. She likes to eat and play in my office and sometimes she will lay down on my table to sleep. And she loves eating chicken liver and pork. She also eats vegetables and fruits... :) i am so happy with my baby Marshey..
Harry 3 1/2 months old
by Lyn
(Brisbane)
I bought Harry today from a pet shop. I was waiting on a Golden Retriever but little Harry decided I was going to be the Mummy he wanted. My best friend and I visited a pet shop ready to buy another breed of doggie but the dog we saw yesterday had been sold. Little Harry is a cross between a Shitzu and a poodle. I have never been one for little yappy dogs, always preferred big dogs. However Harry is a big surprise for me. He is not only barking, but in one day he has already learned to sit, roll over and fetch the ball. Absolutely amazing for a little dog which I thought would't be very sensible. I shall certainly be putting a lot of time into this little fluffy rug of a pup. He is already very affectionate and is doing what he feels to do after being in the pet shop for 6 weeks. Lots of love and affection for him. My original thoughts on little dogs being yappers and senseless has gone. Harry is now my dog forever.

Lyndell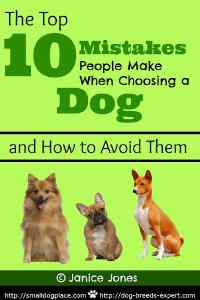 Free Monthly Newsletter
Sign Up for Our Free Newsletter and get our Free Gift to You.

my  E-book, The Top 10 Mistakes People Make When Choosing a Dog (and how to avoid them)