Small Dog Newsletter February 2022
Small Dog Newsletter: February 2022

Hi, and Greeting from Small Dog Place,
I hope everyone is staying warm and safe.  Where I'm at, it's cold and snowy, my dogs don't seem to mind.  If there is snow to eat, dig, play or otherwise get wet and dirty, they are thrilled and forget the cold temperatures.
What's New in February
Will you be celebrating any of the holidays below?  If so, please let us know.
Every Month Has a Reason to Celebrate
Feb. 2: Sled Dog Day
o Feb. 3: Doggy Date Night
Feb. 3: National Golden Retriever Day
Feb. 14: Pet Theft Awareness Day
Feb. 19: National Boston Terrier Day
Feb. 20: Love Your Pet Day
Feb. 22: Walking the Dog Day
Feb. 22: World Spay Day
Do You Groom Your Own Dog?
Some dog breeds are very easy maintenance and owners of these dogs rarely think about grooming.  A quick brush, a bath and a toe nail clip is all that most short haired breeds need to stay looking their best.  
But for breeds whose hair continues to grow, grooming gets to be expensive and time consuming.  How well do you know how to brush your long haired breed?  Here's a primer on how to deal with dog nails.
How Many Dog Names Can You List that are also Foods
Check out this list.  There are hundreds if not thousands of great dog names that originated from something delicious to eat.  Check out the entire list.
Winter Safety Tips
Winter can be a fun season especially for dogs that love the snow.  However, it can be hard on their paws and too much cold weather can lead to hypothermia.  A warm winter coat for outside activities and a comfortable sweater for lounging indoors may be the answer.
What do you need to know about dog paw pads?
Working From Home?
If you are one of the lucky ones still working from home during this pandemic, you might be wondering how to be more productive especially if you have a very needy small dog.  
Ever thought about ways to entertain your dog?
Work from Solutions for People With Small Dogs
Perhaps you've been called back to work and must leave your dog alone for the first time in many long months.  Here is some advice for returning to work.
Training Tips
While training a dog can be fun and rewarding, it's likely the hardest part of dog ownership.  Small dogs are notoriously harder to train than larger breeds, but that is not always the case.  If you are just getting started, why not concentrate on one skill at a time and master it before going to the next. Training is a great bonding experience for both the dog and the person and both receive a great deal of satisfaction.
Do It Yourself Dog Training Tips
Learn why the command, "leave it" is so  important and how to teach it.
Until Next Time
Stay warm, healthy and safe and give your small dog a little kiss.

Past Small Dog Newsletters
Here are a few past issues to read if you are interested:
Does This Article Deserve Your Thumbs Up?
We always appreciate your support and encouragement.  Your thumbs up means so much to us.  Please like this article.
If you find this page or any page on Small Dog Place Helpful, or useful in anyway, I'd love it if you would click the small heart found on the bottom right of each page.
You can also share or bookmark this page -- just click on the: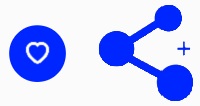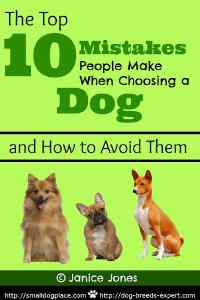 Free Monthly Newsletter
Sign Up for Our Free Newsletter and get our Free Gift to You.

my  E-book, The Top 10 Mistakes People Make When Choosing a Dog (and how to avoid them)