Small Dog Paw Prints Party:  3 Great Activities and Crafts to Get You Started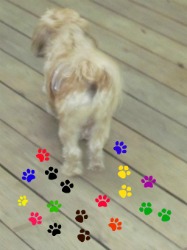 Ever thought about hosting a small dog paw prints party?  Planning a party for your puppy can be a difficult task.  This may be especially true if you have a small dog, since many activities may be overwhelming or unsafe for your dog.  
Fortunately, there are some great options for small dogs, one of which is a paw print party.  From making murals with your small dog's and his or her friends to a paw print guessing game, here are three ways that you can make your small dog's party extra special.
Small Dog Paw Prints Guessing Game

A paw print guessing game is a fantastic way for small dogs and their owners to have a blast!  To play this game, each dog/owner will need a large sheet of paper or poster board to serve as their "canvas" and some pet-safe paint (you can find paint made specifically for pets online).  Then, the owners should temporarily trade dogs with one another and then dip their new pup's paws into paint. 
Next, owners should encourage their new puppy to walk all over the canvas.  Using toys and treats can be a fun way to get the dogs moving.  Once all of the dogs have walked on their canvasses, the canvasses should be gathered together and placed randomly on a wall. 
Owners can then try to guess which canvass belongs to their own dog, using the paw prints to identify them!  Alternatively, all of the puppies can walk on the same canvass and then try to label which prints belong to which dog. 
The first person to guess their dog correctly can win a fun paw prize, for example, a pair of dog slippers. You may even be able to find a pair matching your dog's breed at Crazyforbargins.com
Small Dog Paw Prints Paper Weights

This activity isn't just fun; it is practical too.  All that you need to get started is salt dough (you can find easy recipes online), and a rolling pin.  Simply give each guest a clump of salt dough and then let them use a rolling pin to flatten it, so they have a circle of about 4 inches in diameter and about half an inch in thickness. 
Then, all the guests need to do is gently push their dog's paw into the dough so that they leave an imprint, then they can scrape their initials into the dough (or not, if they want to play another slightly different round of the paw print guessing game), and bake their creations in the oven at 250° for two and a half hours. 
After they have cooled off, everyone should have a rock hard cast of their dog's paw print.  They can place this on their fireplace mantle, or just keep it on their desk as a reminder of how much fun they had with their dog at the party.
Donate a Small Dog Paw Prints Mural to Someone Special
Creating a puppy paw print mural can be a really fun activity for your small dog and is a great way to say thanks to someone that has played an important role in your puppy's life.  
Did your dog just graduate from training school?  Have your puppy create a piece of paw print art that you can give to his trainer, or invite other small dogs from training classes and create a whole mural of paw prints that you can donate to the training school. 
Does your small dog ever volunteer at a hospital or an elderly home?   Donating paw print art to these places or creating a paw print mural with other dogs that volunteer is sure to bring everyone lots of joy. 
Making the mural is almost the same as making the canvasses for the paw print guessing game, except this time you will need a BIG sheet of paper. 
Alternatively, you can also buy a light colored sheet.  If you are going to give away the mural, make sure that your pup and all of his or her friends line up in front of it for a photo shoot before you hand it off.
A paw print painting party can be a fun way to celebrate a special moment in your small dog's life.  Ideas like playing a paw print guessing game, making paw paper weights, and donating paw print art can help to make the party fun for dogs and people alike. 
By keeping the artwork your puppy creates or donating it, you can create memories that you and others can cherish forever.
Grab Our Free Ezine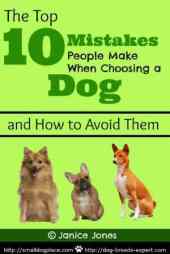 Your Free Bonus for Subscribing.
Get my free email newsletter and take a look at my downloadable ebook, The top Ten Mistakes People Make When Choosing a Dog (and how to avoid them).
Signing up to my newsletter means you'll never miss any news or valuable information from this site.
Newsletters come out about once per month, unless I have something important to bring to your attention.  Happy Reading.