We love our Addie, a Miniature American Shepherd
by Stephanie Rhodes
(Salem, Ohio)
At just 12 pounds full grown, she still seems tiny.
Janice, I love your page, it's very informative!! We have a toy and she's a sweet handful. She weighs about 12 lbs full grown at 9 months old.

She loves to play with her toys and be outside. She enjoys the cooler weather and does not really like the summer heat. My husband and I are followed everywhere and she has to be super close to both of us at night when we sleep.

She loves barking at birds, but stops when we tell her no barking. She loves people and other dogs, but gets OVER excited and we're working on calming her down.

We're still working on her coming to us off of the leash, she loves to run and run!! Once she's tired, she eventually will let me catch her to go inside.

We live on a large family farm with lots of land to run, so it's easier to get her adjusted to not being tied up all the time whenever she's outside for fear of her running into the road.

My goal is to have her be able to roam around the farm with us and follow us right into the house when we're done.

Right now her game she loves to play is "you can't catch me, I'm too fast!!" My last final thought on this breed is she's always happy!!
Join in and write your own page! It's easy to do. How? Simply click here to return to Miniature American Shepherd.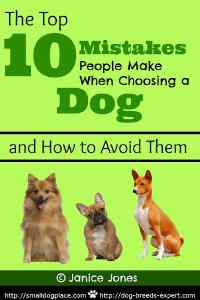 Free Monthly Newsletter
Sign Up for Our Free Newsletter and get our Free Gift to You.

my  E-book, The Top 10 Mistakes People Make When Choosing a Dog (and how to avoid them)