Small Dog Place Blog
Welcome to my Small Dog Place Blog. This is the place to find all the new additions as well as updates to older pages. If you haven't visited Small Dog Place in awhile, this is the page to find. That way, you know you haven't missed anything.
Sep 19, 2017
Shorkie, Shih Tzu--Yorkie Hybrid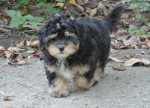 A Shorkie is what you get when you cross a Shih Tzu and a Yorkshire terrier parent. Learn about their appearance, personality, health concerns and grooming requirements.
Advertising on this Site
Small Dog Place is a participant in the Amazon Services LLC Associates Program, an affiliate advertising program designed to provide a means for sites to earn advertising fees by advertising and linking to amazon.com  This site receives a small commission from all affiliate links and third-party advertising.