Coping With Seasonal Allergies In Your Small Dog
Seasonal Allergies     by Karole King     |Updated 11-04-2021
Spring is in the air, which means that allergy season is already in full swing across many parts of the USA.
While it is no secret that countless Americans are affected by seasonal allergies, we don't always realize to what extent our beloved canine companions can also be affected by the changing seasons.
In fact, seasonal allergies account for the majority of allergic reactions in dogs, according to the American Kennel Club. Although it is not always possible to prevent an allergic reaction from occurring, being aware of the various triggers, symptoms, and precautionary measures can go a long way in keeping your small dog happy and healthy as allergy season approaches.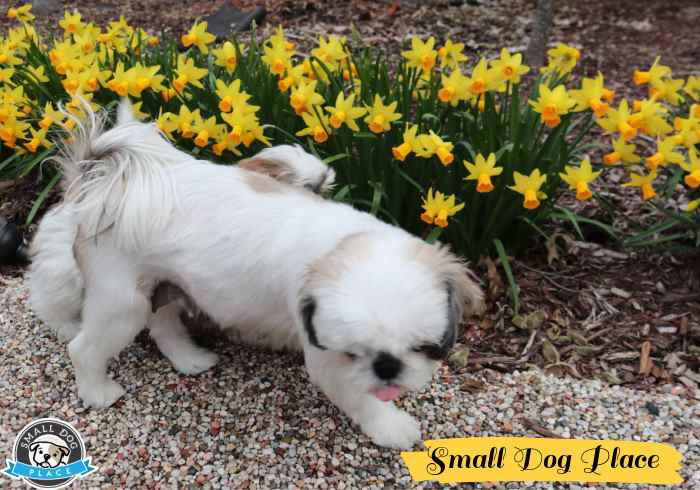 There are various allergens to be aware of
Seasonal allergies in dogs typically occur when they inhale or come into close contact with any of several allergens. Dogs also absorb allergens through the surface of their skin, as well as their paws.
Some of the most common culprits include grass, pollen, weeds, mold, fungi, and flea saliva. Dust and dust mites are another very common seasonal allergy trigger, and these are particularly prevalent in the drier parts of the country.
Although these allergens can trigger a reaction in any dog, allergies are more common among certain small dog breeds, including Maltese, Poodles and the Shih-Tzu.

Consider Indoor Air Quality
Don't only focus on the outdoors.  While the majority of seasonal allergens can be found outside, it's important to remember that they can also make their way indoors.
To keep your beloved dog as safe as possible inside your home, careful attention needs to be paid to the indoor air quality, as well as the overall cleanliness of the home.
To reduce the prevalence of mold, pollen and dust in the air, vacuum floors and upholstery on a regular basis, and dust all surfaces in the home.
Ensure that enough fresh air circulates through the rooms, and make sure heating and cooling equipment is maintained well. A malfunctioning furnace can, for example, increase the number of allergens in the air, while also wreaking havoc with the comfort levels in the home.
Thankfully, most issues with heating systems, including faulty control boards and broken blower belts, can be sorted out with relative ease. 
What are the Symptoms of Seasonal Allergies?
Keep an eye out for the symptoms.  The symptoms associated with seasonal allergies can range from very mild to severe. Although seasonal allergies don't frequently pose a serious health risk, even a mild flare-up can cause significant discomfort.
Always be on the lookout for any symptoms of a seasonal allergy. These can include respiratory issues such as coughing, wheezing or sneezing, shedding, and constant paw licking.
Ear infections are another common symptom of a seasonal allergy, and usually result in red or waxy ears, discomfort, and frequent head shaking.
Another very common symptom of an allergic reaction is excessive scratching or biting. This is often brought on by canine atopic dermatitis, which elicits a level of discomfort similar to that caused by chickenpox or a poison oak rash.
Seasonal Allergies:  Symptoms
Coughing, Wheezing, Sneezing

Shedding

Paw Licking

Ear Infections

Excessive scratching or biting
When to Consult the Veterinarian
A professional diagnosis is encouraged. Although it is often possible to diagnose a seasonal allergy in your dog by yourself, seeking a professional diagnosis is recommended to rule out any other possible underlying conditions.
A vet will take a number of things into consideration before making a diagnosis. This can include taking a detailed history of your dog, conducting a physical examination, and running lab tests.
Additionally, a veterinary dermatologist will be able to conduct a skin test to measure your dog's reaction to various allergens. The test is performed by applying micro-doses of the allergen to the dog's skin to see whether a reaction is triggered.
Managing Seasonal Allergies
Manage the allergies as best you can. There are a number of ways to manage seasonal allergies in small dog breeds. One way is by having a canine oral antihistamine or topical ointment prescribed to ease the symptoms.
If the dog's allergies are moderate to serious, a vet may decide that an allergy serum administered by injection is the way to go.
As tempting and as harmless as it may seem, it is of vital importance to never give medications prescribed to a human to a dog - except if the go-ahead is given by a vet. If the allergies affect the skin, a lukewarm bath can also be very effective in easing the itchiness and general discomfort.
Prevention is Better than a Cure
Prevention is always better than cure when it comes to allergic reactions. Where possible, always try to limit your dog's contact with any possible allergens.
Change your walking schedule so that you aren't out and about early in the morning or late in the afternoon when the pollen levels are generally at their highest.
After outside time, either wash your dog's paws, or wipe them down with a baby wipe or wet cloth. Also, give your dog more frequent baths during allergy season to prevent a build-up of potential allergens on the coat or skin.
Seasonal allergies are a fairly common occurrence in a small dog. Thankfully, there are a number of ways to help keep your beloved dog as happy and healthy as possible.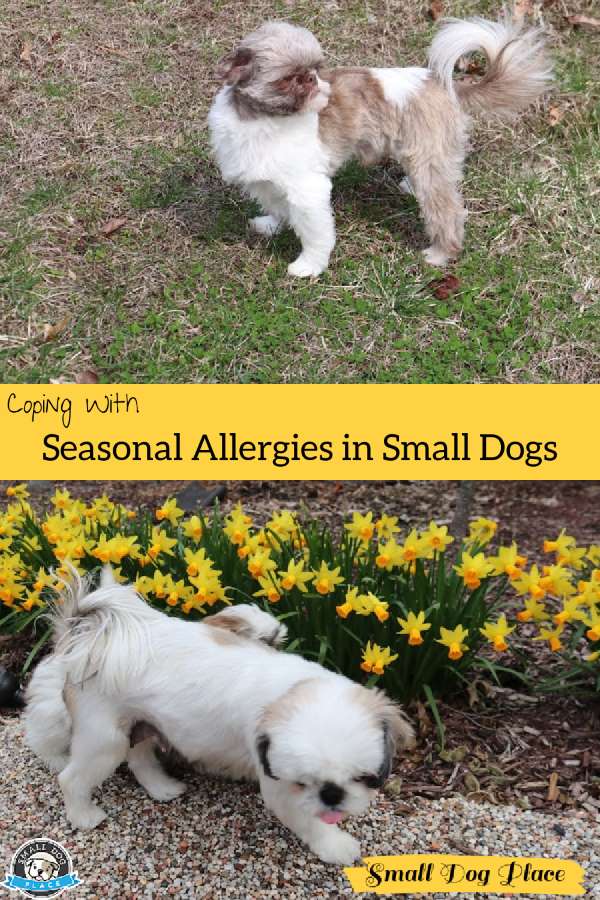 Author Bio
Karol King "Karol is an animal lover who has dedicated her life to helping dogs to find a safe and happy home. She now works as a freelance writer, which is her passion, and has the freedom to spend more time at home with her wonderful family."

Did You find this article helpful?
Does This Article Deserve Your Thumbs Up?
We always appreciate your support and encouragement.  Your thumbs up means so much to us.  Please like this article.
If you find this page or any page on Small Dog Place Helpful, or useful in anyway, I'd love it if you would click the small heart found on the bottom right of each page.
You can also share or bookmark this page -- just click on the: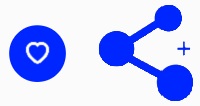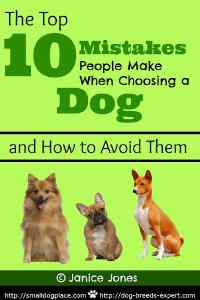 Free Monthly Newsletter
Sign Up for Our Free Newsletter and get our Free Gift to You.

my  E-book, The Top 10 Mistakes People Make When Choosing a Dog (and how to avoid them)