Dog Names by Country of Origin

By Janice A Jones   |Last Updated March 25, 2019
Dog Names by Country of Origin is a very popular way of choosing a puppy name, especially for a purebred dog. 

It is important to learn as much as you can about the breed before making that final decision, but it is also fun to discover interesting facts and learn about the breed's history as well.

If you know where your dog's breed originated, you can pick a cute name based on the country or region where the breed was first developed.
Dog Names are as diverse as the dog breeds themselves, and they seem to go in and out of popularity.
There are so many possibilities that it can be a daunting task just coming up with the right name.

---
Dog Names by Country of Breed Origin

Some small breed puppy owners choose a name based on the country of origin of their pooch. 
For example, breeds that originated in Asia such as the Pug, Shih Tzu, Japanese Chin and Lhasa might give their dog an Asian sounding name such as Ming Sue, Mei Ling, Mei Lee. Haiku, Sushi, Sake, Sulu, Bonsai, Ying Yang, 
What is the country of origin of your small breed dog?

Scottish Dog Names:  Dog Names by Country of Origin

Scotland is well known for developing some of the most distinct terrier breeds all well suited to the rugged terrain that they were once asked to work.  Even the Shetland Sheepdog is unique in its ability to herd livestock both their own size and those much larger.
The Scots have always loved and treasured their dogs for their amazing working ability and have used them for centuries as hunting, farming and herding dogs.  Today, these dogs are cherished as much for their companionship and love.
No need to go any farther than Dorothy as she'll tell you that her little Cairn Terrier, Toto was something very special
Many of our terrier breeds originate from Scotland. 
Border Terrier
Cairn Terrier
West Highland White Terrier
Shetland Sheepdog
Dandie Dinmont Terrier
Scottish Terrier

---
Irish Dog Names:  Dog Names by Country of Origin
When one thinks of the dogs of Ireland, the first breed that comes to mind is that of the Irish Wolfhound,  a magnificent dog but Ireland can boost of 9 original breeds most of which are a bit too large to be included on this website.
It's interesting to note that Irish dogs were very busy during World War I where they acted as scouts and messengers and did a good job of clearing the trenches of rats. 
There's much more to the history of dogs in Ireland and if you're a bit curious, check out David Blake Knox's book, the Curious History of Irish Dogs.   
---
Australian Dog Names
Australia has a rich history of dogs beginning with the first, the dingo and later developing 13 other native bred Aussie breeds including a few smaller dogs that are featured on this site.
Like many other countries, the 1800s saw a rise of dog breeding with the intention of creating great farm dogs, hunters, herders, vermin killers and all round companions. 
Many were developed by taking British breeds and mixing them with Australian dogs to create new varieties such as the Silky Terrier
Four Small Dog Breeds Originating In Australia
Tenterfield Terrier
---
Alaskan Dog Names:  Dog Names by Country
You can't mention dogs in Alaska without addressing one of the favorite sports of the state, mushing. 
The famous iditarod ran yearly is always associated with parkas, toboggans, mushers, and the famous Balto whose statue stands proudly in Central Park.
But dog sledding goes way back and was a necessity and not a sport. 
From the beginning of native settlements in the far north to the gold rush, dog sleds and the dogs that pulled them were required for long distance transportation on the snowy terrain.
The dog sleds were the main vehicles to pull fish and game from hunting and fishing camps back to the main settlements.
One Small Dog Breed from Alaska featured on this site:
---
Italian Names for Dogs:  Dog Names by Country of Origin

Italy lays claim to 14 internationally recognized dog breeds many of which are popular world-wide.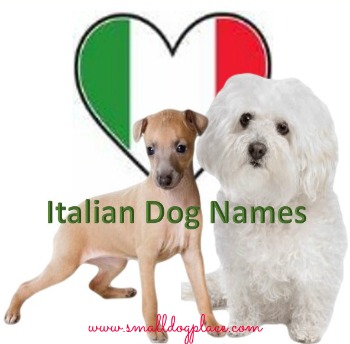 Italian Dog Names for your little one from Italy.
Do you have a dog breed originating from Italy? Here are five small breed dogs that are profiled on this site.  

Have you considered a great Italian name?
Here are just a few of the many names from which you could choose.  We tried to limit the names to 2 or at the most 3 syllables as this is the best practice for choosing a dog name.
---
Spanish Dog Names
¡Hola!  ¿Hablas español? 
No worries if the answer is no.  There's still some great Spanish Dog names for that spanish speaking dog of yours. 
Even though English may be yours and their preferred language, there are many beautiful names in the Spanish language that work great as dog names.  Check them out. Click on the photo below to see the complete list.
Spanish Dog Names
Here's a few Spanish Dog Breeds:Spanish Mastiff, Spanish Water Dog, Catalan Sheepdog, Pyrenean Shepherd, Great Pyrenees, Alano Español,  Spanish greyhound,  Perro de Presa Canario, Spanish Pointer
---
Mexican Dog Names
You may think that our Mexican dog name list is identical to the Spanish dog names list, but there are some differences.  If you have a Mexican dog breed or have fond memories of a Mexican vacation, you may want to consider a Mexican Dog Name for your new little puppy. Click on the photo below to be taken to our list of Mexican Puppy Names.
Mexican Dog Names
Mexican Hairless (Xoloitzcuintli, or "Xolo" for short)
Chinese Crested (Originally from Mexico but developed in China)
Other Breeds include:

Chamuco, also known as the Mexican Pit Bull
Calupoh dog or Mexican Wolfdog

---
German Dog Names:  Dog Names by Country of Origin

Deutsch-Hund?
*Indicates that there may be some discrepancies in the historical origins of the breed

---
Typically American Country/Western
Have a dog breed made in America?
---
Does This Article Deserve Your Thumbs Up?
We always appreciate your support and encouragement.  Your thumbs up means so much to us.  Please like this article.
If you find this page or any page on Small Dog Place Helpful, or useful in anyway, I'd love it if you would click the small heart found on the bottom right of each page.
You can also share or bookmark this page -- just click on the: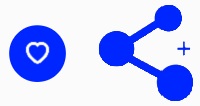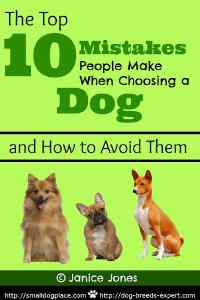 Free Monthly Newsletter
Sign Up for Our Free Newsletter and get our Free Gift to You.

my  E-book, The Top 10 Mistakes People Make When Choosing a Dog (and how to avoid them)