Alaskan Dog Names - Popular and Exotic

Searching for Alaskan Dog Names for your new puppy?  Whether you have a dog breed developed in the far north, love the natural beauty of Alaska, or just have a fascination with the language, you might just find the perfect dog name on this list.
Alaska is home to at least 20 Native languages. Traditional Alaskan names are often used for both girls and boys and it is not unusual to find a family who names their new son after his grandmother. 

The names on this page represent three different categories: 
Popular names such as Kodiak, Orca, or Eskimo that people often think about when they brainstorm Alaskan Names
Traditional Inuit names and words taken from one of the many languages found in Alaska and northern Canada
Place names such as cities, lakes, and parks.  They are listed here because they have cool sounding names that work well as dog names.  
So many of the traditional words found in these languages are long and contain many syllables. 
Though beautiful to the ear, they may be too much for a dog to recognize.  There are many dazzling names but I have restricted this list to ones that would work well for dogs.
So remember, your dog doesn't need to be the next Balto, run the Iditarod, or even be of a breed developed in Alaska to be christened with one of these great sounding names.
Some small breed dogs associated with Alaska and the North.

HINT:  Pronunciation
The letter I is usually pronounced as ee so that the name Miki meaning little is pronounced mee kee


Common Names Associated With Alaska

Place Labels that Make Great Alaskan Dog Names

Alaskan Dog Names

These names can be used for either male or female dogs unless noted.

Aanaq:  Mother (pronounced ah-nak)  Female Dog
Aatag:  Father (pronounced Ah-tag) Male Dog
Aga:  Mother Female Dog
Akiak:  Brave
Akna:  Mother goddess  Female Dog
Amak:  Playful
Arrluk:  Killer whale
Atka:  King
Ataneq:   King  Male Dog
Cupun:  Coal
Kamik:  Eskimo Boot
Kima:  Candy
Koko:  Chocolate
Miki:  Little
Miska:  Little Bear
Nanook:  Cute
Nanuk:  Polar Bear
Nini:  Porcupine
Nukla:  Younger Sister  Female Dog
Pinga:  Goddess of the hunt, fertility and medicine
Pukak:  Snow:  Smart
Pakak:  One that gets into everything
Panik:  Daughter (Female Dog)
Sakari:  Sweet
Sesi:  Snow
Shila:   Flame
Shtiya: 'My strength'
Siku:  Ice
Suka:  Fast
Suluk:  Feather
Sura:  New Life
Tikaani:  Wolf
Tupit:  tattoo lines on face


---

---

The Photos on this page were taken during a summer trip to Alaska.  The dogs train all summer for the upcoming winter Iditarod.

                                  ~Janice

Grab Our Free Ezine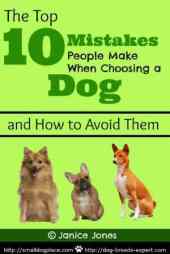 Your Free Bonus for Subscribing.
Get my free email newsletter and take a look at my downloadable ebook, The Top Ten Mistakes People Make When Choosing a Dog (and how to avoid them).
Signing up for my newsletter means you'll never miss any news or valuable information from this site.
Newsletters come out about once per month unless I have something important to bring to your attention.  Happy Reading.