Small Dog Place Blog
Welcome to my Small Dog Place Blog. This is the place to find all the new additions as well as updates to older pages. If you haven't visited Small Dog Place in awhile, this is the page to find. That way, you know you haven't missed anything.
Jun 24, 2019
Cocker Spaniel: Will This Breed Be Your New Best Friend?
Gentle, affectionate, and loving, the Cocker spaniel can make the perfect family pet, Find out about care, temperament, health and history.
Continue reading "Cocker Spaniel: Will This Breed Be Your New Best Friend?"
Advertising on this Site
Small Dog Place is a participant in the Amazon Services LLC Associates Program, an affiliate advertising program designed to provide a means for sites to earn advertising fees by advertising and linking to amazon.com  This site receives a small commission from all affiliate links and third-party advertising.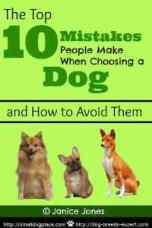 Free Monthly Newsletter
Sign Up for Our Free Newsletter and get our Free Gift to You.

my  E-book, The Top 10 Mistakes People Make When Choosing a Dog (and how to avoid them)
If you enjoyed this page, I'd love it if you'd let me know.  Just click the button below.  Thank you.