Best Dog Breeds for
Seniors & Retirees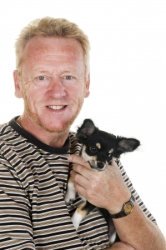 Best Dog Breeds for Seniors:  Our Top Recommendations
Would you agree that Small is usually better when considering which breed is best for senior citizens. 
Admittedly, we're a little biased around here, but there's lot to be said about the perfect dogs for senior citizens and retirees.  Big or small..
The warmth, companionship, love and entertainment that dogs provide can make all the difference in the life of an older person. 
What is better than a companion who is always cheerful, eager to please, and thinks you are the best person in the entire world?
Who could resist a companion that gives us unconditional love 24/7 and asks nothing in return but a bowl of food, a drink of water, a warm lap and a few caresses, now and again? 
Why spend hundreds on expensive entertainment when you can have a companion that makes us smile and provides free entertainment?
We know that dog ownership can benefit humans in many ways, all of which are vitally important as we reach our senior years.
For at least 15,000 years and perhaps much longer, dogs have lived side by side humans. 
There must be something to this human--dog bond. 
Research into the health benefits of owning a dog is now well established.  All the important health and psychological reasons for owning a dog are especially critical as we age.  For example, did you know…
Benefit of Dog Ownerships

Dog ownership increases survival rates after heart attacks


Lowers cholesterol and triglycerides.


Decreases blood pressure and stress


Increases physical activity


Increased feelings of well-being


Lower rates of depression by elevating the levels of serotonin and dopamine. 


Help feeling less lonely


Helps promote social interactions with other people


May reduce the demand for medical care for non-serious health issues


Pets have been shown to build self-esteem, increase mental alertness,
and lift the spirits of people with Alzheimer's disease.


Seniors also tend to care for themselves better when they own a pet.
---
But, before rushing out to purchase a puppy,
there are many things to consider.
---
Purchasing/Adopting a Dog for a Loved One
Don't!  If you are in a position to purchase or adopt a dog for your parent or grandparent, please stop and ask them if they really want a pet.
Owning a dog may be the best solution to loneliness, but if the senior does not want one or does not feel they are capable of caring for a dog, you will be adding additional burdens and stress into their life. 
A person should always choose their own dog.  Giving the gift of a dog is never a good idea.  There will always be bonding issues and the possibility of hard-feelings on the part of the senior.
BUT, it they are interested in choosing a dog,
by all means, Show them this Page!

Purchasing/Adopting a Dog for Oneself

If you are a senior and are thinking about the addition of a four legged friend, please consider the following:
What is the life expectancy of the breed you are considering?  How old will you be when the dog reaches his senior years?  Small dogs generally live longer than big dogs.


What are the physical needs of the breed you are contemplating?  Are they a very active breed requiring several daily walks?


What are the specific needs of the breed you are anticipating acquiring such as grooming and training?


How will you manage a dog under foot, if ambulation is a problem for you?  If you are in a wheel chair, is the dog you are considering able to move out of the way.


Do you have any medical needs that would interfere with dog ownership?  (i.e. oxygen tubing that puppies love to chew)


Do you have the resources to pay for vet bills, grooming and supplies?


Do you travel?  Will you take the dog with you or hire a pet sitter, ask a friend or board the pet.


Many seniors who have owned pets all of their lives do not adequate consider the difference between adopting a dog at the age of 35 and 65. 

What are Your Options?
Older Dogs Verses Puppies

Older dogs are better than puppies for a retired person. 
They are beyond the crazy puppy stage and many have already been trained to walk on a leash, obey basic commands and eliminate in appropriate places.  This is not always the case, so it is important to learn as much about the background of any dog you are considering as you can.
If you can find an adult dog from a good rescue organization or shelter this is, in our opinion, the best dog option for a senior.

Senior Dogs:  A great Choice!

Senior dogs can be a great choice.  Many people shy away from a senior dog, but they deserve just as much love and attention as any younger dog.  They are the least active, often the most appreciative and loving dogs, but may have health problems.  Often health concerns can be as simple as giving the older dog a pill once a day. 
Veterinary bills can be an issue, but there is health insurance for pets that help with these costs.  Most of all, senior dogs have so much love to give and just the act of adopting one knowing you may be his/her last chance provides rewards greater than words can express.
Large Dogs Verses Small Dogs

Safety

You are less likely to trip over larger dogs, but most adult small dogs know how to get out from under the foot of a walking human. Puppies are another story.
Large dogs can be challenging even for young people to manage. A poorly trained large dog that jumps on people can be a safety issue to a senior. 
Balance is not always as good with seniors as it is with younger people and it doesn't take much to lose one's balance and fall. 
Portable

Small dogs are easier to pick up and take places including visits to the veterinarian, grooming salon or on a cross country vacation. Many will fit easily under an airline seat.

Clean up

Let's face it, there is err, uh, less clean up after a small dog verses a large dog. 
Small Portions, Smaller Products, Larger Savings

Small dogs eat less and often necessary products that you purchase are cheaper.  (Tiny crate verses a Giant crate)
Many seniors, who have had large dogs all of their lives gravitate to small dogs as they get older.  Large dogs require more exercise, are much stronger, and not as easy to manage. Consider a four-pound dog pulling on a leash as compared to a 114 pound dog. 
Not all small dogs are the same so it is important that you look at each breed to see which one might make the best pet for you. We looked at different scenarios when forming our top list of best dog breeds for seniors. 
Here are some of the categories we examined:

Best Dog Breeds For Seniors

Minimal Grooming

Do you want a dog that requires little in the way of grooming?  Our choice in this category of best dog breeds for seniors would be one of the short haired breeds:

Pug
Boston terrier
Chihuahua
Beagle
Dachshund
More Choices for Short-Haired Small Dog Breeds

---
Best Dog Breeds for Seniors that are Tiny

Would a really small dog be easier to handle?  Choose a:
Chihuahua
Pomeranian
Maltese
Yorkshire terrier
Teacup poodle
Read More about the World's Tiniest Dog Breeds

---
Low Energy Dogs

Do you want a low energy dog that you might not need to take on a daily walk?  Consider a:

Pekingese
Cavalier King Charles Spaniel
Japanese Chin
Shih Tzu
Pug
Bolognese
---
Quiet Small Dogs

Is a quiet dog important to you?  We think the best dog breeds for seniors are:

Bolognese
Shih Tzu
Japanese Chin
Cavalier King Charles Spaniel
Find out More about Quiet Dogs
---
Easily Trained

Need a dog that is easily trained? Our list of best dog breeds for seniors that are the most intelligent and easily trainable include:

Poodles
Schnauzers
Boston Terriers
---
Small Watch Dogs

Want a good watch dog? Our choice of best dog breeds for seniors in this area are:
Schnauzer
Poodle
Scottish terrier
---
Allergy Sufferers

Are you a Senior with allergies?  The best dog breeds for seniors would be the more hypoallergenic breeds:
Poodle
Mini Schnauzer
Shih Tzu
Yorkshire terrier
Maltese
Bolognese
Read More About Hypoallergenic Dog Breeds
Read More About Non-Shedding Small Breed Dogs

---
Small Lap Dogs

Is your heart set on the Best lap dogs?
Shih Tzu
Maltese
Yorkshire Terriers
Chihuahua
Top Ten Best Dog Breeds for Seniors

So, here are my top ten of Best Dog Breeds for Seniors, not in any particular order.  Use this list along with the recommendations above to find a breed that is right for you. 
All breeds listed on this page are purebred.  There are many hybrids and mixed breeds that would make perfect pets for a senior.  Don't rule any of those great designer dogs out when making your choice.  

Those that didn't make the top ten but still best dog breeds for seniors...

Pet Ownership Statistics

According to the 2015-2016 APPA (American Pet Products Association)  National Pet Owners Survey,  65% of U.S. households own a pet, which equates to 79.7 millions homes

Dogs are still the number one choice for pet ownership with an estimated 54.4 million households owning a dog.  Cats are owned by 42.9 million households in the U.S.