The Truth Behind the Typical Shelter Dog

Shelter Dog   by Mira Alicki   |Last Updated 04-13-2021
Every year 7.6 million pets in the United States enter the shelters out of which 2.7 million get euthanized each year. The statistics are staggering and for the dogs to get a second chance in life and find a loving forever family equals having a lot of luck.
If you are a shelter dog, you will find yourself in one of these three situations: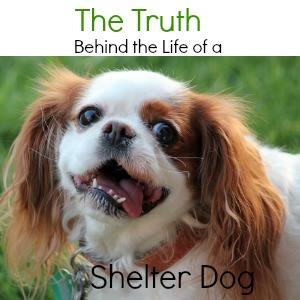 Adopt a Shelter Dog
High Kill Animal Shelter

High kill animal shelter, where currently in the US only one in five dogs has a chance to survive and be adopted. Many dogs in those high kill shelters are given one to five days to get adopted before they will be euthanized to make room for new arrivals.
By surrendering older dogs that are considered dangers to one of these shelters you are giving them a death sentence.
In the United States, each day 5,500 dogs get euthanized in high kill shelters.
No Kill Shelter

No-kill shelters are privately owned, non-profit organizations where the majority of their working capital comes from private donations.
Some of these agencies will rescue all type of dogs regardless of age or breed, others specialize in senior dogs, large breeds or specific breed mixes.
Dogs that end up in the no-kill shelters sooner or later will get a second chance in life and end up with their forever family.
Foster Family Based No-Kill Animal Charities

Usually, these organizations' working capital is too small to build home base shelters, or their foster parent's network is large enough to handle all the rescue dogs, and there is no need for shelter facilities.
Dogs that are saved by this type of organization are placed with foster families and stay there until they are matched with their new forever family.
Adopting Shelter Dogs

Adopting a dog from a regular shelter is quite simple,  most of them require you to fill out a short application and pay a minimal fee, and you can walk out with your new family member.
On the other hand, most of the no-kill charities will put you through a  more vigorous application process. Many will even send someone to your home to check your living environment.  The adoption cost is usually a few hundred dollars.
 Why is it so much harder to adopt from the no-kill charities vs. the kill shelters?
The no-kill agencies put a lot of time and effort into matching the dog with its new forever family, they want to make sure that these dogs never end up back in shelters.
The Luckiest Shelter Dogs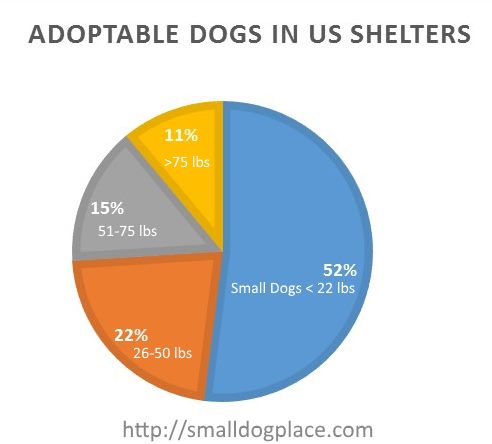 Shelter Dog Statistics
If you ask yourself which breeds are most likely to get adopted, size matters.  Here are some statistics;      
52% of adoptions are dogs less than 25 lbs
22% adopted dogs 26-50 lbs
15%  dogs 51-75 lbs 
11%  dogs 75 lbs or more
As you can see smaller breeds are more likely to find their new families and receive a second chance in life.
Why Small Dogs?

For anyone visiting this site, the reason small dogs get adopted in far greater numbers is not surprising.

Two major factors go into why a lot of people prefer the smaller dogs.  
Costs associated with small dog ownership:  The expenses that go along with owning a pet are lower with a smaller dog.


Living Conditions:    Small dogs adapt well to most any environment.  They are an excellent companion for families living in small houses or apartments without a back yard. 
Locating Your New Best Friend

If you are in the market to expand your family by adopting a furry friend and need help finding the right rescue organization in your area, here are some resources that may help you:
Adoptapet.com is North America's largest nonprofit pet search site that helps thousands of animal shelters, humane societies, SPCAs, pet rescue groups, and pet adoption agencies find loving homes for homeless pets.

Another resource you might check is the ASAP site.  You can find information about local shelters and adoptable dogs by entering in your zip code or location.  Many of the dogs listed are from shelters and others have been placed in foster homes.

Many of the organizations also list their dogs on a Petfinder website. If you are interested in a specific breed, age or gender, this is a good resource and can link you up with a specific pet and method of contacting the agency who is holding the dog.   

Source
---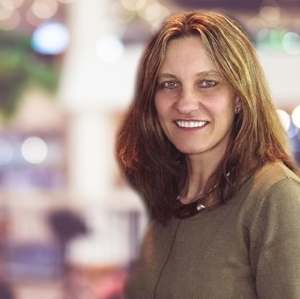 Mira Alicki is a jewelry designer and goldsmith for the past 22 years.
Her passion for animals led her to create her own line of jewelry and online store to benefit charities. 40% of each purchase is donated back to the animal community. You can find Mira on Twitter (@FIMHjewelry) 
---
Does This Article Deserve Your Thumbs Up?
We always appreciate your support and encouragement.  Your thumbs up means so much to us.  Please like this article.
If you find this page or any page on Small Dog Place Helpful, or Useful in anyway, I'd love it if you would click the small heart found on the bottom right of each page.
You can also share or bookmark this page -- just click on the: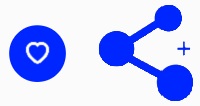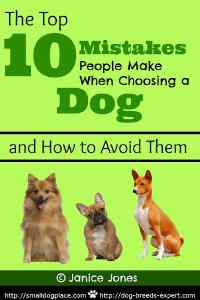 Free Monthly Newsletter
Sign Up for Our Free Newsletter and get our Free Gift to You.

my  E-book, The Top 10 Mistakes People Make When Choosing a Dog (and how to avoid them)