Great German Dog Names

By Janice Jones   |Last Updated March 28, 2019
Need some great German Dog Names for your German dog? 

Or maybe you just like the sound of the language or have fond memories of visiting the country or the people.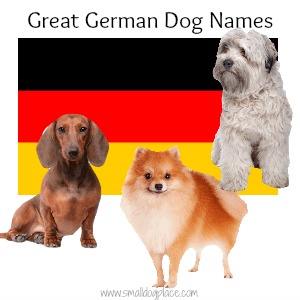 Here is a list of some of the more familiar names, but if you just want something fun, scroll down for those Cute German Dog Names.

Want to see what dogs originated in Germany?  We made a list for you.  This name list is broken down by foods, place names, and famous Germans.  Every good German dog deserves a great German Name.

German Dog Names Based on Traditional Food and Drinks
Bratwurst - one of many different types of wurst
Brezel – A Soft German Pretzel 
Budweiser - not a German beer, but the name comes the German, Budějovice, a city in Southern Bohemia

Goulash – Made with meat, vegetables and seasoning and often served over potatoes
Knackwurst - another type of wurst
Knockwurst - another type of wurst
Knödel – A dumpling that is made from flour or potatoes then boiled. 
Nudeln -  German noodles
Pilsener (or Pils, Pilsner) - pale lager beer named after Pilsen, the German name of Plzeň, a city in Western Bohemia;

Reis - German rice
Sauerbraten - A dish made with soured beef and dumplings
Sauerkraut – Cabbage that is sliced, salted and allowed to ferment until sour.  
Schnapps
Schnitzel – A meal that includes veal, turkey or chicken that is pounded thin,  coated with breadcrumbs and then fried.
Spätzle – Small dumplings boiled in water. 
Streusel - a Type of German desert
Wiener - German word adopted into English

Wurst – German for sausage
Zwieback - hard bread

Fun Names Based on a Little German
Bärchen – Meaning little bear, this name is quite adorable.
Deutsche – The word for German in that language.
Frankfurter - German word for the English Hot Dog

Frau or Fraulein –  Mrs. and Miss in German
Hase – bunny
Herr – German for mister.
Hund –  German for dog
Knuddel - German for cuddles
Liebling - darling
Maus – mouse
Mausebär - mouse bear
Perle - pearl

Prinzessin - princess

Prost – cheers
Schatz – jewel or treasure
Schnucki – close to sweetie pie
Spatzi - little sparrow
German Locations and Place Names
Bavaria – A region in Germany
Berlin – The capital and most popular city in Germany, 
Bonn - German city
Cologne – Another populous city, 
Dresden – A City that suffered heavy loses after World War II but now restored. 
Düsseldorf – An international business and financial center
Frankfurt – This large German city  Hamburg – The second largest city in Germany, 
Hessia –  German state, 
Munich – The third largest city in Germany, 
Rhine – As in the Rhine River, 
Salzburg – Another Austrian city known for its beautiful views.
Stuttgart – City where Porsha and Mercedes-Benz  are headquartered 
Vienna – The capital and largest city in Austria
German Dog Names Based on Famous Musicians
Beethoven
Bach
Brahams
Handel
Wagner
Schumann
Stauss
Famous German Scientists Make Great German Dog Names
Einstein -  Brilliant mind and father of Physics
Hertz - Physicist that proved the existence of electromagnetic waves
Kepler - Skilled in many science and mathematical disciplines was the first to prove the fundamental laws of planetary motion.
Koch - Known for his role in bacteriology including the study of anthrax and TB
Max Planck (either first or last name make a great choice)
Mozart - Austrian composer
Ohm - a German scientists and mathematician best known for Ohm's Law
Wundt - laid the foundation for modern day psychology
German Dog Names for Boys

Adel:  Nobel
Adolf:  Nobel Wolf
Aldo: Wise one
Alfons:  Ready for battle
Arnold:  Powerful Eagle
Arlo:  High Place
Axel:  Peaceful
Balder: Germanic god of light
Baldwin:  Brave Friend
Ballard:  Warrior
Benno:  Brave like a bear
Berger:  Mountain dweller
Bismarck:  Former German Chancellor
Blitz: Flash/ Lighting
Boris: Fighter
Bruno:  Brown
Claus or Klaus:  Short for Nicholas
Clovis:  Famous warrior
Conrad or Konrad:  Bold counselor
Derek:  Ruler
Dieter:  Warrior
Dustin:  Valiant fighter
Edel:  Distinguished
Edwin:  Prosperous friend
Emery:  Industrious ruler
Engel: Angel
Erich:  Eternal ruler
Ernie:  Vigorous
Ernest: Vigorous
Falk: Volf
Felix: Lucky
Fischer:  Fisherman
Flöhchen:  Little Flea
Fritz:  Peaceful ruler
Franz:  Free
Garin:  Warrior
Gerbert: Glittering spear
Gunther: Battle Warrior
Hamlin: Loves his home
Hank: Ruler of an estate
Hansel: Good Luck Gift
Hartwig: Strong battle
Heinrich: Ruler
Hans: God is Great
Heinz: House ruler
Hermann: Soldier
Hugo: Smart
Jung: Young
Kaiser: King
Karl: Strong
Kasper: Treasurer
Klaus: Victorious
Klein: Little
Krause: With Curly Hair
Krieger: German for Warrior
Kuno: Brave
Kurt: Courageous advice
Lance: A knight's attendant
Lucas: Light
Luger: Old German gun
Lutz:  Short for Ludwig
Luther: Famous warrior
Matthias: Gift from God
Max: Great
Odo: Wealthy
Oskar: Spear
Otto: Rich or prosperous
Panzer: Armored tank
Prinz: Prince
Ritter: Knight
Rolf: Form of Rudolph
Roth: Red Haired
Rudolph: Famous Wolf
Saxon: Sharp Blade
Schatz: Little Treasure
Schwartz: Black
Siegfried: Victory, peace
Sigmund: Victory, protector
Udo: Rich/prosperous
Ulrik: Power of the Wolf
Waldo: King
Warren: Watchman, defender
Wendel: Traveler
Wolfgang: Rising Wolf
Characters from Grimms Fairy Tales make Clever German Dog Names
Hansel 
Grethel 
Cinderella
Rapunzel
Rumpelstiltskin 
Ferdinand
Maid Maleen
Snow-White 
Rose-Red

Cars and Other Means of Transportation: 
Mercedes-Benz:  Mercedes is an excellent choice for a female dog
Audi
Volkswagen, or VW for short
Zeppelin
Diesel
Opel
BMW
Porsche
Alpina
German Dog Names for Girls

Astrid: Beautiful God
Ava: Birdlike
Berta: Glorious
Bertha: Bright and Strong

Birgit: Protector
Britta:  White
Cissy, Cissi, Sissi
Edelweiss: Small white flower
Elke: Nobel
Elsa:  Strength
Emma: One who cares
Engel: Angel
Erika: Powerful ruler
Etta:  Small
Frieda: Peaceful
Frida: Peace
Fraulein: Young woman
Gabi: Hero of God
Grau (male or female): Gray
Gretchen: Pearl
Greta: Pearl
Gretel: Pearl
Grizelda: Ironlike
Hedwig: Contending war
Heide: Noble and kind
Helga: Person of God
Hund: German Word for Dog
Ida: Hard working
Jenelle: Knowledgeable
Karla: Strong
Kirsch: Cherry
Klein: Little, Good for a boy or a girl
Kristel: German for Christine
Leni: Little Angel
Leona: Feminine form of Leon
Liebe: Love
Lotti: Little woman
Mallory: Wise in battle
Marthe: Lady
Milla:  Industries
Millie:  Hard worker
Mischa:  Who is like God
Mitzi:  Beloved
Nixie:  Water Fairy
Olga: Holy
Regan:  Rain
Schatzie:  Little sweetheart
Senta:  Assistant
Sofie:  Sweet
Susi:  Lily
Tilli:  Battle maiden
Trudi:  Of the spear
Trudy:  Form of Gertrude
Ulrika:  All ruling
Ursula:  Female bear
Uta:  Rich
Vala:  Chosen one
Vera:  Faith,  Truth
Wanda:  Wanderer
Wilma:  Bold protector
Zelda: Battle maid
Zella:  Short for Marcella
Zuker:  Sugar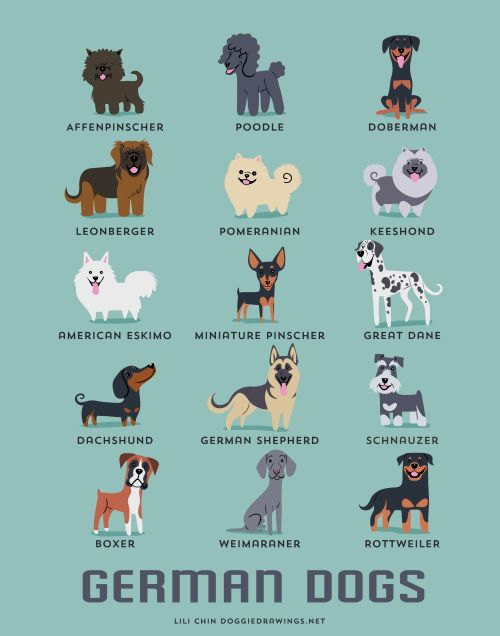 German Dog Breeds
German Longhaired Pointer
German Pinscher
German Shepherd Dog
German Shorthaired Pointer
German Spaniel
German Spitz
German Spitz Klein
German Spitz Mittel
Giant Schnauzer
Keeshond
Leonberger
Standard Schnauzer
Weimaraner
White Shepherd
Does This Article Deserve Your Thumbs Up?
We always appreciate your support and encouragement.  Your thumbs up means so much to us.  Please like this article.
If you find this page or any page on Small Dog Place Helpful, or useful in anyway, I'd love it if you would click the small heart found on the bottom right of each page.
You can also share or bookmark this page -- just click on the: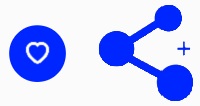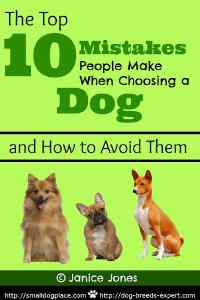 Free Monthly Newsletter
Sign Up for Our Free Newsletter and get our Free Gift to You.

my  E-book, The Top 10 Mistakes People Make When Choosing a Dog (and how to avoid them)