Ultimate List of Spanish Dog Names
By Janice Jones   |Published January 29, 2020
If you're looking for a great Spanish Dog Name, you've found the place.
There are 21 countries in the world where Spanish is the official language.  It's not surprising that many people have fallen in love with the language because it is their native tongue or have fond memories of a vacation location.  
Maybe you have a Chihuahua or Mexican Hairless that needs just that perfect Spanish Dog name.  
Spanish Dog Names
Whatever the reason, we have tons of boy and girl names along with some clever Spanish food names, geographic locations and common words that make great Spanish Dog Names.

Remember,
Pick a name that is easy to pronounce and not too long. Find one that seems to "fit" your dog.  Say it aloud and see how your dog responds.  Remember, small dogs live for 15 years and some live longer.  Find one that will bring joy to you for a long time.
Boy Spanish Dog Names and Meanings
Agustin:  The exalted one
Alejandro - Defender
Amato: Beloved
Amor:  From Latin meaning Love
Armando: Soldier
Benito: Blessed
Berto:  Meaning Bright
Bruno:  Brown
Burrito: Little donkey
Carlos: Strong
Castel: Belonging to a castle
Cesar:  Form of Caesar
Cruz:  Means Cross
Damian:  From the Greek meaning Tamer
Dante:  from Italian meaning Lasting
Diego:  Shortened form of Santiago
Diablo: Devil
Devante: Fighter of wrong
Domingo:  Spanish form of Dominic
Eduardo:  Protector

Emilio: Winner
Esteban: Crown
Fausto:  Spanish form of Faustus meaning lucky
Félix:  from Roman, meaning Lucky or Successful
Fidel: Faithful
Felipe: Lover of horses
Gizmo: Gadget
Galeno: Little bright one
Hector: Defend
Hugo (Hugh) meaning heart, mind, spirit
Jorge:  A form of George meaning a farmer or tiller of the soil 
José:  Spanish form of Joseph, "he will add"
Juan: Gracious
Julio: Soft-haired
Kapitan: Captain
Lorenzo: Means someone from Laurentum
Lucas: White
Marco: Warlike
Manuel: God is with us
Neron: Stern
Noe: Peace
Oleos: Holy oil
Paco:  From France
Pedro:  form of Peter or the rock
Quiero: Want
Quinto: Fifth
Rico: Noble ruler
Santos: Of the saints
Senon: Given life by Zeus
Tajo: Day
Umberto: Color of Earth
Ulrich: Leader
Vato: Guy
Vicente: Victory
Vido: Quick mind
Waldo: Ruler
Xavier:  Bright, Splendid
Ximen: Obedient
Xizor: Responsible
Yul: Past the horizon
Yum-Yum: Tasty
Zenon: Living
Zorro: Hero of the dawn
Girl Spanish Dog Names
Alba - Sunrise

Alma - Soul

Ana - Gracious
Bella - Beautiful
Carina - Beloved
Carissa - Cares
Carmen - Garden
Charo Form of Rosa
Chica - Little Girl
Cielo - Heaven

Dahlia - lives in the Valley
Delora, Dolores - Sorrows

Dora - Form of Eldora for your little Explorer (Dora the Explorer)

Eldora - Gift of Sun
Elsa - Truth
Eva - Life
Frida - Peace
Hada - Noble Spirit
Inés - Meek
Jaime (male or female) Supplanted
Justina - Righteous
Lalo - Sing a lullaby

Lola - Sorrows
Lupe - Valley of Wolves

Maria - Bitter
Marta - Lady
Mona - Little One
Neva - Radiance 
Nita - Grace

Ramona - Advice
Risa - Sand of the Village
Rita - Pearl

Rosa - Rose
Sonora - Pleasant
Vida (Male or Female) Wisdom
Spanish Dog Names Based on Foods
Bollos:  Sweet rolls
Chorizo: cured sausage that has spicy flavor 
Churros:  Fried pastry 

Croquetas or Croquettes:  A dish that combines something such as ham with other ingredients and then breaded and fried.
Gazpacho:  Chilled tomato soup with varied other ingredients
Jamón: cured ham is popular in Spain
Migas:  very traditional food made with torn up dry breadcrumbs

Paella:  popular dish in Spain that is made with chicken, rabbit or seafood.

Pisto:  A Spanish form of ratatouille

Tapa:  A Spanish appetizer
Tapas: Little plates
Tortilla Espanola:  Spanish omelette
and don't forget "Siesta," if you have a dog that loves to nap.
Words make Great Spanish Dog Names
Amarillo - Yellow
Aminga – friend (female)
Amigo – friend (male)
Amor - love
Azul - Blue
Baldo - Bold or Brave
Bebe - Baby
Blanco/a (white)
Bonita – Pretty
Che – Buddy or Dude
Corona - Crown
Grande - Big name for a small dog

Lobo - wolf
Luna - moon
Nina / Nino - Strong
Oso - bear
Pablo - Small

Paloma - dove
Querida - dear one
Rio - river

Rojo - red

Sol - sun
Tonto - silly
Toro - bull
Zorro - fox
Spanish Dog Names Based on Geographic Locations
Brea, (Brea, California) Meaning Tar 
Dorado, (El Dorado) Meaning the Golden One
Fresno (Fresno, California) Meaning Ash Tree
Havana (Havana Cuba)

Joya (La Joya, Texas) Meaning the Jewel
Madrid Capital of Spain
Mesa (Mesa, AZ) Meaning Table
Paso (El Paso, Texas) Meaning the Pass 

Pueblo (Pueblo, Colorado) Meaning Village

La Quinta (Farm)
Vegas (Las Vegas, NV) Meaning the Meadows

Does This Article Deserve Your Thumbs Up?
We always appreciate your support and encouragement.  Your thumbs up means so much to us.  Please like this article.
If you find this page or any page on Small Dog Place Helpful, or Useful in anyway, I'd love it if you would click the small heart found on the bottom right of each page.
You can also share or bookmark this page -- just click on the: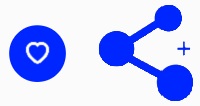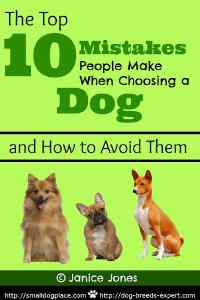 Free Monthly Newsletter
Sign Up for Our Free Newsletter and get our Free Gift to You.

my  E-book, The Top 10 Mistakes People Make When Choosing a Dog (and how to avoid them)