Black and White Dog Names: 
Choosing the Perfect Puppy Name

By Janice Jones   |Last Updated March 19, 2019
Looking for black and white dog names for that new puppy?  There are so many names to choose from which to choose. 
Just the sheer volume of dog names available today, makes choosing the perfect name a daunting task. 
Black and white dogs remind me of classic aristocracy.  The formal wear attire that they carry on their back portrays an aura of sophistication that you often do not see in dogs with other hair colors. 
The colors also shout modern, sleek and eye-catching, a very popular look in interior design. 
Owners of black and white dogs often want to find the perfect name that accents their puppy's true colors—whether it is formal or whimsical, modern or classic, these dogs need a black and white dog name.
Dalmatian dogs are perhaps the pooches that come to mind when thinking about black and white, but there are other small breed dogs deserving of a black and white puppy name.  The Boston terrier is one such breed, sporting only a black and white coat. 
Great Black and White Small Dogs
Beside the Boston, many different small breed dogs come in many colors including black and white. 
Some breeds come in many different colors, but here are a few where you might find a purebred black and white puppy. 
There are even more options when you consider all the designer or hybrid dogs available today.

I've created this list of black and white dog names that would be appropriate for a dog that is equally black and white, more white or more black. 
Since true black is hard to find in nature, I've engaged the help of zoology, in finding animals that are black and white. 
I also looked at media sources for cartoon characters featured in movies, TV shows and newspaper comics. 
My favorite, though is the candy isle at my neighborhood market.
Got a great name that I have forgotten?  Why not complete the form below and tell the world about your name.  We will add it to our list.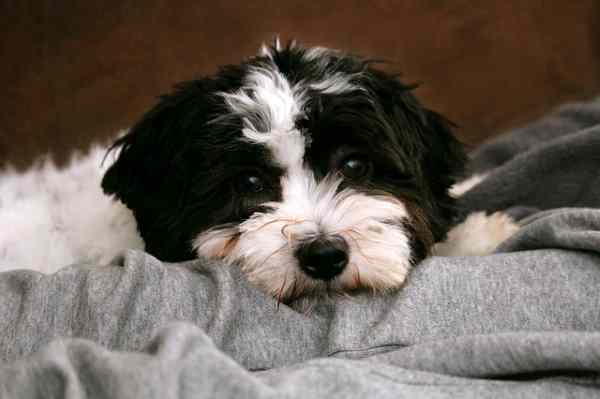 Black and White Dog Names

Almond Joy
Baby Grand Piano (use any part of it)
Badger (animal)
Bulls-eye (Bull for short--Great for a tiny dog!)
Chess (The Game)
Coke Float (Like a Root beer float)
Cookie (Black and White Cookies)
Cow (Moo-moo)
Cupcake (white cupcake with black frosting)
Dice or Die - As in Black and White Dice
Domino- Don't think this game comes in any other colors
Dotty (an actual female name but perfect for a white dog with black patches and vica versa)
Eight ball - Always black and white
Ermine (animal)
Felix (As in Felix the Cat:  Who said Felix had to be a cat name?)
Figaro (cat in the Walt Disney film, Pinocchio)
Half Moon
Harlequin (dog color found in the Great Dane)
Harp (Seal)
Holstein (cow)
Junior Mint (Yum!)
Marble -Well it could be any color, let's face it.
Merle (coloration in some dog breeds)
Mickey (Well, he was mostly black and white, especially before the days of color television)
Mine (An actor that doesn't talk:  would be good for a quiet dog)
Mittens (Does your dog have white paws?)
Monk  (With robes of black and white)
Moo or
Moo-moo - like a cow
Mr. Peabody (The dog on an Old TV cartoon series)
Orca (Killer Whale)
Oreo (Everyone knows what an Oreo is)
Panda (The animal)
Patches (Old school name, but still popular)
Penguin - A bird that loves the cold
Peppermint Patty (The candy)
Pinwheel (Black and White that is)
Polar Bear - Does your dog love cold weather?
Pongo (Father of the 101 Dalmatians which incidentally is the quintessential black and white breed.
Puffin
Snoopy (Remember the lovable black and white beagle?)
Sundae (Think vanilla ice cream covered with a thick fudge topping.)

Mary from Virginia, U.S.A. suggested the name, "Worthy."  Definitely a praiseworthy addition to this list!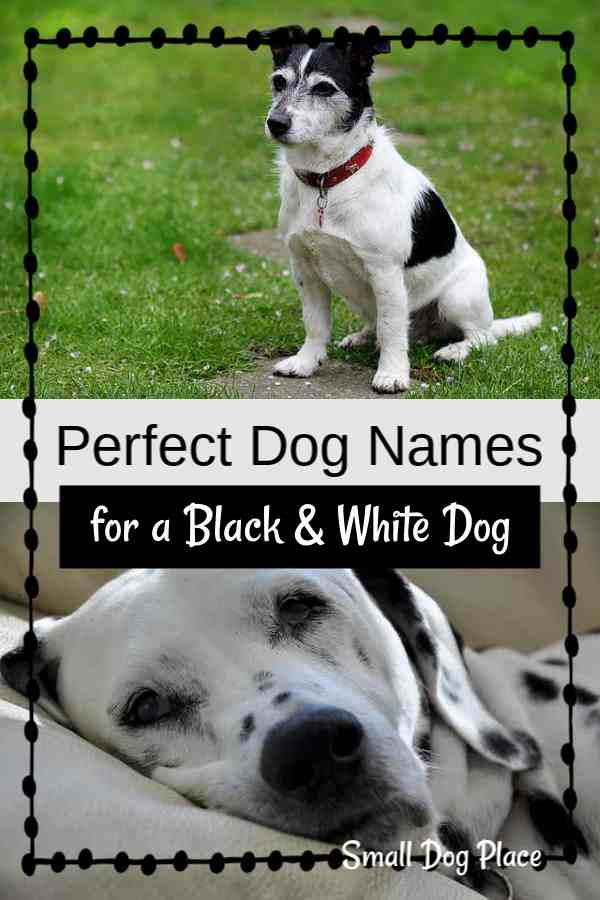 ---
Got Something to Add to Black and White Dog Names?

Please help us build this page.  Do you have a suggestion for a new name to add?  Let us hear about it and we will get it up on the page.

---
Related Pages

Does This Article Deserve Your Thumbs Up?
We always appreciate your support and encouragement.  Your thumbs up means so much to us.  Please like this article.
If you find this page or any page on Small Dog Place Helpful, or useful in anyway, I'd love it if you would click the small heart found on the bottom right of each page.
You can also share or bookmark this page -- just click on the: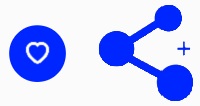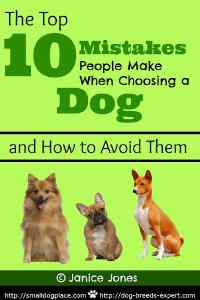 Free Monthly Newsletter
Sign Up for Our Free Newsletter and get our Free Gift to You.

my  E-book, The Top 10 Mistakes People Make When Choosing a Dog (and how to avoid them)