Redneck Dog Names

Give Your Dog a Down-Home Country Name
Redneck Dog Names Inspired by
Country Living, Western Music,  and Hillbilly Folk Lore.
By Janice Jones     |Last Updated 06/13/2022
Call it Country / Western/ Southern/ Redneck or Hillbilly, we've thrown together a list of great dog names sure to please country music lovers, city slickers, fanciers of old fashioned southern names, and anyone else that loves something just a bit out of the ordinary. 
This dog name list has something for everyone:
Non Americans who might be curious about our all American names
For anyone who has a bit of country, western, or Hillbilly in him
Or, maybe you recognize some of these names from your own heritage
Bluegrass or country music fans will recognize many of these names
Foodies that love Old Fashioned Down Home Cooking might recognize some as great choices for a dog name.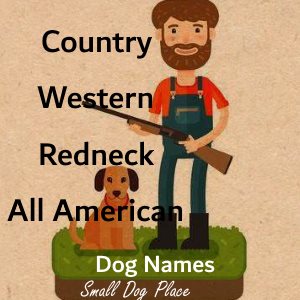 Definition of Hillbilly/Redneck Dog Names
Hillbilly is a term (often derogatory) for people who dwell in rural, mountainous areas in the United States, primarily in Appalachia and the Ozarks.
Pop culture has picked up on the term, especially portraying the group of people characterized as poor, white, mountain people both as offensive and kindly and exploited this stereotype in television and movies peaking in the 1960s. 
Shows such as The Real McCoys, The Andy Griffith Show, Hee Haw, and especially The Beverly Hillbillies became popular during this time. 

The term is considered in poor taste nowadays and author, J.D. Vance has tried to create a more realistic portrayal of the Appalachian values in his New York Times Best Seller,
Hillbilly Elegy: A Memoir of a Family and Culture in Crisis
.
Definition of Redneck (Redneck Dog Names)

Wikipedia has offered a definition of Redneck: 
"The term redneck is a derogatory term chiefly used for a rural poor white person of the Southern United States. By the 1970s, the term had become offensive slang and its meaning had expanded to mean bigoted, loutish, and opposed to modern ways."
A Note from Small Dog Place
It is not the intention of this article to endorse or support these derogatory and insulting terms. 
Rather, Small Dog Place looks at the culture of people in rural areas not only in Appalachia, but also the eastern southern and midwestern southern areas by taking a look at the culture, history, music, and characteristics that make these regions unique. 
Nothing on this page should suggest that we are trying to stereotype a group of peoples. 

Many of the Redneck dog names on this page were brainstormed by my husband and myself and include actual names of relatives and kin from Appalachia, an area where both of our ancestors originated.
Redneck Dog Names Based on Celebrities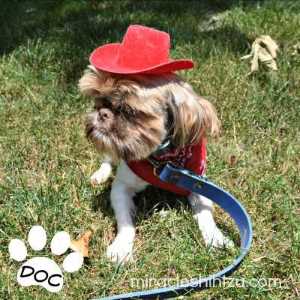 Mr. Doc Holliday
-A-
Aldean (Newcomer Jason Aldean is a country singer)
Amos (Character in the TV Series, The Real McCoys)
Bubba and Bobby Joe
Boy names suggested by Nicole from Kansas City, USA
---
-B-
Banjo (Lively musical instrument often used in Country and Bluegrass music)
Belle ( As in Southern Belle)
Billy (As in Billy Ray (The Country Music Singer One hit wonder, My Achy Breaky Heart)  
Blue (Popular Dog Name especially for a sporting dog breed)
Bo (As in Bo Duke from the TV series The Dukes of Hazzard)
Buck (As in Buck Owens, Singer, songwriter, and bandleader.  Owen would also make a good dog name)
---
How About Bocephus,
the name of Hank Williams Jr.'s guitar?
Thank you Traci, from Columbus, Ohio
for that clever Redneck Name.
-C-
Cash (As in Johnny Cash or a very expensive dog)
Chesney   (As in Kenny Chesney,  Either name works great for this popular singer fan)
Chet  (As in Chet Atkins, popular producer, music executive, and guitar player)
Cletus  (Cartoon Character From the Simpsons—Local Yoke)
---
-D-
Daisy May (As in "Granny" Moses, Jed's mother-in-law and Elly May's Grandmother in The Beverly Hillbillies)
Dixie (named for the southern states that seceded from the Union at the start of the US Civil War)
Dolly (As in Dolly Parton, singer, actress)
---
-E-
Elly May  (As in Elly May Clampett, from the TV Series, The Beverly Hillbillies)
Elvis (As in Elvis Presley, singer, musician and actor) 
---
-G-
Garth (As in Garth Brooks, very popular Country Music Singer)
---
-H-
Hank  (Hank Williams, an old time Country Singer) Also, Hank Hill, Character in the King of the Hill
Hassie  (Character name in the 1950s TV series, The Real McCoys)
---
-J-
Jed  (As in Jed Clampett, from the TV Series Beverly Hillbillies)
Jethro  (As in Jethro Bodine, from The Beverly Hillbillies)
Jimmie  (As in Jimmie Rodgers, country music star)
John-Boy Walton Jr.  (As in a character from the TV Series The Waltons popular in the 1970s)
Johnny  (as in Johnny Cash)
---
-K-
Kenny  ( As in Kenny Rogers)
Kris  (As in Kris Kristofferson, singer, songwriter
---
-L-
Loretta Lynn (Country music singer and person whose life inspired, Coal Miner's Daughter which was made into an Academy Award–winning film of the same title)
---
-M-
Merle  (As in Merle Haggard, singer)
Minnie  (As in Minnie Pearl, a country comedian seen at the Grand Ol Opry and the TV Series, Hee Haw)
---
-O-
Opie  (Character name in the 1960s TV series The Andy Griffith Show)
---
-P-
Patsy  ( As in Patsy Cline, Country Music Singer)
Paisley  (As in Brad Paisley, modern day country singer)
---
-R-
Rascal  (As in Rascal Flatts, country music band)
Reba  (As in Reba McEntire, Singer, songwriter, actress and record producer)
Rhett  (Rhett Butler in Gone with the Wind) or Thomas Rhett, singer, and songwriter)
Roy  (As in Roy Acuff, Old Time songwriter and singer)
---
-T-
Tammy  (As in Tammy Wynette, Big Country Singer in the 60s and 70s)
Taylor  (As in Taylor Swift, country/pop music singer and songwriter)
Toby  ( As in Toby Keith, The Big Dog Daddy, singer, songwriter, actor and record producer) 
---
-W-

Waylon (As in Waylon Jennings, a country music star from the 1970s
Willie (As in Willie Nelson, Singer)
Wyatt (As in Wyatt Earp)
---
Redneck Dog Names Based on Locations and Places:
Abbott (WV)
Atlanta (GA)
Beckley
Bristol (TN)
Butler (AL)
Caroline/a (State)
Charlotte (NC)
Chester (OH)
Dallas (TX)
Daphne (AL)
Dawson (as in Dawson Springs KY)
Delta (In Mississippi)
Etta (MS)
Fairmont (WV)
Faith (AK)
Georgia (State)
Harper (as in Harpers Ferry, WV)
Houston (TX) J
Jackson (MS)
Knox (As in Fort Knox, TN)
Macon (GA)
Mason (OH)
Memphis (TN)
Opry (like the Grand Ole Opry)
Parker (As in Parkersburg, WV)
Savannah (GA)
Stella (Tennesee)
Tulsa (OK)
Virginia (State)
Wheeling (WV)
Redneck Dog Names Based on Down Home Country Cookin'
Bacon
Biscuit
Catfish
Chili
Cobbler
Collard (Greens)
Cornbread
Dumplings
Goulash
Gravy
Grits
Gumbo
Meatloaf
Okra
Pecan
Pork Chop
Shortcake
Tater Tot
More Country /Redneck Dog Names
Typical of the times were names derived by adding a second name creating a double name such as John boy and Ella May.  
Some of these names reflect that tradition both there is no reason you can't add a second name to your dog  as he or she is likely to learn both 

Ada
Alden
Alice
Angus
Angus
Annie
Aubrey
Aubrey
Bart
Bart
BB
Bess Ann
Bettina
Billy Ray
Billyboy
Bo
Boone
Bryar
Bubba
Buck
Bud
Buddy
Bullet
Carrie
Carson
Casey
Chauncey
Chauncey
Clarice
Cleavon
Cleda
Cleon
Cliff
Clifton
Clint
Clyde
Cody
Connie
Cooper
Cooter
Cowboy
Coy
Dale
Darla
Darla
Delmont
Doc
Donny
Dorsey
Duane
Duke
Duke
Duke
Duke
Dwayne
Earl
Earlene
Eda
Ellsworth
Elmer
Elmer
Elrod
Enoch
Enos
Ethel
Eugene
Eugene
Eustice
Everett
Florence
Floyd
Ford
Forrest
Gator
Goldie
Harlan
Harlan
Harley
Henrietta
Homer
Horace
Huck
Huckleberry
Ida
Ida
Ira
Ira May
Iris
Jim Bob
Jimmy Don
Joe Bob
Jossie May
Junior
Keaton
Lee
Levi
Lonnie
Lucille
Lula Mae 
Luther
Lyla
Lynn
Magnolia
Mamie
Martha
Mary Grace
Maude 
Maverick
Micah
Myra
Nell
Nell
Nellie Pearl
Nellie Pearl
Netti Pearl
Netti Pearl
Nugget
Old Boy
Olive
Olive
Ollie
Orville
Otis
Owen
Pauline
Pauline
Peggy Sue
Phoebe
Polly
Quinn
Raggs
Raleigh
Ray-Nathan
Rebel
Rhett
Ricky
Robbie
Rocky
Roscoe
Rowan
Roy
Ruby
Ruby
Rufus
Sally
Sawyer
Scarlett
Sherman
Silas 
Sloan
Spencer
Stella
Stretch
Stretch
Tabitha
Tilly
Tommy
Trapper
Trigger
Tucker
Tyler
Vaughn
Vernon
Violet
Wade
Walker
Wilbur
Woody
Yates
Yeller
Zella
Zadie
Mike D. Shepley from Dover Plains, USA suggested
Buck shot and whiskey, two very appropriate names for this page

Redneck Dog Names:  It's Your Turn
This is a wide open topic and I am sure I've forgotten quite a few names that should be added to this list.  Want to help?
What have I forgotten,  What Should be added, What are your ideas?
If you have a great Redneck Dog name that should be included on this page, please help make this list the most comprehensive on the web.
Use the form below to add your ideas.  Don't forget to leave your name and location so we can credit you with your awesome addition.
Remember, this is a family-friendly website.
Dog Names are best if they are only two syllables, but sometimes a three syllable name can work fine as long as the dog recognizes your shortened version. 
For example, I have a dog named Ketchikan (town in Alaska).  I often just call him Ketch and he responds.  Now, if he were one of those dogs I wanted to teach how to catch or fetch, I might have a problem.  He is, however a four pound Shih Tzu with absolutely no desire to catch or fetch.
Does This Article Deserve Your Thumbs Up?
We always appreciate your support and encouragement.  Your thumbs up means so much to us.  Please like this article.
If you find this page or any page on Small Dog Place Helpful, or useful in anyway, I'd love it if you would click the small heart found on the bottom right of each page.
You can also share or bookmark this page -- just click on the: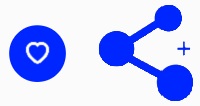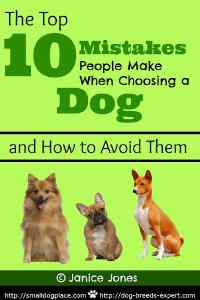 Free Monthly Newsletter
Sign Up for Our Free Newsletter and get our Free Gift to You.

my  E-book, The Top 10 Mistakes People Make When Choosing a Dog (and how to avoid them)