Dog Names: 
What to Call that Favorite Small Dog

Dog Names are as diverse as the dog breeds themselves, and they seem to go in and out of popularity.  There are so many possibilities that it can be a daunting task just coming up with the right name.

Can't decide what to name your new small breed puppy? We've done a little research and came up with a list of some popular dog names by breed.
This is what we found unique about Small breed puppy owners:  They chose names based on the following criteria:

The Color of their hair
A favorite human name
A name based on the origin of the breed (i.e. Asian, European, Mexican, etc.)
A royal name
A famous animal name
A name that describes their personality or temperament
A location or Place Name
A famous god or goddess
---
Tough Dog Names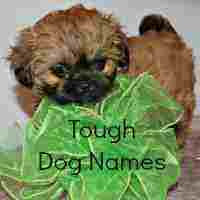 Tough Dog Names
Have a tough dog, a tough dog wanna-be, or just a tiny breed of dog that deserves a BIG name. 
Check out our extensive list of tough dog names--they are great for giant breeds, large breed dogs and small breed dogs. 
After all,you don't need to be a tough guy to have a tough name.
Read More about Tough Dog Names

Dog Names Based on Color

Some owners will pick a name that reminds them of the color of their dog.

---
Dog Names based on Mythology
Think your new puppy might like a name based on an ancient super-hero or mythical character? Is that new puppy the next Goliath, Flora or Odysseus? 

Maybe that tiny puppy reminds you of Greek or Roman God.  Check out our list.
---
Names Based on Technology Terminology
Are you Tech Savvy?  Love to Surf?  Just want something a little different.  If names such as Applet, Beta, Boot or clone get you excited. 

You should check out these dog names based on computer technology and the internet. You'll find a long list of choices and even a few definitions (just in case).
---
Names Based on Human Names
More...Boy Dog Names

More...Girl Dog Names

Since small breed puppy dogs seem more like children than pets, their owners will choose a name based on popular boy and girl names.  Names that are chosen by new parents-to-be are also used by dog owners-to-be. 

Look at any name list and you are likely to see dogs named Eva, Izzi, Sophia and Emily.  If the fur baby is a boy, you might find names such as Noah, Jacob, Liam and Jackson.

---
Dog Names Based on Foods

Some owners like to call their dogs by names that remind them of delicious foods.  Maybe they were just hungry when they brought that new puppy home, but maybe there are deeper reasons why people choose a food name for their dog. 

Find out the psychology behind these choices then browse our extensive list of possibilities.  Lemons, Twinkies, Beans, Oh my...

---
Names Based on Disney Characters

Love Disney Movies, Cartoons, Books?  Why not chose a name based on a favorite character?  There are so many to choose from. 
Will you choose a vintage character such as Micky or Goofy?  Or, are the newer movies more to your liking.  If you have a little girl, why not try one of the Disney Princess Names.

Disney Names for Girls               Disney Names for Boys
---
The Breed's Country of Origin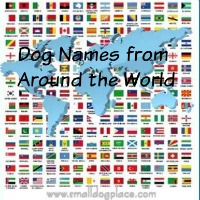 Some small breed puppy owners choose a name based on the country of origin of their pooch.  For example, breeds that originated in Asia such as the Pug, Shih Tzu, Japanese Chin and Lhasa might give their dog an Asian sounding name such as Ming Sue, Mei Ling, Mei Lee. Haiku, Sushi, Sake, Sulu, Bonsai, Ying Yang,

What is the country of origin of your small breed dog?
Names Based on the Country of the Breed's Origin

---
Christmas Puppy Names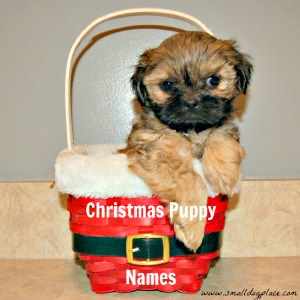 Are you expecting a little furry bundle of joy this Christmas season?  OR, maybe your new puppy was born on Christmas Day. 
Either way, a very special name is important to honor the puppy born during this holiday season. 
Whether you choose to pick a religious name, a name based on an important Christmas character, or just a name reminiscent of the holiday, you have plenty of choices.
---
Dog Names Based on Personality Traits
Many Small breed puppy dog owners want a name that describes their dog's personality or mocks the real temperament of the Small breed puppy dog.  Cute names that fall into this category include Diva, Cuddles, Happy, Helda-lot, Sweetheart, Cutie Pie, Baby Doll, Babe, Sassy, Lovebug, Shadow, Buddy, Sassy, or Precious.   Have you considered Yappy, Nipper, Wags, Bubbles; those names that mock the true nature of the Small breed puppy personality include Bear, Bruiser, Samson and Tiger.

Maybe you think your dog is the smartest in the world.  Name him Smarty, Einstein,Sherlock, Socrates, Gates, Merlin.

Want to make it extra special? Why not consider giving a funny pet name? We happen to have a good source for that too. With their examples you'll find one in no time"

---
Dog Names Based on Size
Names that depict the size of the dog are also very popular such as Pixie, Tiny, Peanut, and Tinkerbelle, 
Some people love the idea of giving their small breed dog a BIG name  such as Samson, Jumbo, Goliath, Kong, Dragon, Magnum, Titan,  or Tornado.

Acorn
Baby
Beans,
Beener
Beanie
Binkie
Bonsai
Button
Buttons
Elf
Inch


Littlefoot
Micro
Midge
Mini
Mite
Peanut
Pixie
Poco
Shorty
Shortcake
Slim


Speck
Squeek
Squirt
Teenie
Thumbellina
Tink
Tinkerbelle
Tiny
Twig
Twiggy
Weenie
---
Nobel Dog Names

Because Small breed puppy dogs seem so noble in nature, many owners will choose a regal name such as Prince, Princess, Dutchess, King, Queen, Captain, Admiral, Colonel, President, Boss, Professor Queen, Duke, or Starr. Sometimes Small breed puppy owners will name their dogs after real life royalty such as Elizabeth, Victoria, Charles, Napoleon, or Henry.

---
Famous Animal Names

Famous dog or animal names are still always popular including Snoopy, Benji, Lassie, Lady, Tramp, Pluto, Marley, Bob or Garfield.  Atticus, Beethoven, Balto, Boomer, Butch, Sundance, Felix, Scooby, Casper

Presidential dog names are often used including:

President Barack Obama's dog Bo (with its alternate spelling Beau)

George W. Bush's dog, Barney
Bill Clinton's dog Buddy
George Bush's dog Millie
Franklin D. Roosevelt's Scottish terrier, Fala
Ronald Reagan's Bouvier des Flandres, Lucky, Cavalier King Charles Spaniel Rex, Peggy, his Irish setter, Taca, a Siberian husky, and Fuzzy a Belgian Sheepdog
Jimmy Carter's Grits a Border Collie
Gerald Ford's Golden Retriever, Liberty
---
Famous People & Celebrity Names

Here's a list of historical figures, famous painters and celebrities that span the decades. 
We've listed them here if their name unique and lends itself to a small breed dog.

Bach
Bogart
Camero
Chesney
DeNiro
Denzel
Elvis
Einstein
Figaro
Florence
Gabby
Gandhi
Gilly
Gillian
Hank
Hattie
Hitchcock
Irving
Jolie
Jesse
Leonardo
Livingston


Lucy
Madonna
Martina
Meg
Merle
Miley
Morgan
Oprah
Patrick
Pavarotti
Reba
Ringo
Shania
Sherlock
Spencer
Strauss
Trish
Toby
Tucker
Twiggy
Uma
Woodrow

---
What happened to Traditional Dog Names?

What are missing on the dog name scene are names such as Fido and Spot.
It is still fun to consider an old traditional boy names such as these male dog names include: Max, Hank, Jake, Bailey, Buster, Cody, Harley, Murphy, Barney, Buddy, Jack, Lucky and Sparky.
Traditional female dog names include Princess, Daisy, Maggie, Molly, Sadie, Sasha, Lucy, Dakota, Sophie, Sandy, and Tasha, among others. All tried and true!

---
Rules for Naming Your Small Breed Dog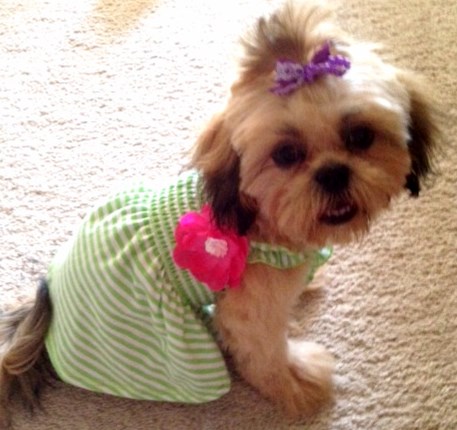 There are a couple of things to keep in mind when naming that sweet fur baby. The name you decide should follow certain canine rules. By that I mean that dogs tend to learn their names, but will only pay attention to the first syllable. If you ever wondered why we only use one syllable words when training such as sit, stay, come, or heel, it is for this very reason. So when your dog's name is Chocolate Smores, for example, the dog is going to hear "Chock." This does not mean that you must come up with a name that has only one syllable.


The second thing to keep in mind regarding this first syllable rule is to choose a unique name that does not have the same first sound as another pet or person in the household. This can be very confusing to both pets. It is acceptable to choose a name with the same letter as long as the beginning sound is different. For example, it would be very confusing to two pets in the same household named Alexander and Alexandra. It would be OK to name two pets Abby and Alexander.


A third thing to keep in mind is that dogs do learn their names and you should use their names frequently. When training a dog to perform a new trick, it's always easy to say the dog's name first, then the command. "Zoey, Sit."  Using your puppy's name in a happy tone and praising them when they respond will go a long way towards training. Once the dog knows his name, it is much easier to call out the name and then a command.

The Fourth thing to keeps in mind when choosing a name is how well it will stand the test of time.  I once named a dog of mine, Geordi after a Star Trek character popular at the time.  By the time this little dog reached the ripe old age of 18, only die-hard "Trekie" fans could relate to the name, even though the dog probably did not care.


Finally, it is so important to understand that you will be calling your dog's name numerous times a day, in your own home and out in public.  Make sure that the name you choose works equally well in the quiet of your home and on a noisy street.  Think about how you will feel when your dog has gotten away from you and you are trying to retrieve it.   Can you see yourself yelling your dog to come home, "lovey-dovey-sweetie-pie, come home to mama."

---