Cute Dog Names Based on Food

What's Your Favorite?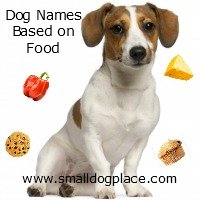 Dog names based on food? 
It might seem weird, unusual, odd, or just plain wrong, but there is a definite trend. 
People want something beyond Fido, Bella, or Rover. 
Many small dog owners want some unusual, that will stand out and create character for their dog. 
Are you one of them?  Here's our list.  If you have more suggestions, please let us know and we will add them.
Why These Dog Names Based on Food...

The names on this list have the following in common.
Names are short, one, two or three syllables at max
Easy to say,

Work well with training commands
Most relate to personality, appearance, emotions, or preferences.  (See below for an explanation)

Giant List of Dog Names Based on Food

-A-


Almond
Anise

-B-


Bagel
Baguette
Barley
Basil
Beans
Biscuit
Bistro
Blackberry
Blueberry
Bok Choy
Brie
Brownie
Brûlée
Burrito
Butterscotch


-C-

Cabbage
Cannoli
Caesar
Candy
Cappuccino
Caramel
Cashew
Caviar
Currant
Chai
Cheddar
Cheese ball
Cheesecake
Cheese puff
Cheerio
Cherry
Chestnut
Chex
Chickpea
Chip
Chipotle
Chop Suey
Chow Mein
Churro
Chutney
Cinnamon
Clove
Cobbler
Cocoa
Coconut
Coffee
Colby
Cookie
Cotton Candy
Couscous
Crêpe
Cracker
Cream Puff
Cranberry
Crouton
Crumbs
Crumpet
Cupcake
Curry
Custard


-D-


Dandelion
Date
Dijon
Donut
Dorito
Dove
Dumpling

-E-


Éclair
Espresso

-F-


Flan
Flapjack
Frappe
Frito
Fritter
Fudge

-G-


Garbanzo
Garlic
Giblet
Ginger
Godiva
Graham
Gravy
Grits
Guava
Gumbo
Gyro

-H-


Hershey
Hoagie
Huckleberry

-J-


Jalapeno
Jambalaya
Jasmine
Jell-O
Jellybean
Joy (almond)

-K-


Kabob
Kale
Kimchi
Kiwi
Kumquat

-L-


Lamb chop
Latté
Lentil
Licorice

-M-


Mango
Marshmallow
Meatball
Meringue
Mocha
Mousse
Muffin
Mushroom
Mustard

-N-


Nacho
Nilla
Noodle
Nugget
Nutella
Nutmeg

-O-
Okra
Oreo
Oscar

-P-


Parfait
Parsnip
Pancake
Peaches
Peanut
Pecan
Penne
Peppermint
Pesto
Pez
Pickles
Pita
Pixie (Sticks)
Pizza
Popcorn
Prawn
Pretzel
Pringle
Puffins
Pumpkin

-R-


Radish
Raisin
Raspberry
Ratatouille
Reuben
Riblet
Rollo
Rosemary

-S-


Sage
Saki
Sausage
Scampi
Scone
Shallot
Shortcake
Skittle
Smores
Snickers
Sorbet
Soybean
Spam
Succotash
Sugar
Sushi
Strudel

-T-


Taco
Taffy
Tater Tot
Tic-Tac
Toffee
Tofu
Torte
Trix
Truffle
Twinkie
Twix
Twizzlers

-V-


Vanilla
Vino

-W-


Waffle
Wonton

-Z-


Ziti

---
Why Choose Dog Names Based on Food?

At some point in your life, you've no doubt met a dog named Coco, Hershey or Mocha. 
They were probably brown dogs that fit the name entirely.  But what about the dog name Chai? 
Can you form a mental image of a dog with this name?  Maybe not.

It is easy to see how people choose a food name based on the color of their dog's hair. 
Even the texture of the fur can suggest an appropriate name.  Consider a white, fluffy dog. 
What could be cuter than marshmallow, cream puff or Meringue?  So why chose a food name for your dog?

The owner craves or loves a particular food.  Are you a chocolate lover or perhaps your favorite type of cheese is Brie?



The dog finds the food irresistible.  Does that new puppy love Cheerios, Crackers or Bacon? 
Children name the puppy.  Often, children are given the responsibility for naming the new dog.  Expect a name such as licorice or skittle in this situation.  If the whole family has a voice in the decision, they may decide to go with the food or drink the entire family enjoys.  One family I know chose the name Chai because that was the whole family's favorite tea.
The owner's emotions about a food spill out onto the dog.  What types of food make you happy?  What blissful childhood memories were associated with food?  Often bringing home a new puppy brings back all those joyful feelings.  Perhaps you remember your grandma's home made biscuits, cookies, or pastries and decide your new puppy should be named Biscuit.
If the dog comes home around a major holiday, the choice of names might be influenced by a food associated with it.  Consider Jellybean for an Easter puppy, Pumpkin for a fall holiday, or Cinnamon for Valentine's Day.
The dog's appearance in some way reminds the owner of the type of food. Consider Snickers for a brown dog, Oreo for a black and white dog, Blueberry if the dog has blue coloration and Custard for a light colored dog.
A person's mood or state of mind influences the decision to choose a dog name based on food

My state of mind influenced a litter of puppy names...

After a long night of labor, my female Shih Tzu finally gave birth to six puppies, all brown and black.  As usual, I wanted to give each a name so I could keep them straight in my mind.

It was now 5:30 in the morning and I hadn't slept much since midnight.  I was exhausted.  Can you guess what names I gave to the puppies?

They were Mocha, Latte, Pepsi, Coffee, Coco, and Cappuccino.

Their appearance probably had something to do with it, but my state of mind had the greatest influence on the name choices.

No matter what choice you make, be sure the name is something that is easy to say and can be paired with commands when training begins.