Girl Dog Names Beginning with G
By Janice Jones  | Last Updated January 29, 2020
Here is the list of Girl Dog Names Beginning with G
Cute Girl Dog Names Beginning with G

Gabby - (Gaby) meaning nosy

Gada - Hebrew for Lucky
Gaho - Native American, Mother
Gail - Joyful
Gala - Singer
Geela - Eternal Joy
Gage - Old French meaning Promise
Gali - from Hebrew meaning Wave
Ganya - Hebrew meaning Garden of the Lord
Gena - Short form of Genevieve

Garbo (Actress Greta Garbo) 
Garnet - a red precious stone
Gemini - constellation and sign of the horoscope 
Genie - Does your dog have a magical spirit?
Genesis - The first book of the Bible

Genna - From English (Jenna, and also a form of Jennifer)
Georgia - Latin meaning Farmer
Gerda - German, Protected
Gerdie - German, Protected
Geri - Brave Spear Carrier (Short for Geraldine)
Geva - Hebrew for Hill
Ghada - Arabic meaning Young, Tender

Gherkin - a type of small pickle

Ghita - Italian meaning Pearl
Gia - from Italian
Giana - Italian 
Giddy - for that Dizzy girl
Gidget - Invented name of a surfer girl
Giggles - laughter
Gigi - Greek, meaning Farmer
Gilda - Covered with gold, golden hair
Gillian - from English, Youthful
Gin - an Alcoholic beverage

Gina -  Short for Angelina
Ginger - A type of spice
Gingersnap - Cookie made with Ginger
Gingko - a type of plant
Ginny -  Maidenly
Gisa - Hebrew meaning Stone
Gisele -  Pledge or oath
Gizmo - Slang term for a mechanical gadget
Gita - Sanskrit meaning song or pearl
Gladys - Cheerful
Glenda - the good witch in the Wizard of Oz
Gloria - Glory
Godiva - Independent Minded
Golda - as in Golda Meir of Israel
Goldie (as in Goldie Hawn
Goma - Swahili meaning Dance of Joy
Grace - Graceful
Gracie - Graceful
Greta - from German meaning Pearl
Gretel -  as in Hansel and Gretel
Gretchen - German form of Margaret, a pearl
Greylin - boy or girl name meaning strong, happy, graceful
Guda - Scandinavian meaning Divine, Good
Gumby - green children's plastic toy
Gwen, Gwena, Gwendolyn - Welsh - Fair, Blessed
Gwenevere - from Welsh meaning Fair One (King Arthur and Guinevere)
Gypsy - the name of a moth in the movie, A Bug's Life
Does This Article Deserve Your Thumbs Up?
We always appreciate your support and encouragement.  Your thumbs up means so much to us.  Please like this article.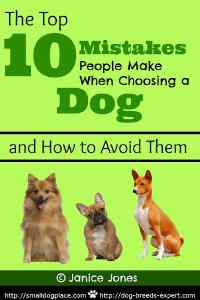 Free Monthly Newsletter
Sign Up for Our Free Newsletter and get our Free Gift to You.

my  E-book, The Top 10 Mistakes People Make When Choosing a Dog (and how to avoid them)
If you enjoyed this page, I'd love it if you'd let me know.  Just click the button below.  Thank you.
Sharing is Caring