Girl Puppy Names Beginning with S - Smart, Sassy and Smart

Girl Puppy Names Beginning with S
by Janice Jones  |Updated January 29, 2020
Need some great Dog Names?  Here is our girl dog names beginning with S 

Check our other dog names pages for more ideas and for suggestions on how to name your puppy.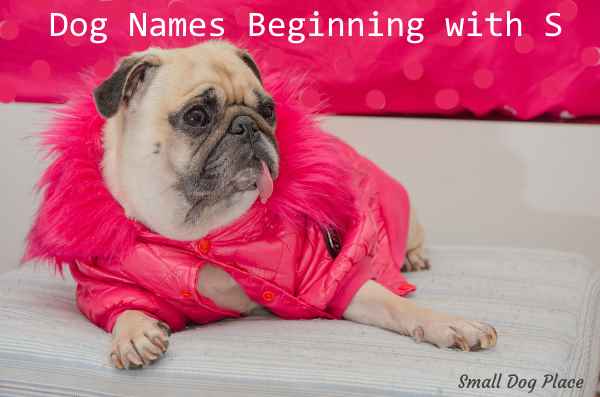 Girl Puppy Names Beginning With S:  Retro Style

There is a trend towards rediscovering and reinventing names that haven't been used in a long time.  Not only are we seeing this in the choice of names for human children, but also in the naming of our pets.  
These names are a great choice for someone who loves real feminine names for their dogs, but has a yearning for a bit of nostalgia.
Sadie
Sally
Sarah
Sarah-Belle

Scarlett
Selma

Shirley

Sophia
Sophie
Stella
Sylvia
---
Girl Puppy Names Beginning with S for High Tech, Nerdy Pet Parents
Let's now switch our attention from the "good old days," to high tech, geeky and futuristic names.  This group is reserved for the true geeks and nerds among us.  If you feel you fit that definition, read on,  (don't forget to contact me if you can come up with a few more great girl names that might be a bit nerdy.)
Safari - Apple's web browser
Samba - open source program normally used on linux computers
Scala - Programing language
Selfie - Perfect for the little gal that loves to pose for photos
Seti - (search for extraterrestrial intelligence); A great choice for that gal that is always hearing something you can't see
Shadow - a term used in graphic design but great for a black dog that tends to follow his human around.
Sirius- Satellite radio;  Is your dog a news junky or loves to listen to music?
Socket - has many meanings but refers to a connection within the computer
Squiggy - character on the computer keyboard ~
Surfer - One who visits websites
---
Lovely Asian Girl Puppy Names Beginning with S
Sachi - Japanese girl name meaning child of bliss or one who is blessed
Saki - a Japanese wine
Saku - Japanese for Remembrance of the Lord
Sakura -  lovely Japanese name meaning "cherry blossom," 
Sala - A Hindu girl name meaning From the sacred Sala Tree
Sanyu - A Japanese girl name meaning one who brings happiness
Sasa - Japanese meaning one who is helpful
Sato - Japanese name which means of a sweet nature
Shu Fang - From Chinese meaning one who is gentle and kind
Sita (Hindu) goddess of the harvest
Soo - Korean meaning having a long life
Sora - a Japanese unisex name meaning sky
---
Mother Nature Inspired Girl Puppy Names Beginning with S
If you or your dog love the great outdoors, one of these names may be just what you are looking for.  If you don't see the perfect name, we have more nature inspired dog names for both girls and boys.
Saffron - red colored spice from the flower of Crocus sativus, a great name for a red colored dog.
Sage - Herb

Sapphire - a precious blue metal used in jewelry.  A good name for a blue or silver colored dog.

Serenity - how you will feel when you commune with nature.
Sequoia - Large Tree
Sol - meaning Sun
Soleil -French for Sun

Snow - Snowy - Good choice for a white dog or one that loves the winter
Snowflake - Another good choice for a white dog
Sorrel- green herb sometimes used in salads
Summer - A popular girl name no matter what month they were born in.
Sunny - Sunshine both good choices for that sunny disposition you love so much in your dog.
Storm - Stormy  Storm or Stormy make good names for black or grey colored dogs.
Sparrow - A tiny bird name for your tiny dog

Solstice - the time of the year, either in the winter or summer where the sun is at its northernmost point (beginning of Summer) in the northern hemisphere or its southernmost point from the equator (first day of winter) in the northern hemisphere. 
Star - Stardust - No mention of nature would be complete if we didn't explore the celestial sphere.  Good name for a white, gray or silver colored dog.
"Study Nature, love Nature, stay close to Nature. It will never fail you."
Frank Lloyd Wright 

Clever Place Names
Girl Puppy Names Beginning with S
Girl names that were once derived from a location or place name have become so common place that we often forget where they originated. Here are some common human girl names that also make wonderful dog names.
Savannah - City in Georgia
Sedona - City in Arizona
Seville - City in Spain
Sharon - Plain in ancient Palestine
Sierra - Mountain Range
Shasta - Volcanic Peak in California
Shiloh - City in Ohio
Suri - many locations including India
Salem - City in Massachusetts 
Sydney - City in Australia
---
Food and Drink Inspired Girl Puppy Names Beginning with S
What do you think about when you think of food.  Is it simply a means to sustain life or do you make connections between food and emotions?  If you do, you are not alone.
According to Medical News Today, "Food cravings are caused by the regions of the brain that are responsible for memory, pleasure, and reward."
It's no surprise that people choose food (or drink) names for their four-legged friend for the same unconscious emotional feelings they have for certain foods.  Think comfort foods - think comfort animals.
Sausage
Scampi
Scone
Sesame
Shasta
Shallot
Sherry
Shortcake
Shrimp
Skittles
Smores

Snickers

Sorbet
Sprout
Starbuck
Strudel
Sugar
Sweet Pea
Syriah 
More Dog Names Based on Drinks
---
Lovely Girl Puppy Names Beginning with S and Their Meanings
Saba (Greek)  Girls from Sheba, born in the morning
Sable (English) one who is sleek
Sabrina (English) A legendary princes
Sacha (Greek) A form of Alexandra meaning helper and defender of mankind
Sadie (English) Form of Sarah meaning princess, lady

Sakari (Native American) meaning, a sweet girl
Salina (French) One of a solemn dignified character
Sally (English) Form of Sarah meaning princess, lady
Salva (Latin) A wise woman
Samatha (Aramaic) One who listens well
Sammy, Sam (See Samantha)
Sandra (Greek) Form of Alexandra meaning helper and defender of mankind
Sandy (See Sandra)
Santana (Spanish) A saintly woman
Sara, Sarah (Hebrew) Princess, Lady
Sasha (Rusan) Form of Alexandra meaning helper and defender of mankind

Scout (American) an explorer

Selene (Greek) Of the moon; in mythology, goddess of the moon
Shanta (Hindi) one who is calm
Shannon (Gaelic) Having ancient wisdom
Sharon (Hebrew) From the plains;  a flowering shrub
Shasta (North American) From the Triple peaked mountain

Shayla (Irish) Of the fairy palace
Shayna (Hebrew) A beautiful woman
Shea (Gaelic / Irish) Of Admirable character also from the fairy palace
Sheba (Hebrew) an oath; a biblical place
Sheila (Irish) Form of Cecilia
Shelby (English) From the willow farm
Shelley (English) From the bank's meadow
Sherry (English) Form of Cherie
Shiloh (Hebrew) One who is peaceful
Sienna (Italian) Ladies with red-brown hair
Sissy (English) form of Cecilia
Skye (Gaelic) Women from the Isle of Skye
Skylar (English) one who is learned, a scholar
Sloane (Irish) a strong protector
Sophie (Greek) having great wisdom and foresight
Spencer (English) An administrator
Stacey - (English) Form of Anastasia meaning one who shall rise again
Stella (English)  Star of the sea

Stephanie (Greek) Feminine form of Stephen
Sully (Gaelic) a dark eyed woman from the south meadow
Susie (Susanna, Susan) Hebrew Resembling a graceful white lily
---
A Few More Girl Puppy Names Beginning with S, Just for Fun
Care to add your own definition?  I'll help you out by defining one of these real names. Swiffer: a long haired dog breed that would make a great mop.
Smoochie

Scruffy

Spirit

Siesta

Snuffles
Snuggles
Sassy

Sweetie
Swiffer
Does This Article Deserve Your Thumbs Up?
We always appreciate your support and encouragement.  Your thumbs up means so much to us.  Please like this article.
If you find this page or any page on Small Dog Place Helpful, or useful in anyway, I'd love it if you would click the small heart found on the bottom right of each page.
You can also share or bookmark this page -- just click on the: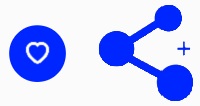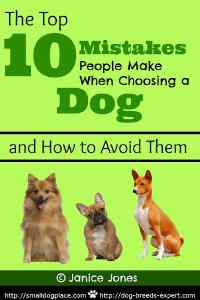 Free Monthly Newsletter
Sign Up for Our Free Newsletter and get our Free Gift to You.

my  E-book, The Top 10 Mistakes People Make When Choosing a Dog (and how to avoid them)