British Dog Names
British Dog Names Based on the Monarchy and Royal Family
Queen
King
Duke
Duchess
Princess
Prince
Lady
Earl
This is just a partial list of British Monarchs throughout time
George - George I, II, III, IV, V, VI
Victoria - Queen of the United Kingdom and Ireland from 1837 until 1876. 
Edward - several British Kings with that name
William - including William the Conqueror
Charles 
Ernest
Albert 
Henry - numerous Kings and Princes with that name
Alfred the Great (871-99)

Elizabeth (Liz or Beth for short)
Anne - queen of England, Scotland and Ireland 1702 until 1707
Windsor - as in the House of Windsor
Stuart - (or Stewart) as in the House of Stuart
British Dog Names Inspired by Geography
Another creative way to find British dog names is to draw inspiration from cities, regions and landmarks.
Aberdeen-a city in Northeast Scotland
Avon – an English medieval market town and the birthplace of William Shakespeare.
Barking -  a borough from greater London
Belfast – the capital and largest city of Northern Ireland.
Brighton – a seaside city in southern England.Bristol – a city and county in southeast England.
Camden – a borough in London 
Canterbury - a town in Kent
Chester - Founded as a Roman fortress, it is now a city in NE England
Cornwall – a ceremonial county in the very southwest tip of England.
Derby - a city in Derbyshire, England
Dundee – a large city in Scotland.
Edinburgh – the capital city of Scotland.
Ely - a cathedral city in Cambridgeshire, England,

Gloucester – a city and district in southwest England.

Leicester – a city East Midlands of England and also the name of a popular square in London. (It's pronounced "Less-ter.")
Lincoln - a city in the English Midlands known for it's cathedral.
Liverpool – a major city and metropolitan borough in northwest England.
London – the capital and most populous city of both England and the United Kingdom as a whole.
Manchester – a major city and metropolitan borough in Greater Manchester, England.
Nottingham – a city not too far away from Leicester. Remember the Sheriff of Nottingham from Robin Hood?
Oxford – a city in southeast England that's also home to renowned Oxford University.
Salisbury – a cathedral city in Wiltshire, England.
Skye – as in Isle of Skye, the largest and most northerly major island in the Inner Hebrides of Scotland
Swansea – a coastal city and county in Wales.
Westminster – an area of central London within the City of Westminster. 
Worchester – a Cathedral City in the West Midlands of England.
York – a historic walled city in North Yorkshire, England.
British Dog Names from Literature
Chaucer – the author of the famous Cantebury Tales is also considered the Father of English literature, 

Arthur – King Arthur was a legendary English leader who, according to medieval histories led the defense of Britain against Saxon invaders.
Camelot – a legendary castle and court associated with King Arthur.
Excalibur – a legendary sword of King Arthur.
Lancelot – one of the Knights of the Round Table in the Arthurian legend.
Guinevere – the wife of King Arthur of the legend.
Shakespeare – the renowned writer and poet who is considered the greatest writer in the English language.
Orwell – famous English novelist George Orwell penned 1984 and other works.
Hamlet – the main character of the namesake play by William Shakespeare.
Puck – a clever, mischievous sprite in Shakespeare's A Midsummer Night's Dream.
Henry – as in Henry V, another Shakespearean play.
Romeo - Juliet - a great duo for a boy and girl dog team.
Sherlock – like the famous fictionalized detective created by Sir Arthur Conan Doyle.
Holmes – you could also use the detective's last name.
Watson – as in John Watson, Sherlock's sidekick.
Jane – for Jane Austen, the famed English novelist or use Austen, it makes for a very British Dog name.
Emma – along the same lines, Emma is a character in the novel by Jane Austen. 
Charles – as in Charles Dickens, the renowned writer from the Victorian era. Try Dickens too, a clever dog name.
Pip – the protagonist in Dickens' novel Great Expectations.
Virginia – as Virginia Woolf, the English writer from the twentieth century.
Harry – Harry Potter, need I say more or
Potter – Both are great dog names.
Hermione Granger – the heroine of Harry Potter, either the first or the last name make great names for a dog
Weasley – as in Ron Weasley, from the Harry Potter series.
Does This Article Deserve Your Thumbs Up?
We always appreciate your support and encouragement.  Your thumbs up means so much to us.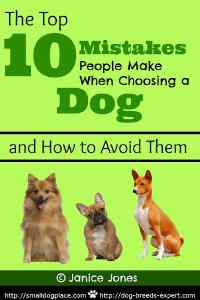 Free Monthly Newsletter
Sign Up for Our Free Newsletter and get our Free Gift to You.

my  E-book, The Top 10 Mistakes People Make When Choosing a Dog (and how to avoid them)
If you enjoyed this page, I'd love it if you'd let me know.  Just click the button below.  Thank you.
Sharing is Caring
Follow my blog with Bloglovin