Boy Puppy Names Beginning With T

By Janice A. Jones  | Last updated January 13, 2019
Here is the list of boy puppy names beginning with T. 
Today's Trivia...

Do you know what the names Tiger, Top and Toto all have in common?  They are all dog characters found in literature. Tiger is the dog of Arthur Gordon Pym in the the book, A Narrative of Arthur Gordon Pym, by Egar Allan Poe.
Top is Cyrus Smith's dog in the book, Mysterious Island, by Jules Verne
Do I need to tell you who Toto was?  Remember, before the movie, there was a book by L. Frank Baum.  Want to test more of your dog name knowledge?  

After exploring some of the names in this list, stop by the end of the page and test your knowledge of dog name trivia.
List of Boy Puppy Names Beginning With T

Boy Dog Names that Start with T

Taco
Tacoma
Tad
Tadpole
Taffy
Taft
Tag
Taggert
Taiden
Taipan
Taj
Talbot
Talen
Tamales
Tango
Tank
Tanker
Tanner
Tao
Tapir
Taurus
Tarzan
Taster
Tate
Tater Tot
Tattoo
Tayden
Taylor
Taz
T-bone
Tebow
Teddy
Telly
Templeton
Tequila
Tesla
Texas
Thai
Thaddeus
Theodore
Thor
Thumper
Thunder
Tiger
Telly
Tequila
Terrill
Terry
Thor
Thumper
Tibet
Tiberius
Tie-Dye
Tien
Tiger
Tiki
Tillman
Timber
Timi
Timmy
Timon
Tink
Tinker
Tinker Toy
Tinker Bell
Tin Tin
Tip
Tippy
Tipton
Titan
Tito
Titus
TJ
Tobias
Tobit
Toblerone

Toby
Todd
Toffy
Tofu
Togo
Tolkien
Tom
Tomba
Tommy
Toni
Tonka
Tonto
Tony
Toon
Topaz
Topper
Toro
Toto
Toucan
Tramp
Trapper
Travis
Trevor
Trey
Tristen
Triton
Triumph
Troll
Trooper
Trouble
Troy
Truffles
Truman
Trump
Trusty
Tucker
Tudor
Tuffy
Tull
Turbo
Turk
Turner
Turtle
Tuscan
Tutti
Tuxedo
Twilight
Twinkle
Twister
Twix
Twizzler
Ty
Tycoon
Tye
Tyrion
Tyrone
Tyson
Tyler
Tytus
Boy Puppy Names Beginning with T Trivia
How many Mexican foods can you find.
Can You find five types of candy?
The iconic dog from the Wizard of Oz
Lady and the -------
A very ugly mythical creature
Formal men's wear and good name for a black dog with a white chest.
Author of the Lord of the Rings

A famous rabbit

Superhero and also Germanic god of thunder

An immature frog and great name for a little dog
Answers
Taco
Twizzlers, Twix, Tutti frutti, Taffy, Toblerone
Toto
Tramp
Troll
Tuxedo
Tolkien

Thumper (From Disney's Bambi)
Thor
Tadpole
Did You Know...

Everyone thinks about Balto when they consider the famous 1925 Serum run to Nome, Alaska, but did you know that Togo was the lead sled dog the began The Great Race of Mercy to deliver the diphtheria antitoxin. 
Without the brave dogs and their mushers, the epidemic raging in Nome might not have had a good ending.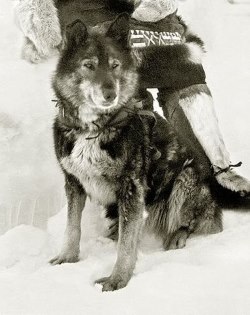 Togo was the lead sled dog that began The Great Race of Mercy
By:Wynford Morris (Wikimedia Commons)

Have a Clever Boy Puppy Name Beginning With T?

If you want to submit a name that you do not see on any of our lists, please do so.  Use the form at the bottom of the page.  Be sure to let me know which page your name should go on.  Remember this is a family friendly site!

If you enjoyed this page, I'd love it if you'd let me know.  Just click the button below.  Thank you