5 Reasons To Get A Digital Tag For Your Dog
Digital Tag for Your Dog   by Maria Plahonina  |Published 05-10-2020
As a dog owner, you surely care about your pet. You groom it, feed it tasty and wholesome food, and spend time every day playing with it. But do you care as much about their safety as you care about their well-being? 
Our pets are little wanderers that chase squirrels in the park, run after a neighbor's dog, or simply explore under brushes nearby. So, you need a little extra supervision, especially for small dogs that are so easy to slip up. 
For a while, dog owners have put tags on their dogs. This is a neat and useful accessory that helps leave the owner's contact information just in case and add some style to your dog's look.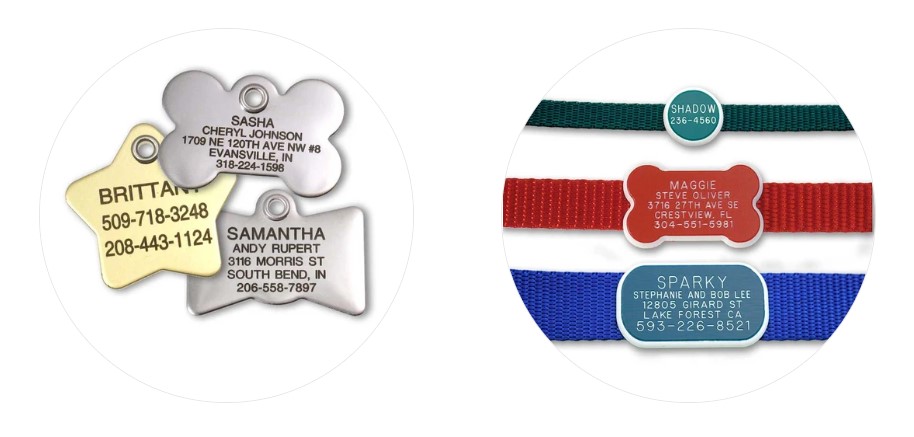 Examples of basic pet tags
What is a Digital Tag for Your Dog (QR Pet Tag)?
Despite the wide customization and stylish features, basic dog tags aren't as functional as more advanced QR pet tags.
As you might have guessed, QR tags are pet tags with a QR code on them, so anyone can easily scan it with a smartphone. By scanning the QR code, you're able to find the name of the dog, the owner's telephone number and address, and exhaustive information about the dog: their diseases, allergies, operations, and more.
In this blog post, we'd like to delve into the benefits of the QR tag for your fluffy friend. Enjoy your reading!
How to Recover Lost Pets
In the US, one in three pets gets lost during their lifetime. To prevent sad situations, you can use some of these preventive measures:
Licensing your pet. In the majority of the US states, it's compulsory to license your pet. A licensed dog means a vaccinated and tagged dog. If a dog wanders away, people who find them will be able to contact a dog owner and be assured the dog is safe to have contact with.


Microchipping. Microchips are small electronic devices safely implanted in your pets. So, in case they get lost, vet clinics or shelters can scan for chips and get the owner's contact information. However, the tag on a dog is still the fastest way to reach out to the dog's owner. So, along with microchips, it's advised to put a tag on your dog, just in case. In the US, microchipping is a voluntary procedure.


Digital tags (or QR pet tags). The idea of a QR tag is to secure a dog or any other pets wearing it from getting lost. QR tags are usually used along with microchips on the pets to double the safety measures.
Here's how a QR tag works
You get a QR tag for your dog and register it in the international animal database. Thus, the dog is now linked with its tag to a personal online profile. There's also a profile for a dog owner.


You specify all the data about your dog, including contacts and medical data.


If the dog is lost, don't worry. People who find your furry friend will get in touch with you quickly. They can communicate with an owner by a phone call, a message, or an email with the GPS location of the tag when scanned. 
Now let's find out why you should never leave your dog without a Digital Tag for Your Dog!
1. Carrying all the vital information in one place
With a QR tag for your dog, you register it in the international animal database and create an online profile with the pet's info. There, you can store crucial data like:
Medical data. All your dog's diseases, food intolerance details, past operations, vaccinations, and other critical medical information can be stored in one place. This can save your dog's life if any emergency occurs. What's more, your pet is automatically connected with the local vet clinics.


License. If you're following local laws or simply license your dog on your own initiative, this information should be at hand. For example, licensed dogs can be kept longer at shelters in case they're lost and found. 


Multiple contacts. Owner, pet sitter, veterinarian, or any other close contact can be specified in a dog's profile. So, in case you're moving, going on a vacation, or leaving your pet for a while, there's always somebody who can help if needed.


Photos and other stuff.
2. Styling your pet with a Digital Tag for Your Dog
Tags help you pump up your pet's style and express your personality, too!
You can also customize tags to your taste. Create a design with a photo of your pet, a pretty pattern, or a vibrant image. How about ordering a tag with a collective photo of you and your dear Chihuahua?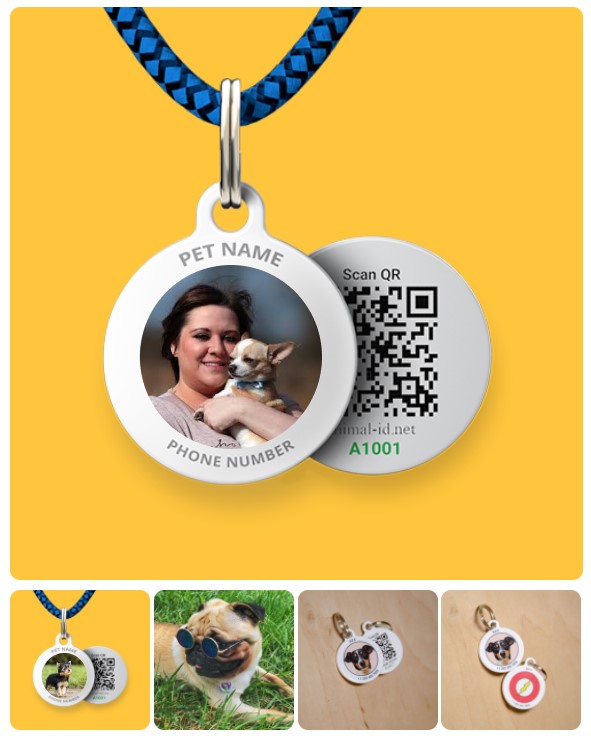 Here is a sample of how Animal ID allows customizing their QR tags
3. Increasing your chances to return a lost dog
A QR tag also increases your chances to reunite with your dog after they get lost. Modern QR tag vendors provide a variety of ways to get in touch, like via a toll-free phone number, messages, or tracking down the GPS location of the tag when scanned.
Such a low entry barrier to reach out to the owner increases the odds of finding a dog's owner. 85% of the pets with a QR pet tag come back home in 24 hours after getting lost.
A digital chip is also a fast way to connect with a dog owner. Quite often, dog owners microchip their pets and feel confident about their dog's safety. Indeed, why worry if a dog can be found with a GPS? 
However, tags can be read once a dog is found and returned to you within a few minutes. With a microchip, a dog is likely to end up at a shelter or vet clinic where they can scan a chip.
Such a procedure obviously takes time to get your dog back. So, responsible dog owners should use both identifiers, including a microchip and a QR tag.
4. Proving your ownership Through the Use of a Digital Tag for Your Dog
When a dog is lost and found, it's important to return it to the right owner. How can a stranger be sure that you've got no ill intentions and just want your dog back?
Again, information connected to an online profile can help you justify your ownership. Your photo, phone number, dog's documents, and other contact information can help you prove you're actually you without any hassle.
5. Making a donation to charity
By purchasing the QR tag for your dog, you can make the lives of homeless animals safer and more comfortable. There are several charity projects you can contribute to. For example, Animal ID donates $5 from each purchase to shelters. Isn't that a good reason to purchase the QR tag for your pet asap?

Digital Tag for Your Dog:  Last Words
As you can see, QR pet tags are a lifesaver when it comes to ensuring your pet's safety. With a digital tag, anyone can easily reach out to a dog owner by simply scanning a QR code with a smartphone.
Of course, digital tags don't ensure 100% safety, but they surely increase your chances to get your dog back if they wander off.

Have you ever lost your dog and what have you done in that case? We hope this post was useful to you and from now on, you'll know how to ensure your dog is safe and sound!
--Sponsored Post--
Does This Article Deserve Your Thumbs Up?
We always appreciate your support and encouragement.  Your thumbs up means so much to us.  Please like this article.
If you find this page or any page on Small Dog Place Helpful, or useful in anyway, I'd love it if you would click the small heart found on the bottom right of each page.
You can also share or bookmark this page -- just click on the: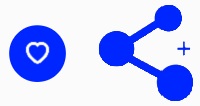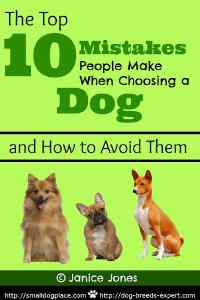 Free Monthly Newsletter
Sign Up for Our Free Newsletter and get our Free Gift to You.

my  E-book, The Top 10 Mistakes People Make When Choosing a Dog (and how to avoid them)