Australian Shepherd
by Catherine Shappit
(Cambridge, Ontario Canada)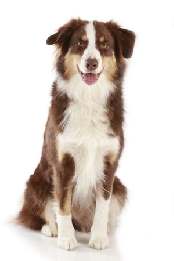 Australian Shepherd, Red Merle
She was highly intelligent, herds quite well, loves to exercise twice a day would be great! Very protective of you and the family & would not hesitate to protect you.

--------------------------------
Janice Here from Small Dog Place.
--------------------------------
Catherine, Thank you for posting about your dog. She sounds like a great companion and working dog. In case anyone is interested, Australian Shepherds, also known as Aussies, were developed on ranches in the western part of the United States during the 19th century.

The standard size Australian Shepherd is
Weight: Male: 55–70 lbs (25–32 kg),
Female: 35–55 lbs (16–25 kg)
Height: Male: 20–23 inches (51–58 cm),
Female: 18–21 inches (46–54 cm)

While a little big to be considered a small breed dog, there is a breed called the Miniature Australian Shepherd.

The Mini Australian Shepherd was developed by taking the smallest Aussies and pairing them together to create a smaller version of the larger breed.

Weight: 20 - 40 pounds
Height: 13 - 18 inches

Like their older cousins, Minis are calm, playful, intelligent and highly trainable.

Super cute and colorful, the mini or the Aussie is not a breed for everyone. Like Catherine mentioned, they need a lot of exercise to keep them mentally and physically healthy. They are also a herding breed and will herd not only live stock, but may also find a need to herd your children as well.