Boric Acid Solution
by kris
(Lake Shore, MN)
Boric acid solution is very mild, soothing antiseptic. Years ago people frequently used it to treat Pink Eye. Used as an eye wash. Boil 1 c. water. Stir in 1/4 tsp Boric Acid until dissolved. I've been using this on my new senior Maltese/Shih Tzu. His tear stain condition had a fungal smell that filled the car when I picked him up. I've had him a month now. It has improved considerably with no odor now. I've also used a Lavender shampoo which is also a natural antiseptic.
Join in and write your own page! It's easy to do. How? Simply click here to return to It's Your Turn!.
Grab Our Free Ezine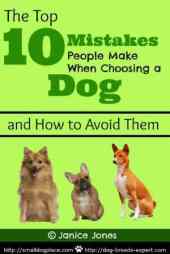 Your Free Bonus for Subscribing.
Get my free email newsletter and take a look at my downloadable ebook, The top Ten Mistakes People Make When Choosing a Dog (and how to avoid them).
Signing up to my newsletter means you'll never miss any news or valuable information from this site.
Newsletters come out about once per month, unless I have something important to bring to your attention.  Happy Reading.