Camelot, My Jack Tzu (Shih Tzu and Jack Russell Terrier
by Grams
(Houma, LA)
Camelot is a rescue from a family who could no longer keep a dog. He is actually a Jack Tzu ( a mix of Shih Tzu and Jack Russell ). He is a 6-year-old male dog. I was searching for a "guard" dog since I am 72 years old and live alone.

When I first adopted him, he had no hair. The previous owners had shaved him. He scratched himself continually to the point of having sores.

It took about 4 months for Camelot to become very friendly toward me. He actually was aggressive and growled at me a lot. At first, I wasn't sure if I would be able to keep him because he acted vicious and defensive. And, he did NOT bark at all. I wanted a dog that barked to be a guard dog for me.

After a few Vet visits we cleared up his skin condition, and his hair began to grow. I did not punish him when he growled or snarled. I treated him with only love and acceptance. Now we are best friends. He is at my side constantly when I am home. He has become to trust me and knows that I love him.

I feed him only grain free foods, and I give him Omega 3 daily. His itching is gone; except for when we walk out in the field, and he gets all sorts of stuff on him. Since we do this almost daily, I bathe him at least once a week. He loves a bath. He sits in the water and lets me do whatever I need to clean him well.

Every day I realize more and more how smart (and shrewd) he is. He has learned how to manipulate me into giving him treats.

Funny story: I give him a treat whenever he goes out to potty. He scratches on the back door or just sits there until I pay attention to him and let him out. This night he scratched on the door every 10 minutes. He will turn back to see if I am watching him. If I am not, he runs back in the house waiting for his treat.

LOL, I think he is training me more than I am training him. I would love to retire so that I could be home with him 24-7. I am 72 years old, and this is the first pet I have had since I was a little girl. My job duties would not permit me to have a pet because of travel. I have no idea what he may have experienced with his first family, but he is truly the King of our household.

When I read about the temperament of the Shih Tzu all the articles are correct. They are smart, and they can be stubborn. Camelot and I have learned how to read each other's minds, and we communicate well with each other.

Oh, and he is beginning to bark. My daughters have dogs that bark a lot, and Camelot loves for them to visit. He will bark when they do - proudly, I might add. So, we are getting there.

I think that he may have been punished for barking before. Don't know. He actually "talks." When I take him places, he will talk to people. They laugh and talk to him just like a baby. He loves getting out and socializing.

Join in and write your own page! It's easy to do. How? Simply click here to return to Your Shih Tzu.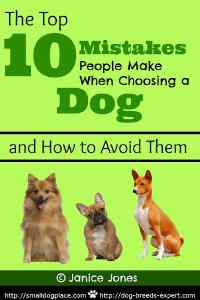 Free Monthly Newsletter
Sign Up for Our Free Newsletter and get our Free Gift to You.

my  E-book, The Top 10 Mistakes People Make When Choosing a Dog (and how to avoid them)