Dog Agility:  An Introduction for the Rest of Us
What is Dog Agility?   |Last Updated 11-26-2023
Dog agility is one of many dog sports. This dexterous activity requires a person to move while communicating with a dog in an obstacle course. A lot of preparation is usually required but is impressive when finished.
Benefits of Dog Agility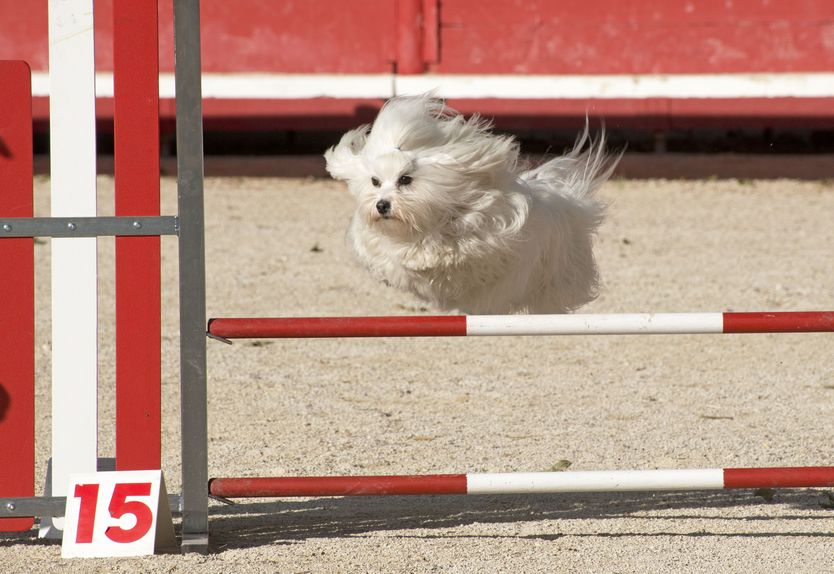 Exercise is an obvious perk in agility, but there is also mental stimulation, flexibility, strengthening of muscles.
There's also creating new habits, opportunities to improve commands through chaining, improved confidence, even aggression rehabilitation.
What I enjoy most in agility with my dog is the bond through body language. When getting mobile in this way with my dog, there is information to be learned by both of us.
Can Your Dog Perform in Dog Agility?
Or better yet, would you simply like him to participate in the sport? There's competition level, but then there's just having fun. 
And with no rules! 
I'm going to spend the remainder of this article giving you ideas on how to do this on your own if you choose to do so. 
Here are a few thoughts on the matter. Maybe you are thinking somewhere on these lines.
Is my dog crazy about agility, or does he at least show signs of having potential? 
My dog's not nimble or gracious, but I'd still like for us to participate.
My dog's not interested in it, but I am.
Will my dog be able to do everything I see other dogs doing?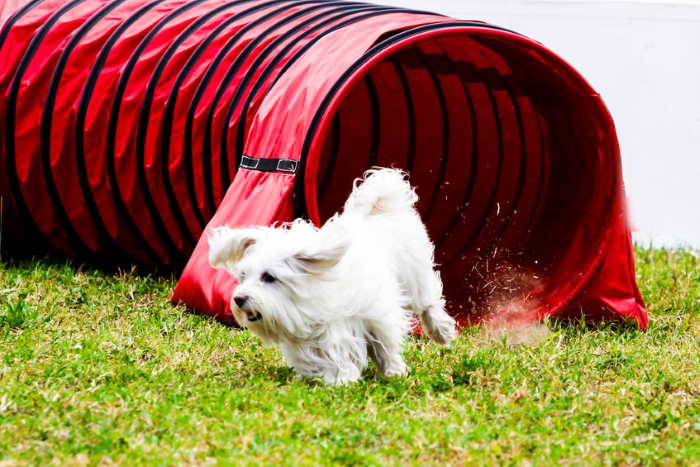 Running through a tunnel is a normal part of dog agility training.
Ok, so those are only a few thoughts, and your concerns may be different. Before we go on, I'll just tell you…
Most dogs can do at least some agility.
They won't all perform like border collies and Jack Russells, but there are still ways to get around the learning curves. So yes, whatever little type of fellow you may be wondering about, gain knowledge of how to get results in the next section!
Prepare Yourself for Dog Agility
Don't worry, and you don't have to create a gym!
There are different kinds of agility equipment, and you may not be interested in all of them. You don't need to have an elevated platform, Teeter totter, weave poles, high jumps, and tunnels. You can choose only one item if you want. 
When I said that most dogs could do some agility, part of that statement was breed-specific. 
For example, a mini Beagle may have a more difficult time with an obedience jump, or a Frenchy may be challenged weaving than another dog type. 
What kind of dog do you have?
Is the elongated, stubby, agile, fast, clumsy? 
Can he jump high? Then maybe he can do an elevated platform or a hanging loop. 
Can't jump but loves to run? Then the tunnel! 
Does the dog balance on the back of your couch? Then try a teeter-totter.
Do you have a good idea about what you want to achieve in this field yet? What would your dog like to do?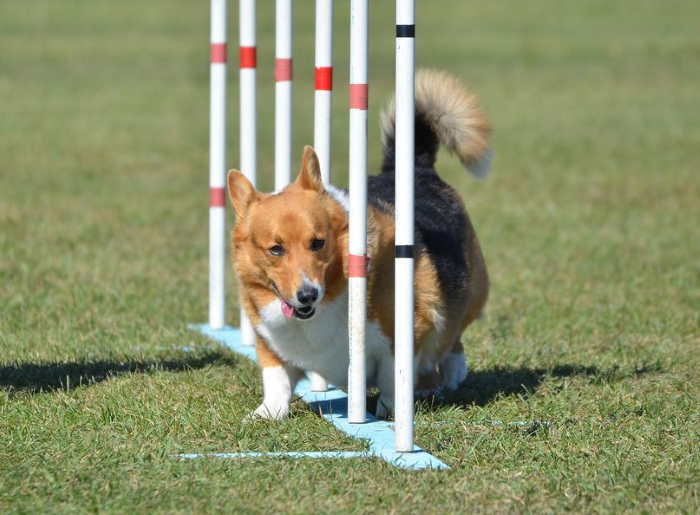 Pole Weaving is Demonstrated here by a Welsh Corgi during a Dog Agility Event
What You Will Need
What You Will Need
Agility stuff can quickly get expensive, but it doesn't have to. There are plenty of reasonably priced companies with less fancy pieces. 
You can also make your own for pretty cheap. There's plenty of little DIY books on the matter. 
As for the training, consider these things:
Treats (chicken if needed)
Longline
Training Collars
Sit command 
The ability to move alongside him. 
Beginning Your Dog in Agility
So, we're getting to the meat of this agility stuff! 

And you will quickly learn that it's straightforward. Well, that's my belief. 
Motivational Tips to Review 
Don't worry; we'll put it all together briefly! 
First, if your dog is crazy about food outside, that's great! If not, withhold food, maybe breakfast the morning of training.
Lazy dog? Withhold exercise the day before.
Doesn't acknowledge you outdoors? Withhold affection the day before. He will notice! And for maximum results, do all 3 & think of more!
The Weave Example 
To get your dog to weave, only ask him to follow the treat as far as he will go. This will give you an idea of how motivated he is. Maybe he will follow your treat through several weave poles, perhaps only six inches at a time. 
Be patient. Over time he will do more for each treat. Also, fade out the treats and ask more of him. Once he begins moving more confidently (after several minutes of starting), add a verbal command. 
You may find that he continues to do a few more weave poles for the same one treat because of the command. If so, that's great!
The goal here is to get him through all the weaves for one food treat.  Or treat him to a run for the ball, or tug game, or even a period of affection. 
Whenever possible, try to distance yourself, so you aren't right next to him. This way, he won't get distracted because you aren't within reach. However, you would ideally run somewhat next to him for the activity.
Applying Principles to Other Activities 
This French Bulldog is showing that she can jump through a hoop during a dog agility training session.
Can you create this same pattern for another exercise you want to do? It will vary, yes! But using the weave example, let's quickly discuss a couple more ideas. 
Say you want your Papillon to jump through a ring hanging in the air. You'd begin with the object lower, even on the ground. Then you'd entice him through with food. 
Again, if he doesn't go through, reward him just for going near. You may be surprised to know he'll go just a little further next time. 
Use the distance factor I spoke of in the weave example and go on the other side of the ring. Perhaps he'll want to be near you and hop right through!
You are only limited by your imagination!
Advancing Your Dog in Agility
Now, I understand that food can only go so far in some cases. For example, some dogs won't climb to an elevated platform or go through a tunnel for a treat.
Whether your food training reaches a plateau or your dog doesn't care for treats, let's discuss some other options.
Using Tools in Agility 
It is possible to ask a dog to perform in a non-negotiable manner and get him to enjoy the activity after.

You see, many dogs have an interest, but they're too scared. This is where you can give them a quick nudge through the situation and reward them immediately after. If you do this correctly, your pooch will be fine. Learn how in this next section. 
How to Use Tools for Agility 
As I mentioned earlier, you will only be limited by your creativity. However, a long line and starmark collar will help a lot in agility training. 

A long line will help you bring a scared dog through a tunnel or ring, and give control over your dog from a distance until it becomes a habit. The starmark collar will motivate your dog to respond to pressure. Simply put the collar on him and connect the line to it.
You can use this collar to make him climb on a stand, go through weaves, walk on a teeter-totter, etc.
Proper Leash Pressure 
It's important to know how much tension to put on your dog's leash when using tools. When applying pressure, be relatively quick in pulling a dog through. 

What I mean is, when you pull a dog through a tunnel on say, a 30 ft light line, don't leave him in resistance, able to pull away. If he's against the idea or struggles to understand, be more firm and help him through, pulling the line, then reward. 
The next time you do the procedure, there will be less resistance. 
Then less… 
Then less!
It's easy to understand intellectually but harder to do. That's because your emotions are involved. Just remember, your dog needs a leader.
I've trained many dogs in this practical sense. Minutes after, they were begging to go through the tunnel again, or elevated platform. These things would have otherwise taken weeks, months, years.  
However, remember that if your dog is willing to cooperate for food, don't use tools. Always be as pleasant as practically possible.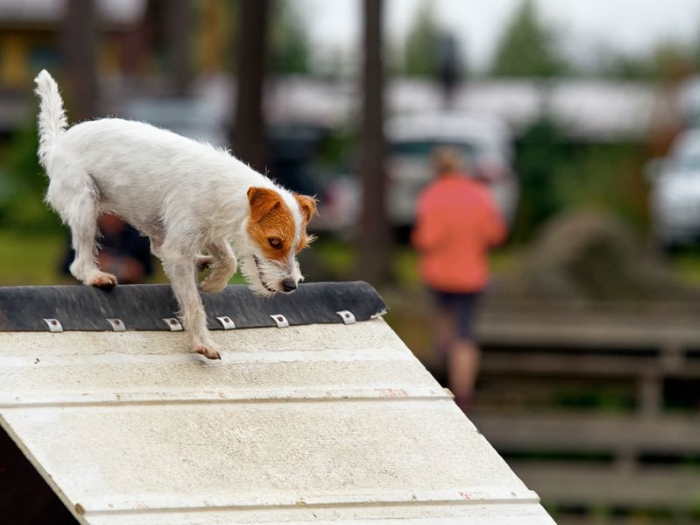 Climbing and balancing on a teeter toter is another skill need to participate in Dog Agility Trials.
Concluding Results and Routine
By now, you may have noticed that I didn't give anyone a specific plan but instead tried to provide you a system you can follow. You are  also probably wondering, "where do I go from here?" And that's a great question!

Long term, you should be focused on how to make your furry buddy's routine, well … routine. Over a month or two, he should be pretty acclimated to the motions. Try to fade out the food and only use other rewards.
For example, after he finishes his round/s throw a ball, frisbee, present a tug toy, offer affection that you previously withheld. Even give his meal or part of it immediately following his routine.
If you enlist whatever variables necessary, this can happen for you. Don't take no for an answer, but be humane. 
Lastly, remember to incorporate your agility routine into your schedule so that you have time, and it's a convenience. If you stay the course, your dog will predict the event and become even more enthusiastic every time!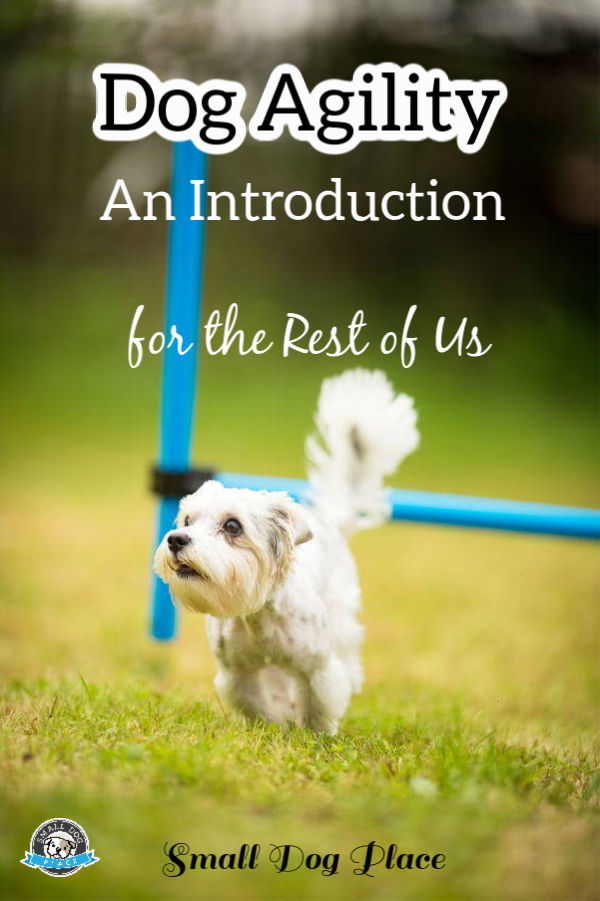 Dog Agility:  Author Bio
Does This Article Deserve Your Thumbs Up?
We always appreciate your support and encouragement.  Your thumbs up means so much to us.  Please like this article.
If you find this page or any page on Small Dog Place Helpful, or useful in anyway, I'd love it if you would click the small heart found on the bottom right of each page.
You can also share or bookmark this page -- just click on the: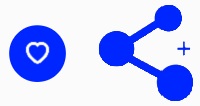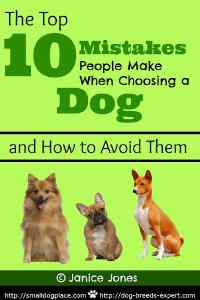 Free Monthly Newsletter
Sign Up for Our Free Newsletter and get our Free Gift to You.

my  E-book, The Top 10 Mistakes People Make When Choosing a Dog (and how to avoid them)