Fun Facts About the Biewer Terrier
9 Facts About the Biewer Terrier, I bet You Didn't Know
Facts About the Biewer Terrier  by Glenn Anderson
|Published 08-01-2022
Although the Biewer Terriers are a new breed of dog, they have instantly won the hearts of many pet lovers. These cute and tiny meatballs can make you fall in love with them in one glance.
Apart from their elegant looks, they are getting a lot of attention because of their personality and unique traits.  Don't confuse them with the Yorkshire Terrier, as they are a unique breed apart from all others.
Since they are a new breed, there are many interesting facts about the Biewer Terrier that you didn't know. They were accepted into the American Kennel Club in 2021 as their 197th breed and now hold a place in the AKC's Toy Group.  So if you're planning to adopt one, here are some fun facts about a Biewer Terrier that will amaze you.
 Facts About the Biewer Terrier
1. Name and Origin
First, let's know the correct pronunciation. Since it's a German name, its pronunciation is a bit different. You can pronounce it like the word "beaver".

This breed was named after its breeders: Werner and Gertrud Biewer. In 1984, the Biewer family's Yorkshire Terrier gave birth to an entirely new breed with a recessive piebald gene.
At first, this was considered a variant of the Yorkshire Terrier. Later on, it was recognized that Biewer Terrier is an entirely new and rare breed.
Looking for more information on pets? CritterTips can help you to know more about your pet.
2. Biewer Terrier Was Famous for a Different Reason
Biewer Terriers are fun-loving dogs that can entertain you all day. Within a short time, this breed has already taken the spotlight.
Although this breed originated in Germany, it has gained immense popularity worldwide. But in Germany Biewer Terrier was made famous because of a celebrity.
Margot Eskens, an extremely famous German singer used to have a Biewer Terrier as her pet. Because of her, Biewer Terrier attracted a lot of attention.
3. Elegant Looks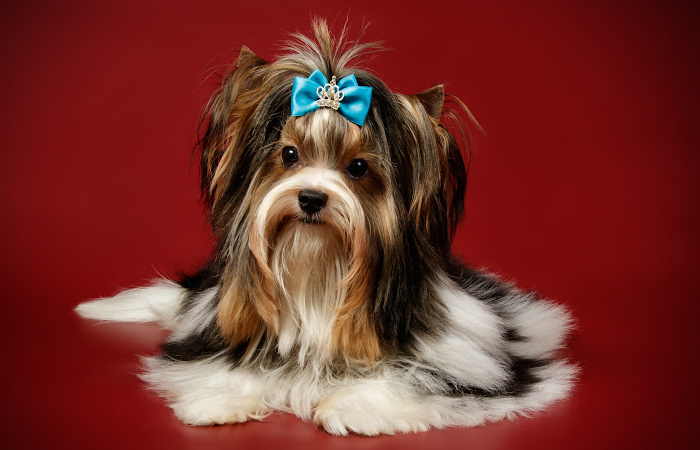 Biewer Terrier in Full Show Coat
One of the winning traits of Biewer Terrier is their appearance. They have a long and silky coat that flows down their bodies. Their unique color patterns often make them even more beautiful. On top of that, they have tiny ponytails that will melt your heart.
These furry gentlemen are usually small. Their size can go up to seven to eleven inches long. You can find many similarities between Yorkies and Biewer Terriers, but Biewers have different tails, and their bones are a bit sturdier than Yorkshire terriers.
4. Amazing Temperament
One of the most attractive traits of Biewer Terriers is their happy and fun-loving characters. These dogs can be a perfect breed for both senior citizens and kids.
They often do mischievous and naughty things to make you laugh. If you own a Biewer Terrier, you're in for a lot of entertainment. One of the reasons why they're a popular breed is because their happy-go-lucky mentality keeps the environment light and fun.
So if you have a particular weakness for mischievous little dogs, Biewer Terriers can be an excellent option for you to adopt.
5. Strong Personality
Biewer Terriers may look small, but they are not as meek as they look. They have a big personality, and they demand a lot of your attention. They always love to play with you. You can often see them playing with their favorite toys.
These energetic and lovable creatures want to receive lots of affection from you. You can see them hugging and sitting on your lap if you're feeling sad. You'll have a great time cuddling and playing with them.
They're not so keen on welcoming strangers, but if you can train them through proper socialization, they can also be completely fine with your guests.
6. They're Great as House Dogs
Another great thing about the Biewer Terriers is their quality of being great house dogs. They're fine with living in both apartments and fenced-in yards. They don't need additional workouts; just daily walks outside will be sufficient.
And you don't have to worry too much if you miss a day of walks. Since they're small, running in the apartment will be enough for their daily exercise.
Planning on going on a short hike? They can be a great companion. When it comes to training, you can have less hassle because of their easy-going personality.
Wondering how to choose the best dog food? You must consider many things before selecting the best dog food for your pet.
7. Loves to Play with Children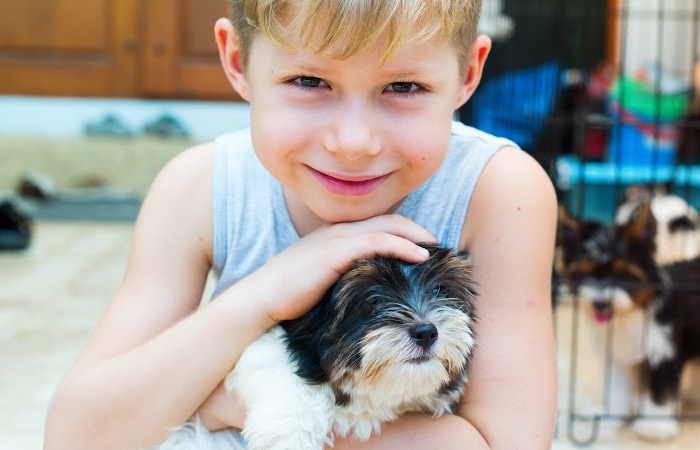 Biewer Terriers are always up for playtime. Their small size makes them a perfect playing partner for the kids. Their fun-loving attitude makes them the best buddies to play with the children.
But since they're quite small, they often can get injured while playing. So you must be extra careful while letting them play with the children. So ensure you have proper supervision while letting your Biewer play with children.
Have children at home? Then you should know which are the best dogs that are good with children.
8. Brewers Miss Their Owners
One wholesome fact about the Biewers is they are overly attached to their owners. You'll see your Biewer Terrier constantly running towards you and hugging you for attention when you're at home.
But when you're not around, they feel sad. Since they're easy to train, they form a strong bond with you. So if you leave them in an empty home, they'll most likely whine and cry for you. This is one breed that can suffer from separation anxiety.
Instead of keeping them alone, taking them with you is better. Since they're small, taking them outside is also quite easier. You can also find someone to look after your dog while you're away.
9. Brewers Are Great with Other Pets
Biewer Terrier can be another welcoming edition if you have other pets in your home. The jolly mentality of the Biewers helps them to get along with other pets.
But they do need some time to get socialized. Biewers have a big personality and they're not afraid to show their emotions against larger animals. So a little training can help Biewers to feel comfortable around other pets.
Conclusion
Biewer Terriers are an amazing breed of dogs with lots of personality and cuteness. You'll never feel bored around this rare breed of furry friends. Their lovable mischiefs will bring joy and happiness to any home.

If you love small dogs and planning to adopt one, these fun facts about the Biewers will make you choose them as your next pet.
Facts About the Biewer Terrier
Pin for Future Reference
Facts About the Biewer Terrier
Author Bio
Glenn Anderson has been a freelance writer for years. A pet enthusiast and a flag-bearer of organic eating, a fitness freak, and obsessed with all things food, plants, and animals. He also loves writing and discussing things that make him happy.
Similar Breeds
Does This Article Deserve Your Thumbs Up?
We always appreciate your support and encouragement.  Your thumbs up means so much to us.  Please like this article.
If you find this page or any page on Small Dog Place Helpful, or useful in anyway, I'd love it if you would click the small heart found on the bottom right of each page.
You can also share or bookmark this page -- just click on the: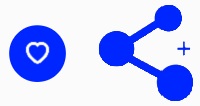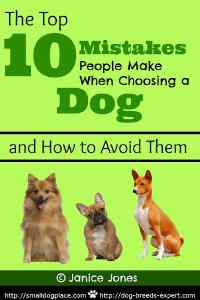 Free Monthly Newsletter
Sign Up for Our Free Newsletter and get our Free Gift to You.

my  E-book, The Top 10 Mistakes People Make When Choosing a Dog (and how to avoid them)