Your Holiday Pet Safety Tips

Keep Your Pets Safe and Healthy Throughout the Season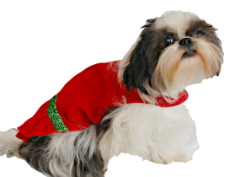 We've created a quick holiday pet safety tips infographic you can use and keep nearby this season. Click here to get your copy now.

With the hustle and bustle of the season, we often forget how easy it is for our pets to fend for themselves while were decorating the tree, wrapping presents, or entertaining friends and family. 
Unfortunately, it is precisely when we are least thinking about our pets that danger strikes and our best laid holiday plans go out the window while we care for a sick or injured pet.  Keep that from happening this year.  Here are a few of our best tips for keeping your pet safe and healthy during this time of year.
Foods that are Dangerous to Pets

Macadamia and Walnuts:  These nuts and others to a less extent can cause vomiting, lethargy, fever, tremors, and inability to move.  The best advice:  Don't let Fido near anything containing nuts.
Grapes, Raisins:  No Fruit Cake for Molly!  These foods can cause lethargy, loss of appetite and vomiting.  If your next holiday gathering includes serving a fruit tray, consider eliminating the grapes if you suspect your dog might take a liking to them.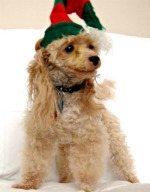 Alcohol:  It might be "cute" to serve your little one a few tastes of alcohol, but be aware that it can cause vomiting, diarrhea, lethargy, lack of coordination, even difficulty breathing.  No one wants a costly trip to the emergency room to spoil a holiday celebration.
Fatty Trimmings and cooked bones should not be on your pet's diet now or ever.  Dogs love the taste of fat, but it can cause vomiting and diarrhea.  Fatty foods also promote pancreatitis.  Cooked bones such as turkey or chicken bones can get lodged anywhere along the digestive track, causing constipation and even stomach perforation.
Chocolate is one of the worst foods dogs can eat, especially dark chocolate.  It can cause agitation, vomiting and diarrhea.  Other problems associated with chocolate intake include tremors, increased heart rate, and seizures.  Sorry Buddy, that cookie is all mine!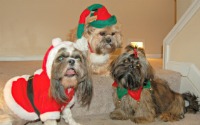 Deck the Halls but keep all those decorations away from your pet
Dogs and cats love to explore all those wonderful decorations but if they decide to nibble a little, they are in for a big stomach ache.  Tinsel, ribbon, bows and other holiday decorations can cause obstructions in the intestines which may require surgery. 
Lit candles should be kept out of reach otherwise; they can create a fire hazard.
Electric cords and lights seem to be everywhere during the holidays.  They might light up our lives, but if our pet chews on a wire, he is likely to get burned, have difficulty breathing, and possibly experience cardiac arrest. 
Holiday Plants are so lovely to behold, but deadly if eaten.  Holly, mistletoe and poinsettias can cause irritation, vomiting and diarrhea and are dangerous both to dogs as well as cats.
Trash bags and containers are likely to hold some dangerous trash that dogs cannot resist.  Keep all garbage bags away from pets. 
We hope these holiday pet safety tips will keep your fur babies healthy, safe and happy this holiday season. 
Does This Article Deserve Your Thumbs Up?
We always appreciate your support and encouragement.  Your thumbs up means so much to us.  Please like this article.
If you find this page or any page on Small Dog Place Helpful, or useful in anyway, I'd love it if you would click the small heart found on the bottom right of each page.
You can also share or bookmark this page -- just click on the: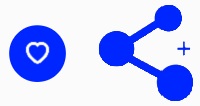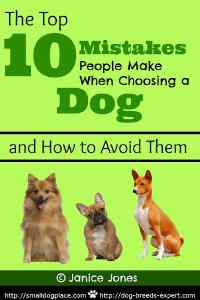 Free Monthly Newsletter
Sign Up for Our Free Newsletter and get our Free Gift to You.

my  E-book, The Top 10 Mistakes People Make When Choosing a Dog (and how to avoid them)