Long Haired Chihuahua
You missed adding the Long Haired Chihuahua. It looks a little like the Papillon but for me it's very cute!


A word about Long Haired Chihuahuas from Small Dog Place...

You are right, I have not mentioned Long-haired Chihuahua and I do apology for my omission.

In the English Speaking World, there are several major kennel clubs that register dogs. The ones that immediately come to my mind are the following:

AKC (American Kennel Club)
ANKC (Australian National Kennel Council)
CKC (Canadian Kennel Club)
KC (The Kennel Club-England)
NZKC (New Zealand Kennel Club)
UKC (United Kennel Club)

I am sure there are others, but these are the biggest. There is also the FCI (Fédération Cynologique Internationale) that most of the rest of the world is familiar with.

Each registry lists dogs separately. For example, in the United States, the Chihuahua is grouped with the Toys and both long hair and short hair Chihuahua are listed together as one breed. The Canadian Kennel Club and the United Kennel Club does this too.

The Australian National Kennel Council lists them separately: Long Coat Chihuahua and the Smooth Coat Chihuahua are listed as separate breeds. The New Zealand Kennel Club also lists them separately.

So in fairness to everyone, let's list them as a separate breed and I'll add them to our Small Dog's Breed List

Thanks for bringing this to my attention.


Join in and write your own page! It's easy to do. How? Simply click here to return to It's Your Turn!.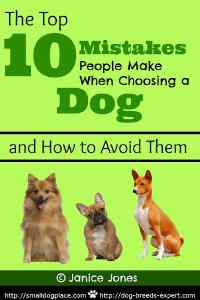 Free Monthly Newsletter
Sign Up for Our Free Newsletter and get our Free Gift to You.

my  E-book, The Top 10 Mistakes People Make When Choosing a Dog (and how to avoid them)