My 6 month old Morkie, Puck
by Kristy Effinger
(Blaine, MN)
Kissing Mama
A month ago, my husband & I had the privilege of adopting our Morkie from an owner who felt they couldn't keep the puppy because their German Shepherd would not tolerate him.

We're retired and were wanting a puppy that was considered non-allergenic because they don't shed, and small in size.

My niece was helping me & found the listing on Facebook. We named him Puck after the sprite/fairy from Shakespeare's Midsummer Nights Dream. He took to his new name immediately and responds to it exclusively.

As you can see from the photos, he seems to take after mostly his Maltese parent in hair, floppy ears, and part of his coloring—he has a creamy white belly & legs.

But the Yorkshire parent has given him golden tan on his ears & tail, with black on the ends of his tail hair & ear hair. His back is a lovely golden, almost apricot color.

His temperament is perfect for us—playful but very loving & cuddly, absolutely devoted to both me & my husband equally. He's very quiet & mellow most of the time, only barking when someone comes to the door or when meeting someone new on a walk.

He's considered by our neighbors to be the star of the neighborhood, very friendly & well loved. At 6 months, he is already 11 pounds & 10 inches in height. His previous owner thinks he might be done growing.

We love our little Puck very much & look forward to many years of his company in our old age. I would appreciate any comments about cleaning the tear stains around his eyes and clipping, as I want to do it myself.
Join in and write your own page! It's easy to do. How? Simply click here to return to Your Special Designer/Hybrid Dog.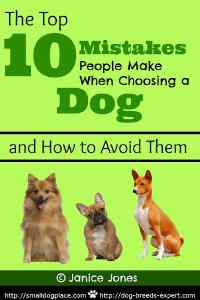 Free Monthly Newsletter
Sign Up for Our Free Newsletter and get our Free Gift to You.

my  E-book, The Top 10 Mistakes People Make When Choosing a Dog (and how to avoid them)