How To Choose the Best Puppy Pads

Puppy pads can be a life saver when it comes to potty training your puppy.  There is no question that potty training should be the first task of any new puppy owner and pee pads often make the task so much easier.  Why use pads?


Do you live in an apartment or condo where there is no easy access to an outside grassy area?
Are you a senior or someone with limited mobility where quickly getting outdoors is out of the question?  (When a puppy has to go, he HAS TO GO)
Is yours, a winter baby—a puppy born in the winter in a cold and/or snowy area where going outdoors is impracticable? 

Do you have a tiny puppy that hasn't learned how to maneuver steps?
Do you prefer to keep your dog indoors for personal reasons?  Many small dog owners do.

There are probably many more reasons you might want to consider puppy pads, but whatever the situation, you will wish to find the best one that will do the job.  You want a pad that will hold the urine in, not stain your floor, and prevent your puppy from tracking liquid from the pad throughout your home.  
You have two choices when it comes to puppy wee wee pads:  Disposable and Cloth/reusable
Disposable Puppy Pads

As a breeder myself, I have trained puppies for many years using many different approaches.  My puppy buyers are always shocked that their eight-week-old puppies come "almost potty trained." 
This didn't happen over night.  I had to try many different methods and products to find the one that worked the best.  Puppy pads may not be the product that you want to economize on, yet you don't have to pay top dollar to get the best pads.
I've tried many different brands and the ones below are ones I have used and can recommend if you are looking for disposable puppy pads.


Bulldogology Premium Puppy Pads
I recommend this one because it seems to be stronger and larger.  Better yet, if you have puppies (like mine) who love to tear up paper, this pad comes with built in adhesive tape on all four sides.
One small caveat , the adhesive tabs are very sticky which is a good thing.  However, they sometimes stick too well and then you will need to go back and scrap them off.  I have been advised by company representatives that they are aware of the problem and will be using less adhesion beginning October of 2016.

---
Mavel 100% Absorbent Training Pads



Comes in a 50-Pc. Pack
Holds up to 4 cups of liquid
Contains a core of polymer and USA produced pulp that turns urine to gel to prevent leaks
Contains a natural attractant and odor neutralizer
Size- 23" x 22"
Top layer is a quick-drying cover that prevents dogs from tracking the urine onto floors.

---
Nature's Miracle Advanced Ultra Absorbent Pads for Pets



This pad is advertised as being extra large for large dogs but in reality it is not that much larger than other brands.  The additional size works great for small dogs or multiple dog families where you don't want to change the pad after each use.
Has a quick dry technology that prevents wet paw tracking

Contains Nature's Miracle Odor control technology
Treated with attractant scents that encourages dogs to use the pad.
Purchase in packs of 10, 30,50 or 100

23" x 27"


---
Four Paws Wee Wee Pads for Puppies to Adult Dogs



Uses 5-ply leak-proof Floor Armor system with 100% leak-proof guarantee; heavy-duty leak-proof liner protects floor and carpets
Built-in attractant draws dog to pad; super-absorbent quilted core provides maximum absorption, and quick-drying top layer prevents tracking
Comes in Standard, Odor Control, Super Absorbent, Gigantic, X-Large, Little Dogs, and Décor (which looks like grass or tile)

---
Pet Select Pee-pee Training Pads - 22" X 23" - 100 Ct



Absorbs liquid instantly
Eliminates urine odor

Dries to the touch in minutes
Handles multiple wettings.

Built in attractant to speed training

---
Disposable puppy pads can become a toy to curious or bored puppies.  They love to tear them up, chew on them, rearrange them, or even sleep on them. Yep, I learned that the hard way.

Yuck! 
If you go with a disposable pad, I recommend that you find someway to secure the pad so the puppy can not tear it up.  A pad holder works fairly well and now you can purchase littler boxes with plastic sides that keep urine off walls. 

Re-usable/Washable Puppy Pads

If the thought of buying disposable puppy pads year after year, gets you down, you might want to think about the washable kind.  Most are very durable and withstand hundreds of washings.  You can purchase those made especially for dogs with cute doggie motifs or buy the ones designed as incontinence pads for human use. 
Be sure to find ones that have a plastic backing so they don't leak.  Puppy Pads are not the same as whelping pads which do leak.  They come in a variety of different sizes depending on your needs.  Smaller ones work just fine for one or two dog households. 
You might want to consider the larger sizes if your dog stays at home alone for extended periods of time.  These pads normally do not have the special attractants infused into the disposable type so if you need that extra odor, you can do one of two things. 
Buy a spray bottle containing the pheromones that encourage pets to  eliminate where you spray.  Alternately, you can use the cloth pad to wipe up a little of your dog's accident so he will find it on the pad the next time he needs to go.
I have found that over time, I can't smell the urine but evidently dogs can, so using a spray pheromone is not necessary.  If after washing many times, the pads do not come out smelling wonderful, a little vinegar or enzymatic cleaner will neutralize the odor.

Pack of 3 - Vet Care Reusable/Washable Large 8 Layer Dog/Puppy Housebreaking Training Travel Pee Pads



8-Layer Ultra Absorbent core with Waterproof bottom allowing for extended use before changing

Made in the USA with USA materials. Each pad is about 32x36 inches but it can be folded to fit smaller spaces

Anti-Microbial: To help prevent odors and staining.

Fluids are absorbed and held for laundering

---
All products above can be purchase directly from this site on Amazon. 
Small Dog Place receives a very small commission of all products purchased directly from this site.  This small revenue helps us keep the site up and running.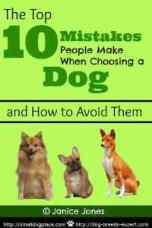 Free Monthly Newsletter
Sign Up for Our Free Newsletter and get our Free Gift to You.

my  E-book, The Top 10 Mistakes People Make When Choosing a Dog (and how to avoid them)
If you enjoyed this page, I'd love it if you'd let me know.  Just click the button below.  Thank you.