Reina
by Marisol
(Mchenry )
I have a 8 month baby girl, she is my slice of heaven! But I'm having a very hard time potty training her...... Please help!!

--------------------------------------------
Hi, Janice Here from Small Dog Place
--------------------------------------------

I feel your pain. The Shih Tzu breed is notorious for being stubborn and hard to potty train, but don't give up, it can be done.

I think the key to this breed is to make them believe that what they are doing is in their best interest, so it takes a little imagination.

Potty Training any dog requires:
Patience
Consistency
Regular routine
Rewards

Patience: Sometimes some dogs do not get completely potty trained until they are a year old. This seems excessive, but it does happen. Sometimes it is the dog--"they just don't get it." Sometimes it happens because our life happens and we can't keep to the schedule, or tend to give in when those big eyes say, "don't be mad."

Consistency: To teach anything to a dog (or a child for that matter), consistency is vital. For potty training, it means doing the same thing every day at the same time and in the same way. For that, training ourselves to be more disciplined is the key and easier for some than for others.

Regular Routine: A regular daily routine will make the process go faster but even if you can maintain the same hours every day, try to set up a schedule that will work on most days. If a dog knows that when they wake up, the first thing they do is go out, they will get into that routine. The only thing that might prevent that is if the dog is sick.

Rewards: A tasty treat that is offered only when the dog does what is expected will go a long way towards speeding up the process. Don't think of it as a bribe, just a reward for a job well done. Pick a treat that she adores and only give that treat to her when she potties where you want her to go. Use other rewards for other training.

This is it in a nutshell, but there is probably much more that you want to know. Be sure your dog is healthy and is not suffering from a bladder infection or some other problem that would prevent her from having accidents. An adult dog (which she is at 8 months) should be able to go for about 4 hours without needing to go out. Expecting her to go for longer periods of time is asking a lot.

Good luck and come back to report on her progress.
Join in and write your own page! It's easy to do. How? Simply click here to return to Your Shih Tzu.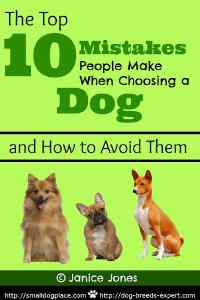 Free Monthly Newsletter
Sign Up for Our Free Newsletter and get our Free Gift to You.

my  E-book, The Top 10 Mistakes People Make When Choosing a Dog (and how to avoid them)