5 Tips for Keeping Your Dog Safe on a Motorcycle
Keeping your dog safe on a motorcycle by Anoop Nain  Published 02-05-2020
There are a lot of people who are crazy about riding motorcycles. Some of them are also passionate about dogs and the combination becomes the best of friends.
Dogs are generally known as the friendliest pet and help their owners escape from loneliness. They fill lives with love, honesty, fur, happiness and plenty of smiles.
However, if you are an avid road lover, it is apparently a difficulty for you as you cannot keep your dog alone at home. If you have just a motorcycle with you as a mode of travel.
It becomes a significant problem because it is often difficult to carry dogs on a motorcycle. The reasons are multiple and some of them include their size and behavior.
It is also illegal to take them in open vehicles as they have no sides to protect them. It had been stated in Division 11 of the California vehicle code, that 

"No person driving a motor vehicle shall transport any animal in the back of the vehicle in a space intended for any load on the vehicle on a highway unless the space is enclosed or has side and tail racks to a height of at least 46 inches extending vertically from the floor, the vehicle has installed means of preventing the animal from being discharged, or the animal is cross tethered to the vehicle, or is protected by a secured container or cage, in a manner which will prevent the animal from being thrown, falling, or jumping from the vehicle." 

This has been stated to ensure the safety of dogs from falling off the open vehicle. Another reason it is dangerous because you never know when your dog gets distracted and feel like jumping off the vehicle.
So, it is not always a good idea to bring a dog onto a motorcycle.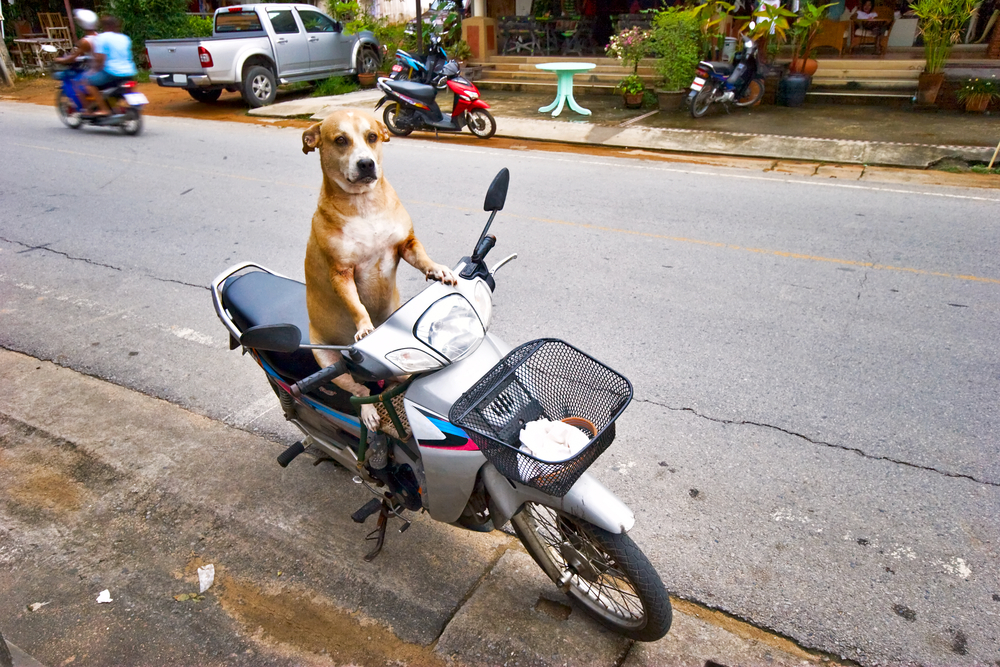 This does not mean that is nearly impossible to ride with them. However, one needs to follow some careful precautions to ride safely and before we begin with the tips, let's learn about the necessary equipment/accessories that should be carried by you to ride with your dog on a motorcycle.
These accessories can be:  

Dog Helmet
A lot of brands are there which provide dog helmets, dedicated to their safety issues. Some of the helmets are to showcase in shows and not much into protection. So, while looking for dogs' helmets, make sure you look for one that provides space to their ears to rest comfortably, the helmet should be rigid so that if the dog falls, there is a possibility of it being protected. 

Dog Bike Glasses
As a dog guardian, you need to carry your dog bike glasses while riding as they ensure the safety of dogs from insects, dirt, and anything that may come into their eyes while riding and distract them. So, make sure you carry the flexible ones which have got elastic strap attached to them so that they can fit around their heads properly. 

Dog clothes
To stop the cold affecting your dogs negatively, you must make them wear clothes while riding a motorcycle. The clothes would help them in staying warm and would not distract them in any way. 

Saddlebag 
You don't need to carry a saddle bag only. It can be either a saddlebag or some other type of carrier that will be able to carry the dog's other accessories which should mainly include food, water and treats for the dog. 

5 Tips for Keeping Your Dog Safe on a Motorcycle
Now that we know what should be carried, we can start with the tips of how to keep them safe:

1. Get them a good seat
Like you, your dog also needs a comfortable position while going for a ride. It does not matter if the dog is small or big. It requires a comfortable place to sit and hence, you need to get them a carrier to sit comfortably yet safely as it protects them from the winds, speed breakers on roads and accidents. 
And also, this saves you from not carrying their large bulky boxes to make them travel with you. 
Keep this in mind that carrying carriers for your dog in a motorcycle is the only acceptable option that can be seen in the market. However, keeping your dog safe on a motorcycle means choosing a safe one.  There are a lot of cool carriers in the market, which is not really safe.
Also before going on long trips, plan short trips with the carrier attached to your bike to make your dog used to it. 
Hence, your choice of choosing the right dog carrier is a suitable and safe option for your canine friend in your bike road trip. 
2. Do not forget to carry your dog's medications and first aid kit:
If you know that your dog is prone to falling ill, then it is recommended to you that you carry your dog's medications with you in your saddle pack as it would not just keep you stress-free but also, your dog's health safe in case of any serious injury during the trip. Your first aid kit must consist of antiseptic wipes, antibiotic ointment, cotton pads, vet wrap, some rescue remedy to keep it calm down. 
And most importantly, it would help your dog not to get distracted while riding as health distraction can make your dog even jump off which may create a big scene on the road, like an accident, which would not just hurt you but also the other people driving on the road.  
3. Plan to take small breaks in between:
Taking short breaks in between your trip is necessary as it helps your dog to gain back all its lost energy by resting in an open place, and by getting fresh as it does to human beings. It is recommended that you let your dogs feel a safe haven, roam around, and smell the natural smell.

4. Bring extra food and water
If you have traveled enough, then you know how the weather is unpredictable and can put you on hold for a longer time. There are chances that you can be found stuck at roads for hours, and hence you need to carry food and water in a large amount for the emergency. It will be the safest option if you have food and water with you in the right amount. It will save you from getting into a worst-case scenario. 
And also, bring clothes for your dogs that would protect them from catching a cold or fever. Keep it in your mind to carry plenty of food, water, and clothes for dogs. 
5. Book a pet-friendly hotel
Some hotels do not let the dogs enter their premises for some or other reason, due to which the dog owners often have to hide them in boxes or bags. So, make sure this does not happen to you and you try your best not to let it happen. Make sure you book the pet-friendly ones so that it helps them in enjoying the trip too. 
Keep Your Dog Safe on a Motorcycle:  Last Words
So, it is not impossible to plan a bike trip with your dog, it just needs some proper planning. Have fun. 
Author Bio: Keeping Your Dog Safe on a Motorcycle
I am Anoop Nain, proud father of four rescued dogs and two Flemish giant rabbits. It's 2019, all my puppies are grown up now, but each day with them is a new learning experience for me. I know so much about pets (dogs and rabbits in particular) now that people come to me for suggestions and tips.

Does This Article Deserve Your Thumbs Up?
We always appreciate your support and encouragement.  Your thumbs up means so much to us.  Please like this article.
If you find this page or any page on Small Dog Place Helpful, or Useful in anyway, I'd love it if you would click the small heart found on the bottom right of each page.
You can also share or bookmark this page -- just click on the: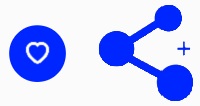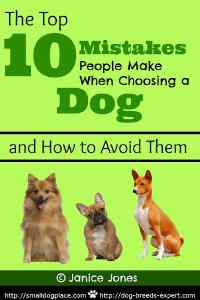 Free Monthly Newsletter
Sign Up for Our Free Newsletter and get our Free Gift to You.

my  E-book, The Top 10 Mistakes People Make When Choosing a Dog (and how to avoid them)