Acana Puppy and Junior Food Review

Acana Puppy and Junior Food Review
Wondering what score you'd give to Acana Puppy and Junior Formula, Sylvia from Canada recently asked me?  She wanted to find an excellent food at an affordable cost and thought maybe she had stumbled on something that might be just right for her small dog.

Acana Puppy and Junior Formula foods are one of many blends produced by the Champion Pet Food Company of Alberta Canada.  They make two outstanding blends of dog food, Orijen and Acana.  In this review, we will look at the Acana Puppy and Junior Formula.
Champion PetFoods make three categories of Acana dog food, their classics which includes this Puppy food, their regional varieties that reflect local foods from areas such as prairies, grasslands and rangelands.  Their third group of products feature a single protein source paired with a carbohydrate.  

From the Champion Pet Food website, we were able to obtain the following information.

Guaranteed Analysis for our
Acana Puppy and Junior Food Review

| Ingredient | Amount |
| --- | --- |
| Crude Protein (min.) | 32% |
| Crude Fat (min.) | 19% |
| Crude Fiber (max.) | 4% |
| Moisture (max) | 10% |
| Calcium (min./max.) | 1.7% |
| Phosphorus (min./max.) | 1.1% |
| Omega-6 (min.) | 2.5% |
| Omega-3 (min.) | 0.9% |
| DHA (min) | 0.4% |
| EPA (min.) | 0.4% |
| Omega 6 : Omega 3 Ratio | 2.8:1 |
| LA Min | 2.3% |
| Glucosamine (min.) | 1400 mg/kg |
| Chondroitin (min.) | 900 mg/kg |
Ingredients
Ingredients
Chicken meal, steel-cut oats, deboned chicken, whole potato, peas, chicken fat, whole egg, deboned flounder, sun-cured alfalfa, chicken liver, herring oil, pea fiber, whole apples, whole pears, sweet potato, pumpkin, butternut squash, parsnips, carrots, spinach, cranberries, blueberries, kelp, chicory root, juniper berries, angelica root, marigold flowers, sweet fennel, peppermint leaf, lavender.

Supplements
Vitamin A supplement, vitamin D3 supplement, vitamin E supplement, niacin, riboflavin, folic acid, biotin, vitamin B12 supplement, zinc proteinate, iron proteinate, manganese proteinate, copper proteinate, selenium yeast, dried Enterococcus faecium fermentation product.

Adequacy Statement

ACANA Puppy & Junior is formulated to meet the nutritional levels established by the AAFCO Dog Food Nutrient Profiles for ALL LIFE STAGES.
This means that you may use this food throughout your dog's lifespan.  To place this AAFCO statement on a dog food product, the manufacturer uses either a calculation or a laboratory analysis of nutrients.  I could not find where this company does any feeding trials so I am assuming that the statement is based on laboratory findings.

Acana Puppy and Junior Food Review

To do the analysis we use Sara Irick's Dog Food Rating Scale and then look at other factors that make a food excellent, average, or inadequate.

Beginning at 100%

No points were lost but this blend gained points:
+3 contains probiotics
+3 contains fruit
+3 contains vegetables
+1 contains oats
+3 contains additional animal protein sources
+1 Contains glucosamine and chondroitin


Acana Puppy and Junior Food Review gives this product
114 A+

Review of the Guaranteed Analysis

Next, let's look at the Guaranteed Analysis on a dry matter basis. 

Dry Matter Basis--Calculations

All dog food has a certain amount of water or moisture content.  Dry kibble usually contains between 6 and 10% moisture.  Can foods contain upwards of 78% moisture.
To compare this food to others, you must convert the percentages in the guaranteed analysis to a dry matter basis.  This can be a little confusing.

The amounts printed in the guaranteed analysis are nutrient levels "as-fed"  As-feed just means that the percentage of nutrients were calculated directly without taking into consideration any water content. 
To make it more meaningful, the moisture must be removed so that we can compare one food to another.

Remember when looking at the percentages of protein, fat and fiber in the guaranteed analysis, we see minimum and maximum amounts,not the actual quantity of the protein or fat.  In the case of Acana Puppy and Junior Food,

There is a minimum of 36% Protein
A minimum of 21.5% Fat
And a maximum of 4% Fiber
Not Bad!

Acana Puppy and Junior Food Review:  Discussion

Both Acana dog foods and the Orijen foods are manufactured by the same company.  They differ slightly according to the quantity of protein, the number of protein sources used and some fats and carbohydrates in each blend. 
Orijen foods contain more protein and fat and use more animal sources of protein.  Acana is less rich and therefore less expensive.  Both are excellent products that use the same sources of ingredients. 
While Orijen foods score higher, they are also more expensive and may be out of the reach of many small dog owners.

Protein
A minimum of 36% Protein is excellent as far as dog foods go.  Not all of that protein, however, comes from animal sources, although a fair amount does.  This food contains chicken meal as the first ingredient which has more protein than whole chicken.  It also includes eggs, chicken liver, and flounder also to the chicken meal and whole chicken. 

The fifth ingredient is peas which seem like an excellent vegetable, but it is actually a good source of plant protein.  This element alone can bump up the amount of protein found in the product.

Fats
Chicken fat is the sixth ingredient.  While frowned on by the Sara Irick's Dog Food Rating Scale, it is actually a quality ingredient that provides fat as well as flavor. 
Herring oil is another good fat source found in this food.

Carbohydrates
Steel-cut oats as the second ingredient provide a good source of carbohydrates without adding additional grains that may be a source of gluten. 
Dogs that have sensitivities to grains will do well with a diet free of them. 
Potatoes, as well as an assortment of fruits and vegetables make up the remainder of the carbohydrate sources

Calcium – Phosphorous Ratio
These two ingredients need to be in the correct portion to prevent an imbalance that can lead to problems. 
The recommended ratio of calcium to phosphorous is 1:1 and 2:1.  An imbalance of these two elements can cause skeletal problems especially in growing pups.  While this has been demonstrated in large and giant breed dogs, small dogs should also receive the correct amounts in the appropriate ratios. 
The AAFCO (American Feed Control Official's Nutrient Profiles for dog foods sets the minimum levels of calcium at 0.8% for growth and reproduction and 0.5% for adult maintenance. 
The maximum level is also set at 2.5% calcium for all dog foods.  This food falls well within the limits and the ratio of calcium to phosphorus is appropriate.

Additional Nutrients in This Food

This food also contains the same plant botanical found in their other product, Orijen. 
For specifics about the benefits of these ingredients, visit our Orijen Puppy Food Review Page.

Probiotics are essential for a healthy gut.  This food contains several.
DHA (docosahexaenoic acid) is a fatty acid essential for brain and eye development in puppies.  A small amount is included in this food.

Champion Pet Foods:  The Company

This company uses locally produced and wild-caught ingredients for their foods. 
They call their foods biologically appropriate and define this to mean:

"a new class of foods that mirror the high and various inclusions of fresh, whole meats that dogs and cats would encounter in their natural environment – meats they are naturally evolved to eat."

The ingredients are all local and are of human grade.

Acana Puppy and Junior Food Review:  Conclusion
This is a high-quality food with a slightly lower percentage of protein and fat than their other blend, Orijen.  This makes the food more affordable for a larger percentage of dog owners.  The food is still not 100% available throughout the United States. 

Author's NOTE: Being in the U.S., I personally went to a local specialty pet shop to purchase I bag.  Several Acana foods were available, but this particular product was not.  I inquired and was told that it might be more than a year before they would be able to obtain the product.  Champion PetFoods, I was told by the clerk, sold to specialty and locally owned stores more than large chains.  The clerk informed me that stores must prove they have a client base of willing and able buyers.  I was not able to substantiate this elsewhere, but I'm leaving it in as a side-note.
There are, however, some online pet retailers that sell and ship with the U.S.A.  Small Dog Place recommend this food as a high-quality food that is appropriate for small dogs throughout their life cycle.

Purchase Acana Dog Foods

In doing the Acana Puppy and Junior Food Review, I discovered that the company recommends this food for puppies whose weights will be between 9 and 25kg (20 to 55 lbs) at maturity.  This food will be appropriate for many small dogs but not all of those breeds listed on Small Dog Place. 
For this reason, may I suggest as a substitute, Acana Puppy Small Breed.  This food is appropriate for dogs whose adult weight will be 20 pounds or 9kg.

Acana Puppy and Junior Food Review:  Disclaimer
The analysis of this Acana Puppy and Junior Food Review and other review pages represent the opinions of the author.  We must rely on the information obtained by the dog food manufacturer on their website if we are unable to get the actual product.

We try to provide accurate information but we cannot guarantee completeness or accuracy or up-to-date nature.  We update regularly but not on a daily basis. 
We offer the information in good faith as a way to provide information to the reader.  It is up to each reader to decide if the food is right for their dog.  We do not endorse or suggest any brand as being good for all dogs.

Do You Have a Favorite Food You'd like me to Review?
Tell me about yourself and please provide your email in case I have more questions about the type of food or dog you have.  I do not share your email with anyone. Reviews are free and there is no obligation, so let me know what you'd like reviewed.

Does This Article Deserve Your Thumbs Up?
We always appreciate your support and encouragement.  Your thumbs up means so much to us.  Please like this article.
If you find this page or any page on Small Dog Place Helpful, or useful in anyway, I'd love it if you would click the small heart found on the bottom right of each page.
You can also share or bookmark this page -- just click on the: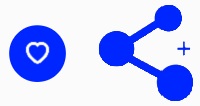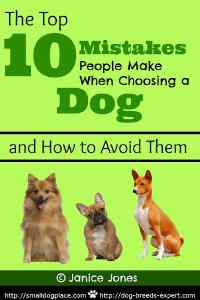 Free Monthly Newsletter
Sign Up for Our Free Newsletter and get our Free Gift to You.

my  E-book, The Top 10 Mistakes People Make When Choosing a Dog (and how to avoid them)