Dog Remembrance Ideas:  13 Great Ways To Remember A Beloved Dog Who Has Passed
Dog Remembrance Ideas     by Susan Combs     |Published 09-21-2020

It's really a heartbreaking time for you when your beloved dog passes away. You are in a shock when your loved dog meets a natural, sudden, or man-made death. Like the death of your close one, you wish to recall your furry friend after losing it. In your search, you can come across numerous ideas to celebrate your dog's life. Here are some beautiful ways for your assistance:

13 Dog Remembrance Ideas to Help You Heal
1. Create a photo album
There is a high probability that you would have an enormous number of images of your furry friend. As your loved dog was a member of your family, so it is sure that you will have clicked the best moments when your dog was with you.
With the support of online resources or a shop in your local market, you can get a beautiful photo album. As per your wish and creativity, you can design an album yourself. Apart from inserting your dog's photos in the album, you can place a few quotes that could make you recall the stories you never wish to forget.
Start with sites such as PicMonkey or Canva, both free and walk you through the creativity process.
2. Create a wooden dog name sign
To remember your beloved dog, you can get an art piece. After receiving your furry friend's image/photo, the artist can easily design an art piece with your favorite dog name signs. This hand-made piece will look-like your dog, and the symbols associated with it will help you to recall the memories you had with your furry friend.
Another option is to have an artist paint a portrait of your dog using your favorite photo.  In the photo below, artist Ellen Davis recreated a watercolor paining from a client who submitted a photo of her beagle.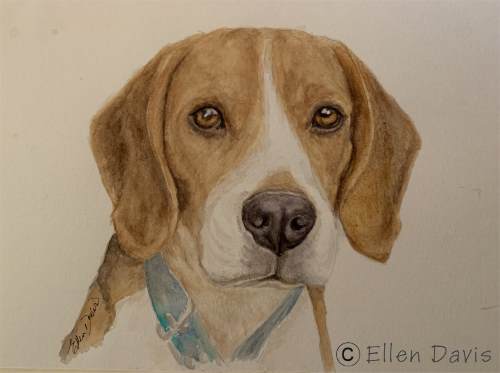 3. Adopt another dog/animal
Having a pet again may trigger in you the notion that you would lose the new pet, just like you lost the first pet. Such a thought can be daunting for you. However, adopting a similar or other pet is the best option for you to experience the love you had for your beloved dog.
It won't replace the one you lost, but it will help you to have joys back in your home and life. You can take your time if you are not ready to adopt a dog. Having a similar pet at home will help you ease your painful feelings. You will get the kisses, cuddles, and moments you are missing after losing your beloved dog.

4. Visit an animal shelter
If Adopting or purchasing a new dog or puppy after the loss of your beloved dog is hard for you, consider another option. Another great way to honor your dog is to visit an animal shelter often and offer to volunteer. Your regular visit to such a home will create love or affection to the cats, dogs, or other animals waiting for care, love, and a new home. Otherwise, you can sponsor an animal if you are determined not to bring a pet to your home again.  
Rescue organizations are always looking for volunteers to help foster or find homes for homeless dogs in their care.  Fostering can be a great opportunity to learn about a new breed or just give a special a little bit of love.
5. Get a tattoo

Do you love having tattoos on your body? If yes, a tattoo of your beloved dog's name, face, or the one that makes you remind your furry friend is an excellent and ingenious way to honor it.
You know that your furry friend is not physically present before you. However, a tattoo with your pet name or face will help your dog's memories with you wherever you go.

6. Place a stone in your garden to create a memory
When one of our family members, relatives, friends, or known persons passes away, we lay a stone in the crematory. On the due date, we go there to pay our homage to the one we lose from our life.
Similarly, your dog is a member of your family. You can create a memorial for you by laying a personalized stone in your garden. Whether it is painted by you or bought from the market, it will be a special memorial for you and your family. You can choose the place where your furry friend spent time with you. Add a small bench and plant some flowers that remind you of your beloved dog.  
7. Build a memory box
Creating a memory box is an extraordinary DIY idea to honor your dog, who has gone away from you. In this box, place all of your memories - photos, blankets, pet beds, dog toys, and keepsake items. After keeping all your dog-related articles, place this memory box safely somewhere in your home. The place should be one where you can easily visit as per your wish. This memory box will help you recall your furry friend for a more extended period.
8. Have an outdoor memorial
Do you wish to recall your furry friend's life traditionally? Creating an outdoor memorial is a meaningful way for you. For this, you can place a wooden bench or headstone with your pet's name/image in the park or garden where both of you went frequently. Being before the bench or headstone will make you close to your furry friend.

9. Plant a tree or flower plants
Planting flower plants or a tree in your home garden is a memorable way to signify your pet's life. You will go to the flowering plant or tree daily to water or take care of it. It will make you have a daily reminder of the things that you had with your furry friend. You can select the place for plantation as per your memory.

10.  Write a Memorial and Publish to the Web
If you like to write, adding an online memorial to a website is one way to preserve your dog's memory in a way that others can share and relate.  Even people who keep other types of pets have places to allow followers to express their feelings and thoughts in a safe environment.  For example, here is a place for people who love chickens can remember their favorite peeps.
If you are a small dog lover who has experienced the lost of their beloved dog, why not consider adding your memorial to Small Dog Place's Dog Memorial Pages.  You can add your dog's story and submit up to four photographs and, of course, once it becomes part of the website, you can always visit again and again.
11.  Enlist the Help of a Pet Cemetery
Just like people, dogs have their very own cemeteries or have portions of a human cemetery devoted just for dogs.  These cemeteries offer funerals, burial or cremation services and grave stones.  Most will pick up the dog and make all the arrangements. 
Then, you are free to visit and add flowers to your dog's grave whenever you like just like you might do for a beloved relative. Prices vary so it is wise to ask for a price list before making any final decisions.
12.  Create a dog foot print 
Use clay or polymer clay to create a simple foot print of your beloved dog.  Add jewels or other small ornaments and then add your dog's name and birth and death dates.  These simple reminders can decorate house plants or be place outside in your memorial garden.
For small dogs with small prints, create two and add earring backs, either posts, hooks or hoops to make a pair of matching earrings.
Add a key chain to a pet paw print made out of polymer clay to make a cherished keychain, or add some jewelry fittings and chains to create a necklace.
#13  Help someone else heal as you heal yourself
Sometimes all it takes is getting involved with helping another person to help yourself heal.  When Karen from Ohio, U.S., contacted me, she was requesting assistance on behalf of her elderly next-door neighbor who had just lost their beloved Shih Tzu. 
Part way into the conversation, I found out that she too had lost her much loved Golden Retriever just a few days ago.  As she began the arduous task of finding a new dog, she realized that her neighbor who was in her late 70s may not be as internet savvy as herself and took it upon herself to help out.  
Staying busy during the grieving process was what this one dog lover needed to do and helping another human being has added perks in that it not only makes one feel better about the situation, but give a person the satisfaction of helping.
Dog Remembrance Ideas:  Conclusion
Except mourning, you have no way to honor the loss of your beloved dog. However, you should try to take active steps for not only recalling the memories you had with your furry friend but also celebrating its life and the time both of you spent together. Take consolation that your beloved dog is irreplaceable and consider its life will be in your memory forever.  

Dog Remembrance Ideas:  Pin For Future Reference
Dog Remembrance Ideas:  Author Bio
Susan Combs is a Pet Health and Safety expert. Her specialties include keeping up with important issues regarding pet health and pet care, working closely with pet parents to find answers concerning training, grooming and caring for specific breeds of dogs.

Does This Article Deserve Your Thumbs Up?
We always appreciate your support and encouragement.  Your thumbs up means so much to us.  Please like this article.
If you find this page or any page on Small Dog Place Helpful, or useful in anyway, I'd love it if you would click the small heart found on the bottom right of each page.
You can also share or bookmark this page -- just click on the: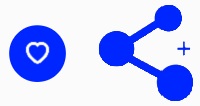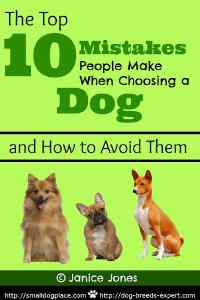 Free Monthly Newsletter
Sign Up for Our Free Newsletter and get our Free Gift to You.

my  E-book, The Top 10 Mistakes People Make When Choosing a Dog (and how to avoid them)