Choosing the Best Dog Water Bottles Your Pup Will Love
Best Dog Water Bottles by Sid Published November 20, 2019
We all spend hours comparing various dog foods and their impacts on health. Similarly, we also ensure that we are getting the right clothes, vet services, even toys.  However, we do tend to forget about one essential aspect of our dog's nutrition and well-being – water. 
Don't expect your dog to drink from a straw, invest in a good dog water bottle.
Hydration is just as vital for our little buddies as it is for us humans. Nonetheless, when you are out for a walk, playing or traveling, it can get a bit challenging to keep your canine hydrated. So, in this article, we will introduce the best water bottles for dogs so they can be healthy and full of energy all the time. 

Benefits of proper hydration 
Water is the major constituent of healthy cells, and as a result your dog's body weight is roughly 70% water. Without water, your dog's body just does not function properly.
Water is also a major component of blood. As a result, it assists in the removal of wastes from individual cells as well as the overall body through urination and bowel movements.
Proper hydration aids in nutrient absorption and healthy digestion. 
Dogs have a higher body temperature than humans and need water to maintain an average temperature.Especially during summers when it's evaporated during panting or sweating.
Can Dogs Drink From Water Bottles?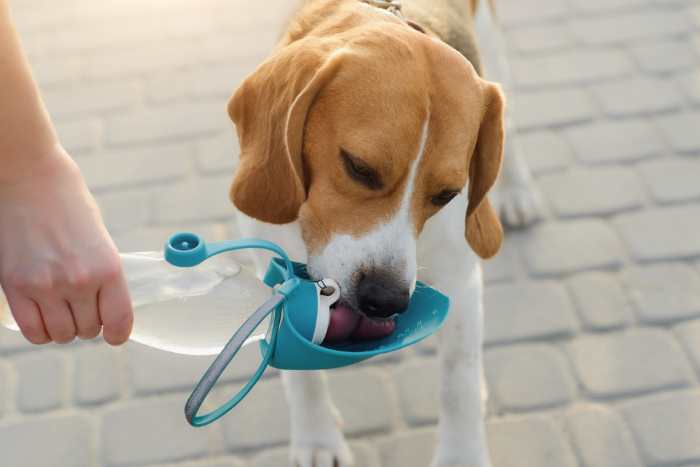 Dogs Can Drink from Water Bottles
Most dog water water bottles either have an attached container that acts like a bowl.  Dogs simply lap up the water as they would do at home.  The other type of water bottle comes complete with a stainless steel nozzle that contains small balls. 
The dog licks the balls and the water is released.  The best way to get a dog interested in drinking from this type of bottle is to dab the nozzle with something such as peanut butter, beef broth or their favorite flavor.  They will like the end to get the treat and the water will flow.

What to consider when buying a dog water bottle 
Material–
The water bottles of course come in various material options such as plastic, steel etc. You can choose whatever will make more sense for your dog's needs and their lifestyle. However, do make sure that the material is BPA-free and is not a hazard for your dog's health.  

Size/Storage–
This decision is majorly governed by the size of your pet. If you have a smaller dog, it wouldn't make too much sense to get a large bottle which is challenging to carry. 

Cleaning–
You must make sure that the bottle does not have too many small pieces as that can be a choking hazard for your dog and also be a challenge to clean up.  
Purchasing a bottle brush makes sense as it is sometimes difficult to get a small mouth bottle clean by simply rinsing.
Built in water filter –
There aren't too many options with this particular feature but it does make sense to invest in one if your dog has problems staying hydrated. This is due to that fact that the water will become better tasting and hence provide a better experience for your dog. 

The Best Dog Water Bottles For Walks, Hikes, and Outings
1. H2O4K9 Dog Water Bottle (Link)
Undoubtedly one of the best and premium products out there on the market today. Essential, the bottle is very safe and environment-friendly. It's incredibly compact and lightweight and can be carried around all the time whenever you take your little buddy out for a stroll.
It is currently available in two sizes – 270 ml and 700 ml, making it great for all types of dogs. 

The material of the bottle is BPA-free and leak-proof and is also available in a variety of charming colours –Green, Red, Yellow, Pink, and Blue. You can choose the right one for your dog's personality. 
2. UPSKY Dog Water Bottle
Another popular and convenient option for your dog. Its built-in cup feature makes it very accessible for your dog whether you're going for a walk, trek, or holiday.
The bottle has a built-in carbon filter feature that effectively removes impurities and chlorine from the water, making it a great choice to ensure your dog is healthy and happy.  

The device can be operated with one hand as it has button that needs to be pressed to fill the cup water and then release it to stop the water.
Water that is not drunk can simply be put back into the bottle. The tank has a capacity of 400 ml and is currently available in two colours – blue and pink.
This plastic bottle is not only made of high-quality grade material, but it is also BPA free and FDA approved. Making it highly reliable, durable and an excellent choice for a dog water bottle. 
3. QQPETS Dog Water Bottle 
An excellent solution for your dog's hydration needs. QQPETS is a cute looking bottle with 350 ml capacity and is currently available in three colours – White, Blue, and Pink. In terms of design and function it can be compared to the UPSKY bottle since it too has a built-in cup feature to help the dog. It is also leak-proof and handy, so it can be put in your backpack without taking up too much space or concern of leakage.The bottle is BPA free and FDA Certified and is made from high-quality plastic to ensure your canine has the best experience. 
One of the unique service features available with this particular product is a 100% service guarantee. With a commitment to serving dogs and their owners, the company asks their customers to reach out to them directly for any issues related to the bottle. 
4. Yicoster Dog Water Bottle 
For the last option, we have the Yicoster Dog Water Bottle - a smart and elegant solution to your dog's hydration problem. A modern design with a built-in silicone bowl attached to offer accessibility for your furry little friend. With a tank capacity of 350 ml, it is also perfect for long walks or larger dogs.
As a bundled offer, you always get some additional goodies with this bottle, including a collapsible dog bowl, a very convenient and effective waste bag dispenser, and also florescent hand rope.
The material is also BPA and Lead-free, making it very healthy for your pet. With all these features and free gifts, purchasing this bottle is certainly a bargain that should not be missed out on. 

5. Lesotc Pet Water Bottle for Dogs 
This bottle differentiates itself by having a patented design, which makes it very simple for your dog to sip water to stay hydrated throughout the day.
The utility makes it perfect for all sizes of dogs, and it comes with a storage capacity of 520 ml, which is sufficient for even the larger fur balls. It is currently available in three vibrant colours, and the sealed silicone gasket inside the cover helps ensure zero water leakage.
Lastly, Lesotc offers a 100% money-back guarantee on this product. If you are not satisfied with this water bottle, they will provide a replacement or 100% refund service.
This surely goes to show that they are dedicated to providing you a premium-grade product experience.  

6. Anpetbest Dog Water Bottle
Lastly, we have the Anpetbest Dog Water Bottle and is a fantastic option for all you pet owners looking for an economical choice. This bottle is available in two size options – 325 ml for small pets and 650 ml for larger ones.
Both options come with a built-in bowl to conveniently allow your little one to sip clean and freshwater. The product is made of out completely BPA free material quickly disassembled for cleaning and maintenance.
With its leak-proof technology, you can simply carry it around anywhere you go. The bottle itself is very lightweight and comes with a lanyard for secure attachment to bags and backpacks.
With a blue bone and claw pattern, this is undoubtedly one of the most appealing dog water bottles on the market. If you carry it off to the dog park, it is sure to make the other pets envious.  

The Best Dog Water Bottles For Stay-at-Home Dogs
Water bottles can be the best solution to keep your pup hydrated at home for a number of situations.
You must keep him crated while you are out and there's no room for a bowl.
You have a long haired dog whose whiskers and beard get soaked with each sip of water.
Your pooch would rather swim in the bowl than drink from it.
You have a dog who insists on immersing his entire head in the water, thus leaving what water that is left dirty and undrinkable.
Choco Nose H570
For a water bottle that attaches to a crate, this one can't be beat.  It has a leak-proof nozzle and is made of material that is BPA free.  It is advertised as being suitable for a large breed dog, probably due to the larger size nozzle (22 mm) but most small breed dogs can also use it just fine. 
The clamp attaches to the crate so that the bottle is on the outside, but the nozzle remains on the inside of the cage.  It's versatility allows you to position it at the height of the dog.
Once attached to the crate, you can easily snap the bottle off for cleaning or refilling without having to remove the entire mechanism.  There are two small holes drilled that can be used to attach it to a wooden stand or even the wall if you prefer.
Choco Nose also makes bottles for small dogs and rabbits.
Heydou Pet Round Patented Water Feeder Bottle 
If you're worried your small breed dog may not be able to manage a large 22mm nozzle, here's one that may be just their size.  This one comes with a smaller sized nozzle (13 mm) and is recommended for small dogs, cats and rabbits up to 17 pounds.  
You can attach it to a crate with it's screw on mount in a similar way as the the H570 above or use the pre-drilled nail holes to attach it to a wooden holder. Removing the bottle for cleaning and filling is easy by snapping it off the mounting.  It comes in a choice of pink, blue or green.
NACOCO Pet Standing Water Dispenser Cat Dog Standing Bowl
Maybe you would prefer a dog water bottle that is free-standing.  Here's an excellent choice that not only does not leak but is adjustable for your dog's height.  The bottle is made of food grade plastic and can be adjusted to 6.3", 9.1" or 11.8" in height by adding or removing the colorful links that make up the stand.
The base is shaped like a bowl that can be filled with water, food, or left empty.  This type of base adds to the stability so that small dogs can knock over this one.  Everything, bowl, water bottle and stand can all be taken apart.  
The nozzle is steel, so there is no chance of rusting and can be washed with soap and water before filling the bottle.
Takeaway
It must be said once again that hydration is vital for dogs. It should be taken extremely seriously, and extra efforts need to be put into making sure your dog is getting enough water to function correctly. In fact, not just dogs but all animals.
If you would like to read about the best gift for your dog, please click here. On that note, we would suggest that you grab a tall glass of water as well, considering that 75% of Americans are dehydrated. 
How much water do you and your dog drink? Also, do you think that there are any other dog water bottles we should add to our list? Let us know.
About the Author:-

I am Sid, proud father of four rescued dogs and two Flemish giant rabbits. Besides being a full-time dog father, I am a freelance content writer and an educationist, with more than 6 years of experience in the field of content writing.
I have been independently rescuing and rehabilitating injured/orphaned street dogs since my college days and have been actively associated with animal rescue organizations in my city.
Does This Article Deserve Your Thumbs Up?
We always appreciate your support and encouragement.  Your thumbs up means so much to us.  Please like this article.
If you find this page or any page on Small Dog Place Helpful, or useful in anyway, I'd love it if you would click the small heart found on the bottom right of each page.
You can also share or bookmark this page -- just click on the: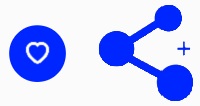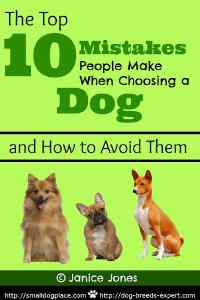 Free Monthly Newsletter
Sign Up for Our Free Newsletter and get our Free Gift to You.

my  E-book, The Top 10 Mistakes People Make When Choosing a Dog (and how to avoid them)