23 Ideas to Stuff Kongs With for Your Small Dog
Ideas to Stuff Kongs     by Kyle Battis     Published: 08-04-2020

Dog owners have long sung praises for KONG toys: nontoxic rubber toys with a hollow center that function as a food puzzle. Perhaps this is because it keeps the dog's entertained and stimulated while making them "work" for food or a toy.
Sometimes, dogs get bored of working for the same treat or toy time after time. This article will go over the wide variety of things you can stuff your dog's KONG toy with and include some of the great benefits KONG toys provide.
Augie is Playing with a Kong Toy
Kong toys keep your dog entertained. Shop now at Cherrybrook.com.
If you ever have any questions about whether or not something is appropriate to put in your pet's KONG, consult your dog's veterinarian. They are the number one expert concerning what is appropriate or inappropriate for your dog to eat.

What benefits do KONG toys provide?
A KONG toy provides a wide variety of benefits for pets. It comes in many sizes, making it an excellent option for dogs who are teeny tiny or extra-large!
Generally, KONGs allow dogs to hunt and work for their food, instead of being delivered right to their bowl. This innovative way to feed your pet can help with many issues, including behavior problems.
Many behavior problems in dogs stem from boredom or a lack of exercise, meaning a KONG toy could be the trick to correcting these problem behaviors.
KONGs usually have holes on either end, allowing your pooch to get their treat out by shaking, pawing, and licking the toy. In turn, this effort helps your pet with boredom, problem behaviors, and even anxiety when they're left alone.
This toy is also made of long-lasting, durable rubber that will stand up to even the most destructive chewers.
These Kong Puppy Binkies can also be stuffed and make an exceptional teething toy for teething puppies.
Check Price on Amazon
How To Use A KONG
KONGs are very simple to use, especially considering they can provide your dog with hours of entertainment with every use. And it can be used with pretty much any type of food that your pet enjoys.
You can mix your pet's regular kibble with a wide variety of ingredients to create a slurry of different combinations. The ingredients you choose, of course, depends on your dog's preferences.
Below, we will go over many possible recipes you can try with your pet's KONG! If you find something your pet likes through experimentation, stick with it!

Ideas To Stuff KONGs
If you want to fill your pet's KONG with one-ingredient, there are many ideas to stuff Kongs.

Ideas to Stuff Kongs with One Ingredient
Ingredients like peanut butter, canned pumpkin, canned dog food, and even cottage cheese can be smeared along the KONG sides.  Don't be surprised if this sends your pet on a frenzied journey to lick the entirety of the contents out.

For options that are less "licking" heavy, chunkier options like cottage cheese or Greek yogurt can be used instead. Kibble can be used as well, although it must be capped with a thicker ingredient, like peanut butter, to make sure it doesn't fall out of the KONG without your pet's effort.
Other times, ground meat (either raw or uncooked) are used, but this can be quite pricey if used in excess.
Two, Three, Or Four-Ingredient Ideas to Stuff KONGs
Kong stuffing, many have agreed, is something of an art style, and can actually be a lot of fun. You can start using two-layers, then work your way up as you get more familiar with what your pet likes, and how to easily stuff your KONG.

When crafting a four-ingredient masterpiece, you'll have to break your pet's KONG up into four distinct layers.

Layer One: Tantalizer
First, you'll need something to get your pet interested in the KONG. This can be done with many of the ingredients listed above.
As far as placement is concerned, layer one will fill the hole on top of the KONG, and a little bit will be sticking out of the top.
Specifically, peanut butter, canned pumpkin, canned dog food, and Greek yogurt are great options for tantalizers. Other options include cream cheese, liver pate, cheese spread, or even cheese whiz!
Apple sauce is another fantastic option for a tantalizer. Still, it will probably have to be capped with peanut butter, so it doesn't slip out of the KONG and make a mess.
Layer Two: Dessert
Other than the tantalizer, which will initially get your dog interested in the KONG, the dessert layer will keep your dog interested in the toy as they work their way down the toy.
This layer will fill about one-third of the KONG.
There are many options for the second layer of your pet's KONG, but many dog owners opt for simple dog treats. These are usually cheap, taste great to your pet, and (often) won't make a mess!
Other good options for the dessert layer include several different types of fruit and vegetables. Safe fruit and veggies options for your pet include apricots, blueberries, bananas, carrots, nectarines, green beans, peaches, peas, or strawberries!
If your dog is not a big fan of fruits or vegetables, have no fear! You can include other ingredients for the dessert layer of your pet's KONG, like cheerios, cheese slices, croutons, and even broken crackers or hard biscuits.
It may take a little bit of experimentation to figure out what dessert element your dog likes, but if you use this list as a guide, you should find something that drives them crazy.

Layer Three: Entree
This is an essential layer in your dog's KONG because it will be where they draw most of their nutrients from. Many owners opt to use their own pet's kibble for this layer, but that is not the only ingredient you can use!
This layer will fill about two-thirds of the KONG.
Foods you might typically think of as made for humans, like bran cereal, bread, cooked eggs, mac & cheese, cooked pasta, potatoes, or even cooked rice, can be used as the entree layer for a KONG.
Many different cooked types of meat can be used for this later as well, including chicken, turkey, salami, tuna, and even tofu! Or, if you have leftovers from last night's dinner, you can use some of those meat scraps, provided they don't have any harmful spices that could be poisonous to your pet.

Interestingly enough, some dog owners have found their pets love baby food as the third layer in their KONGs.

Layer Four: Appetizer
This layer is considered the appetizer because it will be sticking out of the KONG's larger hole. This, in turn, will make your dog excited to continue getting food out of the toy.
Considering this layer will have to stick out of the KONG's hole, there are only a few options for ingredients. Certain types of veggies, like broccoli, cauliflower, carrots, or celery, are all fantastic options.
Apples and bananas are also great for layer four. Still, most dog owners opt for a tastier option, including rolled up cold cuts, hot dogs, pizzas crusts, or string cheese!
If you have any extra spreads you're looking to utilize, you can also use a rolled-up slice of bread with a tasty spread inside!
Other Considerations for KONG Stuffing
Break up the Monotony 
It's essential to continually be looking for and/or thinking about new ideas to stuff KONGs. Change is always good, and mixing up the ingredients you use will help ensure that your dog doesn't get bored.

Consider Freezing
Some dog owners also freeze their dog's KONGs after stuffing them. This way, the ingredients last longer, and it can provide additional stimulation for your pet.
Utilizing the freezing option, you can also have several KONGs prepared at once. You can freeze KONGs days or even weeks ahead and have one ready for your pet whenever they need one!
Adding Flavor Enhancers
If you've tried using KONGs before and found that your dog just wasn't interested, several ingredients can be used to enhance the meal's flavor. Agave nectar, honey, tomatoes, or even water cooked with bouillon can significantly improve the taste.
Other flavor enhancers include chicken soup, oatmeal, parmesan cheese, and even vanilla ice cream!
Ideas to Stuff Kongs Conclusion
KONGs are a great option to feed your pet and provide them hours and hours of exciting entertainment. In fact, KONGs have been known to help dogs with behavior issues, boredom, and even problems with anxiety.

That being said, there are so many options to stuff your pet's KONG. It can be very overwhelming, especially for pet owners who are new to using this type of toy.
Although it may take some experimentation, as long as you use this article to guide you, and keep your dog's preferences in mind, you should come up with some recipes that your pet will enjoy!  For more Kong stuffing ideas, visit here. 
Ideas to Stuff Kongs:  Pin for Future Reference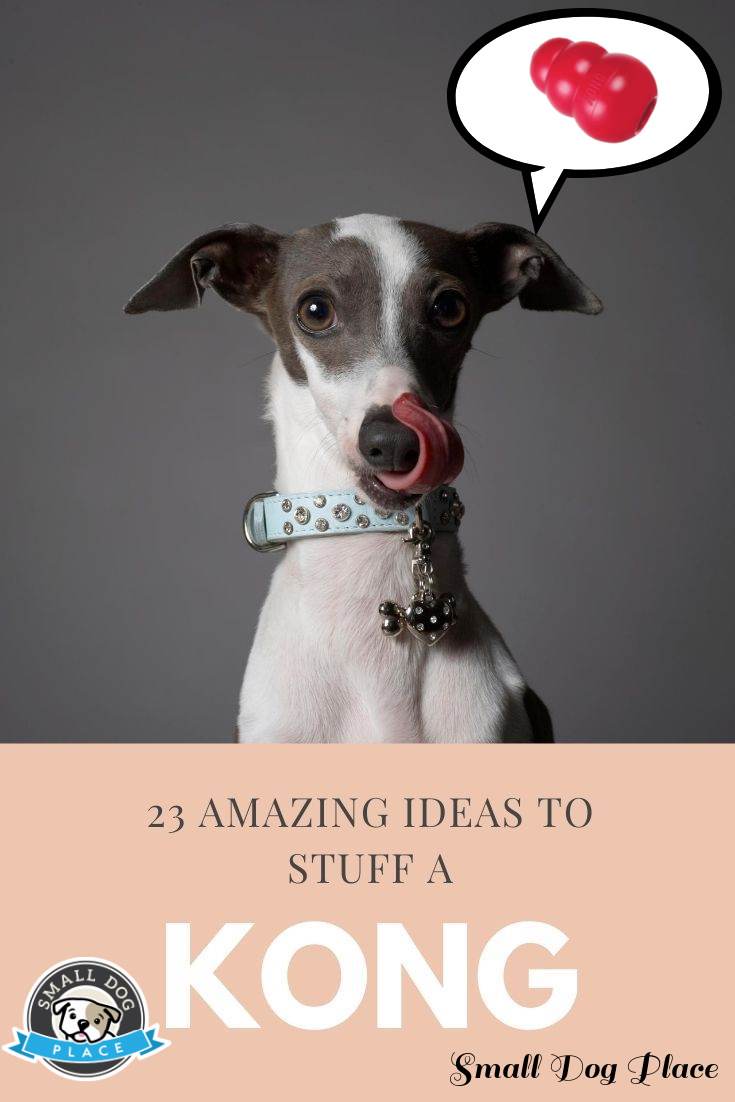 23 Ideas to Stuff Kongs Pin Image
Ideas to Stuff Kongs Author Bio
Kyle Battis has been a Bulldog owner since 2006.  He loves small dogs and is a French Bulldog owner who shares his Frenchie Journey with others at www.FrenchieJourney.com

Does This Article Deserve Your Thumbs Up?
We always appreciate your support and encouragement.  Your thumbs up means so much to us.  Please like this article.
If you find this page or any page on Small Dog Place Helpful, or useful in anyway, I'd love it if you would click the small heart found on the bottom right of each page.
You can also share or bookmark this page -- just click on the: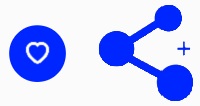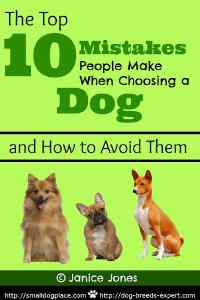 Free Monthly Newsletter
Sign Up for Our Free Newsletter and get our Free Gift to You.

my  E-book, The Top 10 Mistakes People Make When Choosing a Dog (and how to avoid them)