LuckyTail Nail Grinder Review
This LuckyTail Nail Grinder Review is sponsored by Lucky Tail, but the content is based on my personal opinions.
by Janice Jones     |Published 01-14-2021
Oh, those little doggie nails—how fast they grow – how often they need clipping or grinding.
I recently received a LuckyTail Nail Grinder, and before I get into the review, I need to tell you that I have 15 dogs at the current time. I wish I could say that their nails get worn down naturally by walking on concrete, but the truth is that I end up spending plenty of time giving "pedicures."
Many of my dogs don't like to have their nails clipped.  I have problems using a nail grinder with other dogs. It becomes a struggle.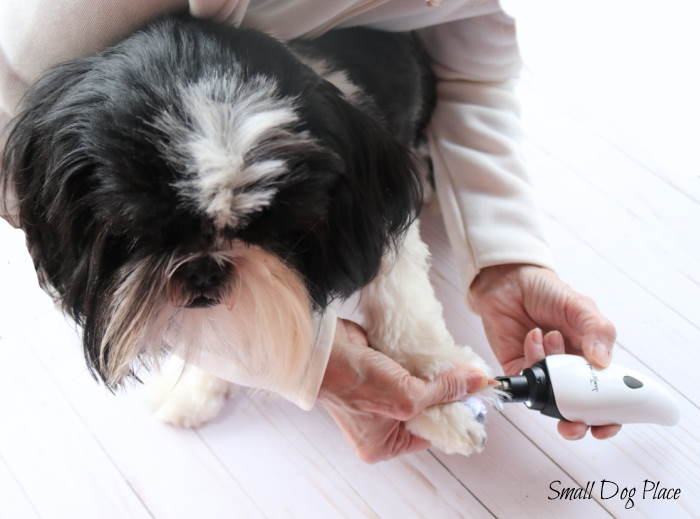 If using nail clippers is out of the question for you, may I suggest using a nail grinder instead?  With a nail grinder, it is difficult to get into the quick or blood vessel that runs through the nail, causing pain and anxiety to dogs.

Dog Nail Grinding
As a quick review, grinding nails became very popular a few years back when owners found they could use their Dremel Tools to file the nail rather than needing a dog nail clipper. 
It was quick, painless, and cheap as many people already have Dremels in their toolboxes. I'll admit, I was one of those people, but for grinding dog nails, a bulky Dremel leaves much to be desired.

Finding the perfect nail grinder is easier said than done.  I do think, however, that the LuckyTail Nail Grinder is about as perfect as it gets when it comes to nail grinders.

LuckyTail Nail Grinder Review
Six features stand out in my mind that makes this product unique and well worth checking.

1. The LuckyTail Nail Grinder Review:  It's Quiet
Dogs seem to be stressed by loud noises near their body, such as the hum of a loud hair drier, noisy hair clippers, and yes, loud nail grinders. 
This stress appears even before the dog even feels the drier's heat or the vibrations of the hair clipper or nail grinder.  So, even before you begin, your dog is already stressed. 
The loudest the LuckyTail grinder will be is 50 db.  Compare this to the average Dremel tool, which can be as loud as a drill.

LuckyTail nail grinder is the quietest grinder I have ever encountered.  Even young puppies do not seem upset by the noise.  So, a product that quiet has my thumbs up.  But there's more.

2. Cordless and Rechargable
I find working with equipment that requires cords to be rather cumbersome. I'm not the most coordinated person in the world, and cords get tangled, making it difficult to work. 
Cordless is excellent, but many products rely on batteries to supply power.  Using an endless supply of batteries is not environmentally friendly, in my opinion. Instead, the LuckyTail Nail Grinder comes with a USB cord that can be charged in an hour, and the charge lasts for up to four hours.
That's plenty of time to do an entire pack of dogs.

3. The LuckyTail Nail Grinder Review:  Ergonomic Design
The ergonomically comfortable design makes it very comfortable in your hands.  Whether you hold it as if it were a knife or a pencil, you will find this to be a straightforward tool to use.

4.  Two Speeds
If you have ever used a Dremel tool, you know how variable the speed controls are, making it difficult to adjust to the right speed to grind a dog nail. 
Other pet grinders come in one speed.  Sometimes one size doesn't always fit all.  I have adult dogs and puppies.  I find the faster speed is perfect for mature nails, whereas I use the slower rate on puppies. 
Puppies seem to need more time to get accustomed to the tool, where the adult dogs would prefer just to get the pedicure done as fast as possible.

5. The LuckyTail Nail Grinder Review:  Minimal Vibrations
There are no vibrations.  What? No vibrations?  As I mentioned above, dogs don't like vibrations, and it is often these sensations that cause stress.  This feature could very well be the most critical feature of the product.

Did I mention that the Lucky Tail Nail Grinder comes with a small light making it easier to view the nail?
How to Use The LuckyTail Nail Grinder
If your dog's nails are extra-long, you may want to consider clipping the tips first before you begin to grind.  If you are a first-time dog parent, you should know that the dog's nail has a blood vessel running through the nail. 
If nails are kept short, the blood vessel, or quick as it is often called, will remain short.  
But if you neglect your dog's nails, the blood vessel will continue to grow, so the only way to stop this progression is to clip or grind your dog's nails more frequently.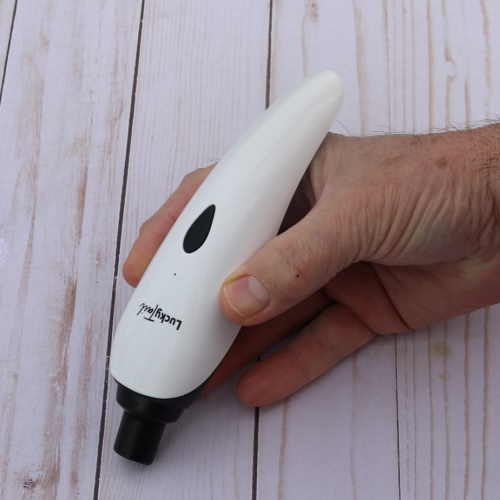 The Lucky Tail Nail Grinder can be held as a pencil or as if it were a knife. Either way works great. It's just a matter of personal preference.
---
Here it is being held as if it were a knife.
Steps for Grinding Your Dog's Nails
Charge your grinder using the USB cord provided.  
Clip the nails slightly before beginning to grind, if needed. (Optional)
Determine how you want to hold the tool.
Turn it on and allow your dog to hear it while whispering to your dog.  
Grind each nail using either the side or top part of the grinding head.
That's it.
LuckyTail Nail Grinder Review:  Pin for Future Reference
Lucky Tail Nail Grinder: A Product Review. Pin for Future Reference.
Where to Find Lucky Tail Nail Grinders
You can find more information on the LuckyTail Website 
Last Words about the LuckyTail Nail Grinder Review
If we have a dog, we will need to maintain his or her nails.  A dog's nails that have not been cared for properly will become overgrown, making walking difficult.
Long nails can get caught in carpet, clothing, or thick brush outside.  This may result in the nail being torn and lead to the need for immediate vet care.  It is best to get into the habit of keeping your dog's nails short, and the easiest way is with a nail grinder. 

Nail clippers will get the job done, but it has some disadvantages.  Nail clippers leave nails jagged, making it very easy for your dog to scratch you or the floor.
Nail clippers also can cut into the quick, causing pain and quite a bit of blood.  To avoid both of these outcomes, consider grinding instead of clipping.
To purchase the Lucky Tail Nail Grinder or get more information, visit the LuckyTail website.
Does This Article Deserve Your Thumbs Up?
We always appreciate your support and encouragement.  Your thumbs up means so much to us.  Please like this article.
If you find this page or any page on Small Dog Place Helpful, or useful in anyway, I'd love it if you would click the small heart found on the bottom right of each page.
You can also share or bookmark this page -- just click on the: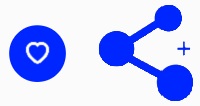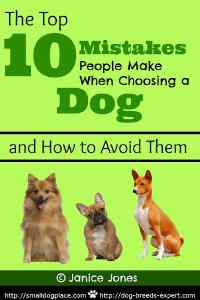 Free Monthly Newsletter
Sign Up for Our Free Newsletter and get our Free Gift to You.

my  E-book, The Top 10 Mistakes People Make When Choosing a Dog (and how to avoid them)