MY EXPERIENCE WITH SMALL DOG SYNDROME
by Carol
(Great Yarmouth, UK)
My Teddie is a 2.5 year old Cavapoo. As I am disabled and he was chosen for size, and the fact that he doesn't moult as my husband is allergic to animal hair.

Reading your list of SDS traits has made me realise that Teddie scores almost 100% with his worst problem being barking, at folk that walk past with or without dogs, at vehicles going past (we are a small country lane), but the worse thing is his constant barking at the TV. If there are animals on the TV he barks and tries to snap at the TV and if you try to stop him he just stands in the middle of the floor and barks - it's as if he's saying how bloody dare you tell me off!!!!

He sleeps on the top of the armchairs or on either mine or my husbands lap.

My biggest fear is that if we were given any indications on how to improve his behaviour my husband won't stick to it and he'll be allowed to continue with his SDS behaviour.

Carol Lewis (Mrs)

---------------------------------------------
Hi, Janice here from Small Dog Place
---------------------------------------------

It is so easy to wake up one morning and realize that our furbaby is a little naughty. I truly believe that most small dog owners are guilty of creating at least one problem in their small dog, myself included.

Your dog's barking at the TV reminded me of a portion of a television show I saw awhile back. Victoria Sidwell, in her show, It's Me or the Dog, she encountered a small dog that also had an issue with the TV.

I was able to find a small section of it on YouTube and have pasted it below. There are also many more videos on her YouTube Channel, so you might want to check it out.



Join in and write your own page! It's easy to do. How? Simply click here to return to Small Dog Syndrome.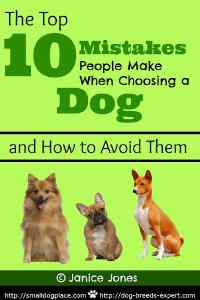 Free Monthly Newsletter
Sign Up for Our Free Newsletter and get our Free Gift to You.

my  E-book, The Top 10 Mistakes People Make When Choosing a Dog (and how to avoid them)