Pet Friendly Interior Design Tips
Pet-Friendly Interior Design Tips
Pet-Friendly Interior Design Tips by Yasmine Dehimi  
Last Updated 07-06-2023
A man's best friend often finds his way into the home and is treated as a member of the family. The way in which animals and humans occupy and use interior spaces are different- we hope!
Yet, through select interior design strategies, there is potential to create beautiful and functional homes to enhance the lives of canines and their humans.
What Exactly is Pet-Friendly Interior Design?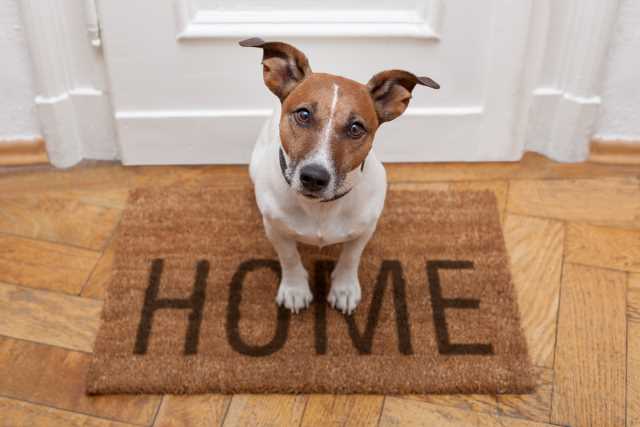 What are the secrets to it? How can you transform your home into the perfect sanctuary for your four-legged friends while maintaining your stylish interiors shining and polished?

Pet-friendly interior design is ultimately the creation of a beautiful and functional haven that operates in the most compatible way for you and your pet.
This includes specific arrangements of furniture, choices of textiles and flooring and utilising space effectively. In order to achieve your safe-pet-haven, consider some of the following tips when planning your interior design.
Pet-Friendly Interior Design Tips
1: Fur-free Upholstery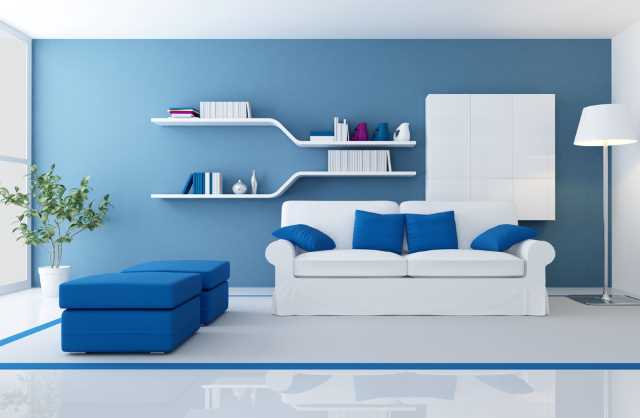 Choose Fur-free Fabrics
Think carefully about the fabrics you use to upholster and how likely they are to gather fur. Some fabrics more than others will practically be left looking like they're posing in your pet's shed fur.
Others will be more resilient to gathering your pets locks and are regarded as necessary to the pet-owners interior.

Avoid materials that are magnets for pet fur. For example, velvet, corduroy, velour and mohair.
Fight shy of delicate materials such as silk, and of loose weave fabrics that could be damaged or snagged by claws, drool and accidents (all the things that make us love our adorable little friends).
There are plenty of alternatives to the luxuries of silk and velvet that you can incorporate into your pet-friendly interiors.
Opt for smooth tapestries, leathers and synthetic fibres. Investing in quality material will help to withstand the damage of those pet claws.
2: Facile Floors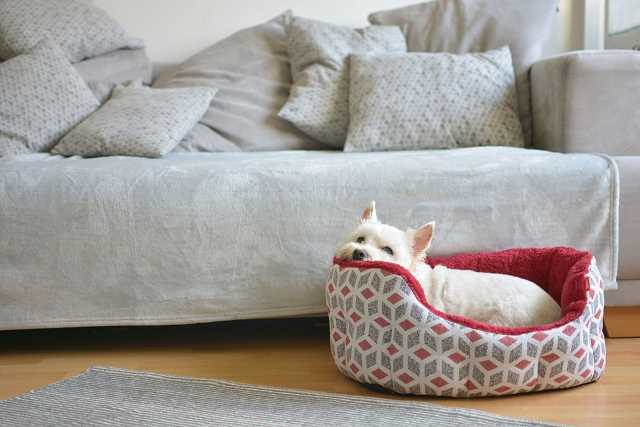 Flooring is an essential element in interior design and acts as the glue that draws together your final design. From early training days to full-grown muddy park runs, your floors will be the first to know what time of year it is.
Maintaining squeaky clean flooring is a troublesome task for those pet-free homes, let alone yours.

The inevitable rainy, muddy days to come somewhat limit your options when it comes to flooring. Unlike the semi-flexibility, you might have with upholstery, whereby you can train your pet to keep off, you have little choice but to expect paw prints and the occasional accident on your floor.

With this in mind, the first factor to consider is the ability to clean your flooring. Whilst interior design doesn't necessarily depend on the precise cleanliness of your home, let's face it, it helps to enhance the overall design. 
Another critical pet-friendly interior design tip is to avoid hardwoods that dent and scratch easily. Hardwood flooring, albeit stunning and charming, stains impressively quickly.
If you, like many, can't resist the charismatic charm of hardwood flooring at home, just be prepared to keep on top of immediately cleaning any puddles that should appear. One suggestion is to go for harder woods like oak or mahogany.

Optimal flooring for pet interiors includes marble or ceramic tiles. These cleanable surfaces are non-scratchable, non-dentable, and can endure long term wear.
They're also pet-perfect when it comes to keeping them cooler in hotter weather. Not to mention the design possibilities of tiled flooring- they're practically endless.
3: Space
Interior design is all about enhancing the space that exists between the interior of a room and those who inhabit it. This extends to how space is utilised between your pet and your home, as well as yourself and your pets space.

Just as people, animals need their own allocated space. Especially in light of the interior design of your home. 
4: Pet-Friendly Interior Design Tips:  Style Entry Doorways
One of the many important pet-friendly design tips described in this article is the use of a mudroom or entrance way where little paws can be cleaned.
Dogs, in particular, should be allocated a specific space near the entrance of your home to clean up before it pads past your shiny new sofa.
Separating space is key to avoiding this disaster. Keeping an area at the front door to prep your pet before entering will help to preserve your interiors.
5: Pet-Friendly Interior Design Tips:  Don't Forget Play Space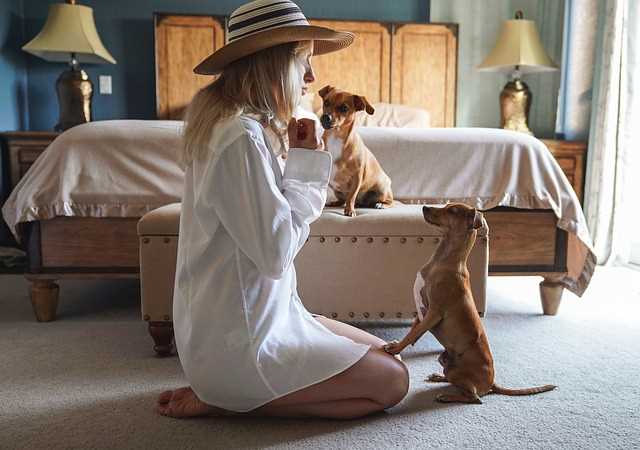 One of the important pet-friendly interior design tips is making room for play.
One of the most important aspects of your pets life is their play time. They need the space to do so. This does not mean that they must get free run of the whole house to run riots. Because while this is all good fun and part of having a pet, there are some areas of the house where this is less desirable.
Designated play areas, in which your pet knows is acceptable for them to play in, allows for the rest of the house to be kept the way you want.
6: Pet-Friendly Interior Design Tips: Sleeping Areas Matter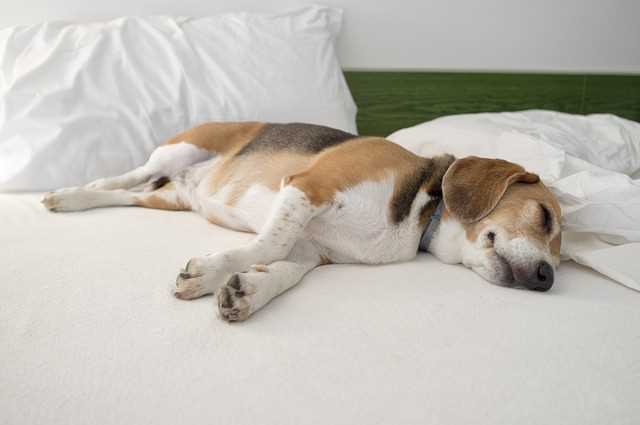 If you don't want your dog to take over your bed, provide a suitable dog bed.
One activity that takes up most of your pet's life is resting and sleeping.  A comfortable area for sleeping will be most appreciated by your pet.  Even if your dog sleeps with you on your bed, a separate dog bed can provide a safe haven for daytime napping. 
Depending on the size of your living quarters, you may even opt for several beds, one where you spend much of your time and one in your own bedroom area. 
Choose a fabric that is easy to clean.  Dog beds with removable covers are the easiest to keep clean, but those that do not can still be cleaned successfully either at home or at a laundromat.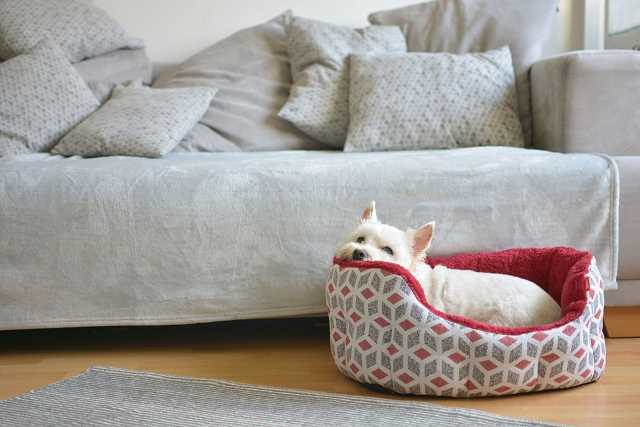 7: Pet-Friendly Interior Design Tips: Eating Area - Yours & Theirs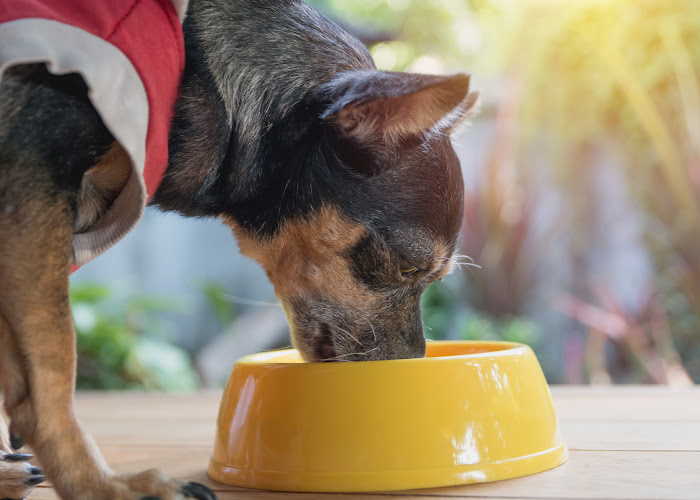 Choose coordinating dog bowls or opt for a custom created set of bowls.
Dogs like to eat near their people, so design an area in your kitchen or dining area for your dog.  You may even want to color-coordinate your accessories with your dog's for an overall finished look to the room.
8:  Toy Storage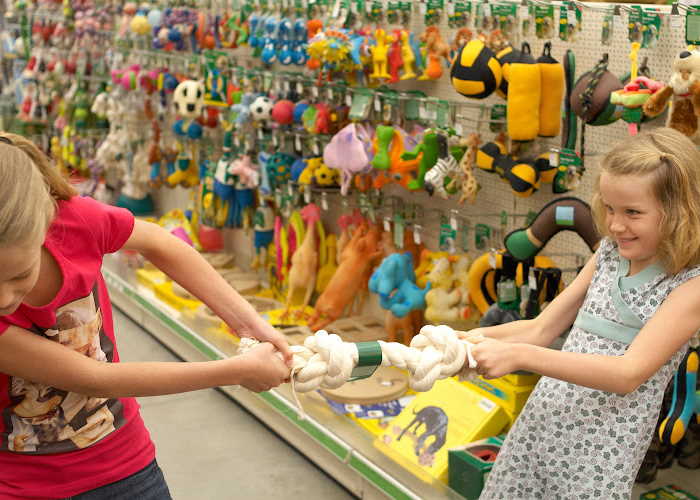 Just like young children, dog kids begin to accure a multiple of toys, fuzzy ones, chewy ones, bouncy ones, and tossables.  Coming up with storage ideas may seem simple but remember these quick tips:
Choose a container that can't be chewed.
Containers that have low sides encourages dogs to choose their own toy.
Dog beds are not a good choice for toy storage.
Rotate toys to the top so all toys get used.
Conclusion: Pet-Friendly Interior Design Tips
It is possible to achieve that balance between a stylish home sanctuary and still have the comfort and companionship of a small dog.  It takes some planning to make some suitable style choices that are pet friendly while staying within your budget and design preferences.
Author Bio
Yasmine Dehimi (Pet-Friendly Interior Design Tips)

I am a content writer with 5 years of experience in The History of Heritage and Architecture and International Relations writing. I have experience working at the Economist, BuzzFeed UK and gained invaluable editorial skills as an Oxford University Press panellist.
Do You Have Some Great Pet-Friendly Interior Design Tips to Add?  Share Your Ideas and Photos
Share Some Of Your Own Design Tips
Do you have a great tip or two that you would like to share? Have you solved a difficult design problem and want to tell the world? Please do so here.
Does This Article Deserve Your Thumbs Up?
We always appreciate your support and encouragement.  Your thumbs up means so much to us.  Please like this article.
If you find this page or any page on Small Dog Place Helpful, or useful in anyway, I'd love it if you would click the small heart found on the bottom right of each page.
You can also share or bookmark this page -- just click on the: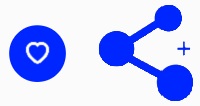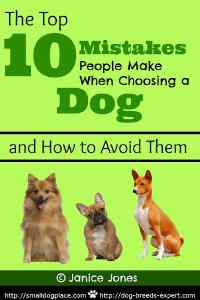 Free Monthly Newsletter
Sign Up for Our Free Newsletter and get our Free Gift to You.

my  E-book, The Top 10 Mistakes People Make When Choosing a Dog (and how to avoid them)