SBI! and Small Dog Place

By Janice A. Jones | Last Updated December 28, 2018
SBI made it possible for me to follow my passions and still make money.   
Imagine, making a living doing what you love.  You can too. I'll show you how I'm doing it.
My passion is dogs, but you can do what I'm doing with any passion, hobby, skill, area of expertise... whatever it is that makes you happy. And the beauty of it all is that you can do it in your spare time! That's how I got started.
SBI Stands for Site Build It!

It helps you turn any hobby, passion or skill into a feasible online business. You may not know that almost any theme can make money with a website.
Build a website?!  

WOW, don't you need advanced skills in design and computer languages?
Nope.   I was relatively new to computers, design,  and the internet world and making a website sounded like something only professionals do. 

Not so.   This website was built with SBI, so you see... if I can do it, you can do it.
Have a look for yourself!

It's not easy to describe what Site Build It! has done for me in a few words or less.  Perhaps a video might do better.  See for yourself. You don't need programming skills or web design knowledge; you don't even need a business, service or product to sell. All you need is your brain and some motivation. This video  might help you understand how this company helps people just like you and me.
So, do you have a hobby, a skill, a passion, or even an area that you would like to learn more about? 

Or, maybe you are tired of the 8 to 5 routine and you'd rather work from home, but don't have any ideas where to start. Site Build It! might be your answer.

SBI is far more than a web-hosting company.  They will take you by the hand and teach you step by step how to build a successful business.
They help you find the perfect topic for your site, to build it, to get traffic to it, and then they even teach you how to make money with it, no matter what it is about!

But don't take my word for it, see how others are making their dreams come true. So many people have benefited from this tried and true method.  Check out some of their stories.

If you're interested in what others have done you might want to check out their stories.
These are people who have highly successful websites built by normal people like you and me. All these sites are in the top 1% of the most successful sites on the web.

In the beginning making a website is hard work. But keep in mind that doing something you love never feels like work. And you can do it in your spare time. YOU set the pace.

One of the great selling points is the many unique tools that it comes with. No other product comes close to providing as many useful tools as SBI!
Trying to build a Web site without SBI! can truly be a hassle...  Want to see just a few?

The main thing is, it's totally risk free. They offer a full money back guarantee. They're happy for you to try it out to see how you like it.


You can get some more ideas from what other SBIers are doing by visiting the SBI. 
Need More Proof?
How do I make money? At the moment mostly with advertising, but that might change soon. You probably saw the links throughout the site that say "Ads by Google". Every time someone is interested and clicks on one I make money.

There are countless other ways to make money with a website:
•    create your own e-goods to sell,
•    sell other people's products for a commission,
•    sell your own products,
•    and get paid for leads and referrals and more.
 Here's a quick video tour that explains the process .
You want to know the best part.  I don't punch a time clock, I don't commute, I work directly from the comforts of my own home. 
If I can do it, You can too. 
If you think you might be interested in a work from home career, you have to check this out.
Are You Ready?  Remember there is a Risk Free Money Back Guarantee.  So What are you Waiting for? 

Try it Now

"Never be afraid to try something new; remember amateurs built the ark, professionals built the Titanic."
Does This Article Deserve Your Thumbs Up?
We always appreciate your support and encouragement.  Your thumbs up means so much to us.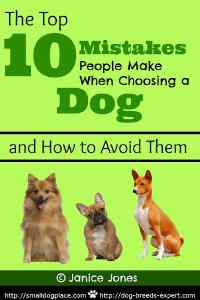 Free Monthly Newsletter
Sign Up for Our Free Newsletter and get our Free Gift to You.

my  E-book, The Top 10 Mistakes People Make When Choosing a Dog (and how to avoid them)
If you enjoyed this page, I'd love it if you'd let me know.  Just click the button below.  Thank you.
Sharing is Caring